Award-Winning Chef and Author Aarón Sánchez Shares Secret Recipe for Life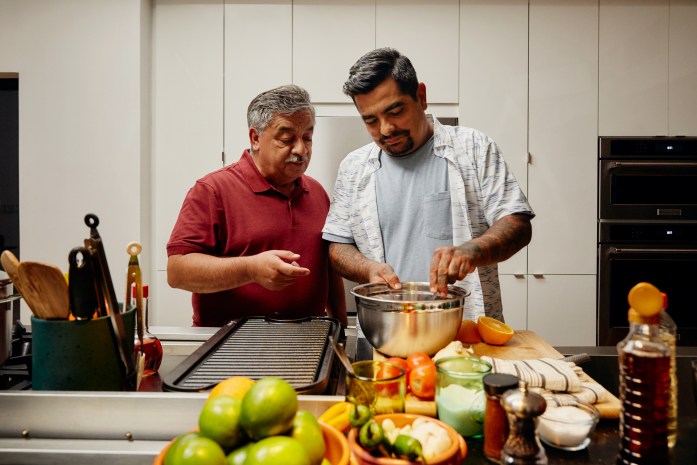 Chuckle-Worthy Video, Mouthwatering Recipe, and Other Content Debuting Today
Celebrated chef Aarón Sánchez, restaurateur and judge on FOX's MasterChef, is always looking for inspiration in unexpected places. That's why Airbnb is his travel essential when he's on the road for work. By staying in close-knit neighborhoods, Aarón seeks out what he refers to as local "intel" about where to find the best restaurants and food stands, and key spots to discover new ingredients and flavors. Following expeditions into new food territories, he likes to test out ideas in well-equipped, spacious kitchens where he can enjoy delicious meals with friends and family.
"Airbnb allows you to create that perfect setting. Happiness in every corner."

— Chef Aarón Sánchez
Watch as Aarón discusses family bonding and culinary adventures he uncovers while staying in places listed on Airbnb. You even get to see him cooking with his uncle, and give instructions on how to land the ultimate cannonball in the pool. Whether it's a stay in LA's Koreatown — where Sánchez first dreamed up the idea for tacos with kimchi jicama slaw (check out the recipe below) — or a beautiful star-lit evening spent relaxing in the backyard in Houston, Aarón Sánchez is at home, even when his work takes him to far away places.
Feeling hungry? Fire up the stove and cook his tasty, Koreatown-inspired recipe for tacos with Kimchi Jicama Slaw. You'll find the recipe at the bottom of this post.
Traveling far and wide, Aarón Sánchez has had the opportunity to sample exotic and delectable flavors in many distant locales. Of all these locations, here are five cities he sees as foodie must-visits. If you find yourself like Aarón, enchanted by the local markets and flavors of these cities and eager to whip up your own creation, we're sharing some outstanding kitchens on Airbnb in each destination.
Head over to airbnbforwork.com to discover more about Aarón Sánchez's life on the road with Airbnb.
Aarón Sánchez is an award-winning chef, TV personality, cookbook author and philanthropist. He is the chef/owner of Mexican restaurant Johnny Sánchez in New Orleans, and a judge on FOX's hit culinary competition series MasterChef. He is also author of the upcoming book Where I come From: Life Lessons from a Latino Chef (due out October 1).
Carne Asada Tacos with Pico de Gallo and Cactus-Jicama Kimchi
Pico de Gallo
1 jalapeno, sliced
1 medium tomato, cored, small dice
1 small yellow onion, small dice
2T cilantro, chiffonade
1 ea garlic clove, chopped
1 ea lime
Kosher salt
Method:
Combine all the ingredients into a bowl and season to taste
Cactus and Jicama Kimchi…aka "El Kimchi"
1 ea medium paddle Cactus, de-thorned
1 ea small jicama, cleaned and cut into matchsticks 1/8"
1 ea small red onion, sliced
2T red wine vinegar
2T white sugar
1T kochujang
1t kosher salt
1t fish sauce
1t Korean chili flakes
2T chipotle adobo
1T jalapeno, chopped
2T cilantro, chopped
Cactus Method
Bring a medium pot of water to a boil (one that will fit the cactus)
Carefully clean the cactus, holding the stem, take your knife and glide it along the cactus paddle to cut off the thorns. Trim off the outer layer around the paddle
Prepare an ice bath. When the water comes up to a boil, salt the water and blanch the cactus for 4 minutes. Place the cactus in the ice bath when done
Dry the cactus using paper towels and cut the cactus into 1/8" batons
Kimchi Method:
Combine all the ingredients into a bowl, season to taste and place into an airtight container
Carne Asada Marinade
3 ea garlic cloves, chopped
2T while granulated sugar
¼ c ancho chili powder
1T ground black pepper
2T kosher salt
½ large bu cilantro, leaves and stems well rinsed, chopped
1ea orange, juiced
2 ea limes, juiced
¼ c mirin
1- 12oz can Cass beer (or other lager beer)
2T fish sauce
2T Korean chili flakes
2T red wine vinegar
2T Kochujang
1T liquid from canned chipotle
2T EVOO
2# skirt steak or flap meat
4" flour tortillas
1/2c cilantro leaves- for garnish
Method:
Combine all the ingredients into a bowl (except for meat, tortillas, and garnishing cilantro leaves) and season to taste. Add meat into bowl and marinade for a minimum of 4 hours
When ready to cook, pre-heat the grill to med high
Remove steak from marinade and cook on each side for about 4 minutes. Rest and slice thin
Warm the tortillas on the grill
Place meat inside tortilla, garnish with pico de gallo, el kimchi, and lastly finish with cilantro leaves