No two holiday celebrations are alike – but whether you're in Cape Town, Singapore or San Francisco, holidays are all about friends, family and food.
According to a survey by Harris Poll/Airbnb, a majority of travelers (54%) like to cook as well as eat out while traveling – so it's no surprise that food Experiences like cooking lessons with celebrated local chefs are most popular among Airbnb guests. So to celebrate the season, we asked a few of our Experience hosts to share some of their favorite recipes for the holidays. From soups to side dishes and desserts, here's a peek at some beloved holiday dishes contributed by hosts around the world – and how you can try them at home.

Aletria (Angel Hair Pasta Dessert)
Tolga in Lisbon, Portugal
Most people don't associate pasta with dessert. But for Tolga Von Klein, host of Portuguese Seafood Class in Lisbon, angel hair pasta is the foundation of a favorite Christmas treat. Though Aletria's origins are hard to trace, the classic Portuguese dessert most likely originated with the Moors who occupied the land for more than 500 years, says Tolga. Sprinkled with cinnamon and pomegranate seeds, it's appeared on holiday menus ever since. For a typical Christmas meal, Tolga recommends pairing Aletria with a quintessentially Portuguese "surf and turf" menu: Bacalhau, a salted cod with with cabbage, potatoes and olive oil, and a Carne de Porco a Alentejana (pork and clam stew). If you stay for more than one dessert, however, watch out for surprises: It's a local custom to hide small trinkets in fruitcake, and if you find it, you'll have to pay for next year's fruitcake.
The meal on Christmas morning is referred to as Consoda. Another custom is to set up extra places at the table for dead souls; they are given food gifts with the hope of doing well in the future.


Tolga in Lisbon
Download Tolga's  recipe    and learn more about his Experience.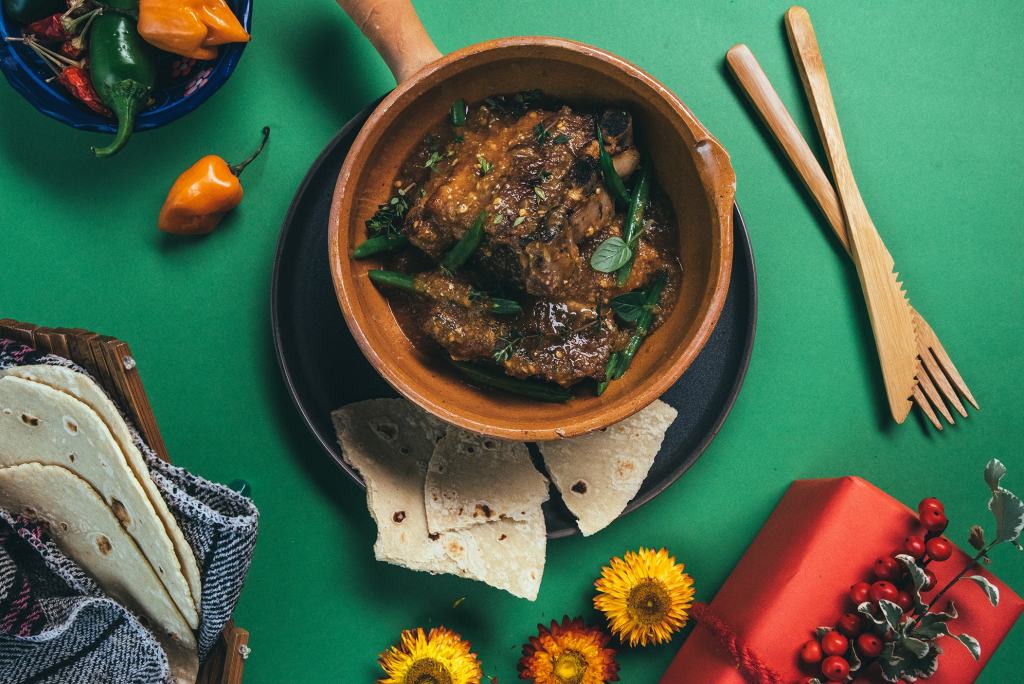 Guasmole Morelense (Mexican Short Ribs)
Ana in Tepoztlan, Mexico

For Chef Ana Garcia, host of Cook Tepozteco Food with a Renowned Chef, it's all about the pork. A staple food in Tepoztlan, Ana's Guasmole Morelense dish was given to her by a local butcher in the pre-colonial village near Mexico City. With a sumptuous broth, spices and guajes, the dish doesn't need much more than some tortillas on a chilly holiday evening. The secret to making it? "Choosing meat with a bit of fat helps make the savory broth,"  Ana   says. Other popular holiday dishes include pork leg in adobo sauce, romeritos, and bacalao (salted cod). Christmas isn't just a two-night affair, however: Across Mexico, nine nights of posadas, festive processions and nativity re-enactments, are common for nine nights leading up to Christmas eve.  
Posadas in general are celebrated this time of year, where you're invited to a neighbor's house to celebrate Jesus arriving in Bethlehem. There are many posadas here, and it's a time to get together with friends, family and neighbors.


Ana in

Tepoztlan

Peranakan Laksa (Spicy Noodle Soup)
Daniel in Singapore
For Daniel Tan, host of Singapore's Cultural Cooking Workshop, Laksa encapsulates the multiculturalism of Singapore. The rich soup originates within Peranakan culture: descendants of Chinese-born people who migrated to the Malay archipelago centuries ago. Spicy and savory, it's the perfect dish for Singapore's festive winter season, which includes elaborate Christmas dinners celebrated by all locals, regardless of religious affiliation. Laksa may be served alongside turkey or ham with a distinctly local twist: "Tandoori turkey, turkey marinated with Chinese herbs and spices, or even turkey satay," he suggests. But in one of the world's most dynamic cities, Christmas is just one of many cultural or religious holidays – such as Hari Raya (Eid al-Fitr) or Deepavali (Diwali) – that are widely celebrated with food, festivals and public events throughout the year: "Travelers to Singapore should try to coincide their visit with one of our traditional festive holidays," Daniel suggests.  
Singaporeans' two biggest pastimes are to eat and shop! So, travelers can expect great shopping deals and colorful food bazaars during the major festive holidays.

Daniel in Singapore
Download Daniel's recipe    and learn more about  his Experience.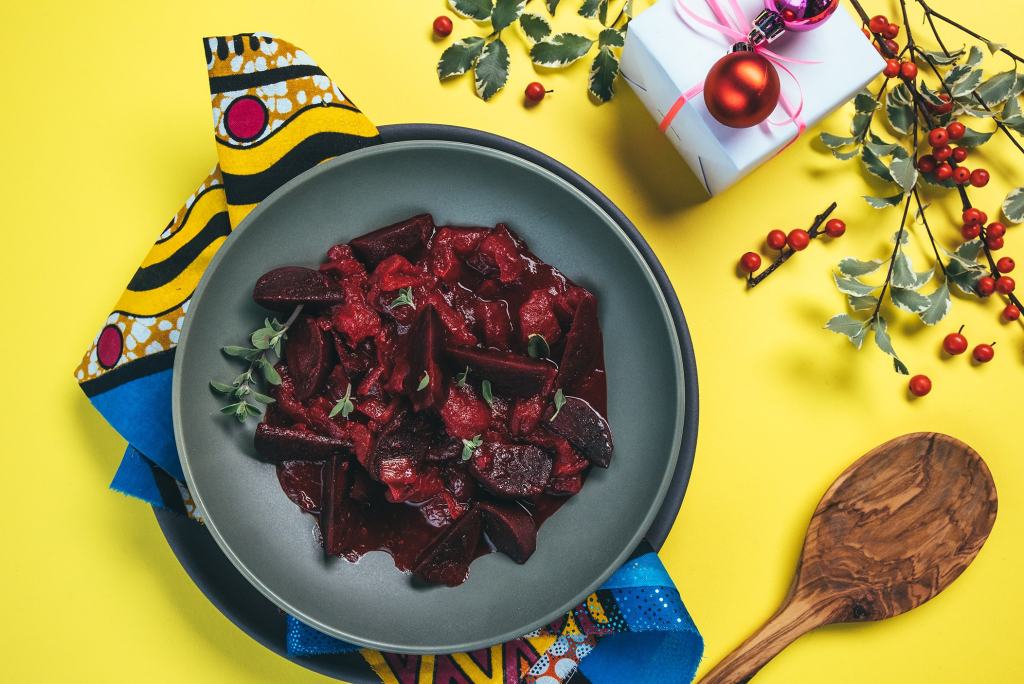 Beetroot with Onions
Rico in Cape Town, South Africa

For Rico Minaar, host of Cape Malay Cooking Class, the simple, yet versatile beet is the ultimate comfort food. "It's deeply rooted in our family mealtimes," Rico says. "Growing up with my Gran, it was a favorite companion to roast potatoes, every Sunday lunch." It's a staple that can be prepared countless ways – in soups, curries or salads – but Rico's favorite recipe is adapted from an old Indian cookbook he found years ago. And it'll turn anyone into a believer, he says: "Even people who do not have a weakness for this particular root vegetable manage to succumb to the charms of this recipe." The flavorful side dish can be served warm or cold, or paired with a salad; and at Christmas, it's often a complement to roasted chicken, turkey or braai – barbecued meats that can include lamb, chicken, sausages or seafood. Cape Town's warm Christmas holiday means outdoor barbeques aplenty, a beloved custom in the sunny coastal city. That makes December and January the perfect time to explore Cape Town's Christmas street parties, outdoor markets or even the beach – no hat or gloves needed.
Cape Town is blessed with exceptional quality in terms of menu offerings and ingredients. You can literally eat your way through this amazing city based on your individual choices.

Rico in Cape Town

Persimmon and Burrata Caprese
with Pork Crackling Sage Gremolata
Jayne in Sausalito, California

For some, the holiday season means bundling up with a cup of cocoa. But in the San Francisco area, it's the ideal time for a trip to the coast. That's according to chef Jayne Reichert, host of Market Cooking Class in Sausalito. Fresh oysters and crab abound this time of year, along with the sweet persimmons that make up one of Jayne's favorite holiday dishes, a specialty persimmon and burrata caprese. "I love that it's fresh and decadent without feeling heavy," Jayne says. "And for the holidays, it's festive without being fussy and super easy to make." The trick is finding the best persimmons and pushing the hazelnuts as you're toasting them, she adds. And as a festive holiday pairing, you can't go wrong with something sparkling with one of the countless wineries nearby: "Bubbles!" Jayne suggests for the makings of a true California holiday.
This time of year it's all about our local bounty: Dungeness crab, and meyer lemons, and a trip to the coast for some amazing oysters.


Jayne in Sausalito
Download Jayne's recipe and learn more about her Experience.