"I'm a bit of a sensualist," admits designer and Airbnb Plus host Matthew Kellen. "I love the visual arts, design, music, food and travel."
And it shows. Matthew propels his degrees in painting and sculpture to create one-of-a-kind spaces that combine form and function: reclaimed wood baseboards draw your eye to modern art pieces, vintage schoolhouse chairs surround a dining table that seats 12, and recycled keyboards-turned-artwork welcome guests into a room featuring custom built-in beds.
Instead of creating visual experiences in conventional spaces, Matthew treats his Airbnb spaces as blank canvases. "Art can be just as compelling in a living room as in a traditional gallery or museum," he says, of transforming a once-cold-and-clinical low-rise building in Chicago's River West neighborhood into "Open House Contemporary" or OHC. As part of this concept, Matthew uses his listings as exhibition spaces for creators looking to showcase their work, featuring pieces from different artists around the globe. However, he always enjoys incorporating Chicago art in his spaces.
Currently on exhibit at OHC is Infinite Games 50/50, a collection of works by local Chicago artist, John Preus, which comments on the state of education in Chicago. According to Preus, in 2013, the city closed 50 public schools, almost all in low-income neighborhoods, because of decreased enrollment and budget issues. Preus struck a deal with the schools, and took desks, tables, chairs and bookshelves bound for landfills and used them to create art. His pieces have been featured in the Chicago Tribune, WBEZ and now Matthew's listings on Airbnb.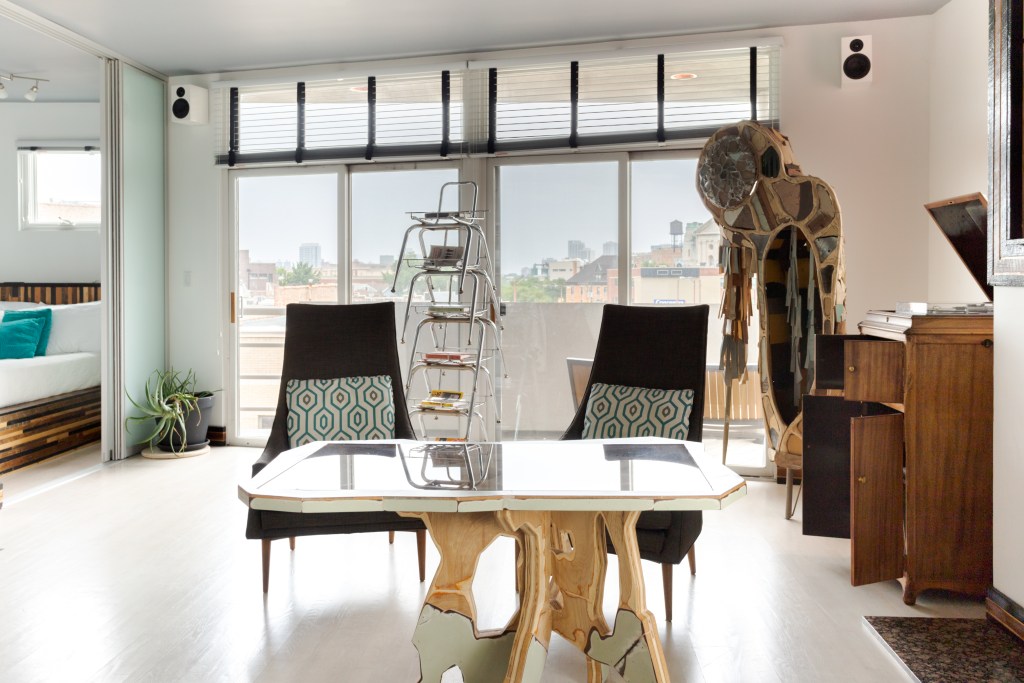 OHC houses three truly unique apartments (Get Artsy at a Craftsman Gallery in River West; Unique, Handcrafted Art Gallery Condo in River West Chicago; Stay in a Designer Penthouse with Art Gallery) that art-loving Airbnb guests often say they want to move into.
"The space is incredible. The pictures don't do it justice. I want to live there," writes Nashville guest Nicole.
Guests with design backgrounds double down, saying the Airbnbs are worth repeat stays, as friends and family will surely be impressed.
"As a designer myself, I appreciate (and notice) the details. Matthew put thought into EVERYTHING," writes Cincinnati guest Mandy, continuing, "it's modern, industrial and has art tastefully incorporated everywhere and in super interesting ways."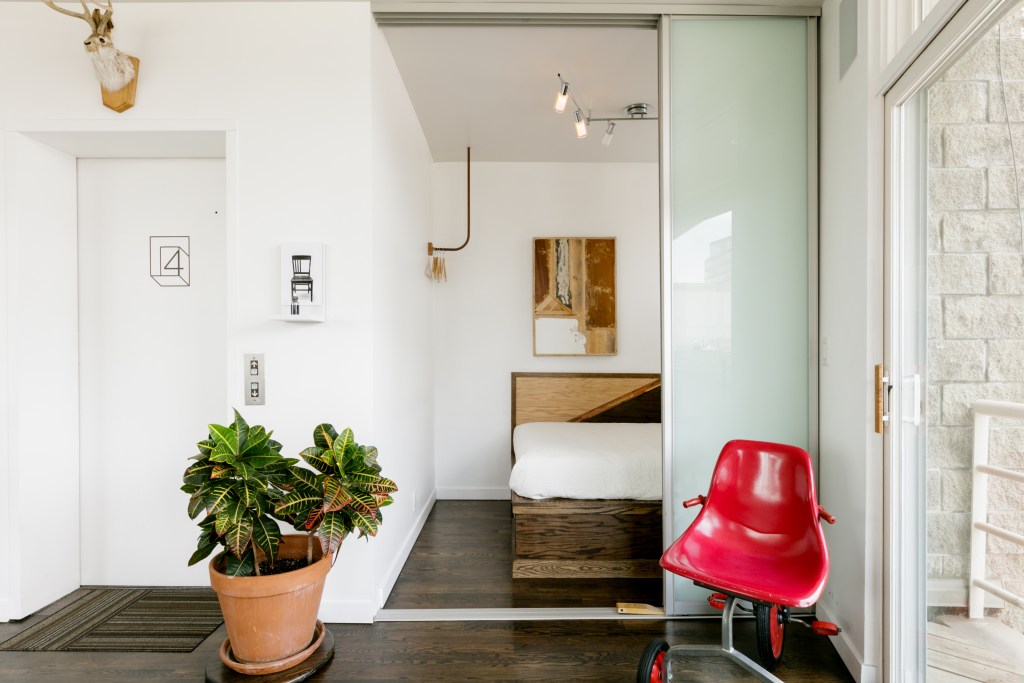 Matthew says he loves a mix of wood tones, copper and reclaimed materials, noting that his designs are meant to be a reflection of his city.
Warm and classy, but not too over the top — a lot like Chicago. Chicago is the city of big shoulders, a city that works but also a city that has world-class museums, galleries, restaurants and universities.

I like to think that OHC is a part of that tapestry: handmade and functional, while at the same time beautiful, thoughtful and challenging.

Matthew Kellen, designer and Airbnb Plus host
For those looking to up level their space and guest experience themselves, Matthew shares with us his design hacks that make a difference, including one for the holidays:
Dimmers: Warm, soft lighting can make a space feel cozy and make guests feel at home.
Warm Wood Tones: Go on a road trip and explore the flea markets and roadside antique fairs. Find something you fall in love with (and was loved in another life), and then pair that with something functional and modern that are made of warm materials such as wood or copper.
Mistletoe: For the holidays, it's festive, cute and turns out everyone loves a good excuse to kiss the people they love.