Meet Dan Shaw, a retired plumbing contractor, entrepreneur, pilot, and self-proclaimed "Mayor of Danville". Him and his wife, Deborah, have spent the last three and a half years happily hosting their four properties on Airbnb. The thirty-acre grounds in Geneva, Florida boasts an airplane strip, a pub, and alpacas, among much, much more.
Everything you see I built – I am the contractor, painter, I put everything together.

Dan Shaw, Mayor of Danville and Airbnb host 
What started as an idea to build a vacation home only a few minutes away from his main residence became a retirement project Dan never expected.
He first decided to host the hangar on Airbnb four years ago after a friend told him about the platform and thought it would be a great way for Dan to share his creative work and meet new people.
Hosting on Airbnb has given Dan the opportunity to fuel his imaginative mind even further. His apartment tucked inside a hangar, also known as "Downtown Danville", is large enough to hold a pub named O'Shaw's, a one-room City Hall, a movie theater, and a photo booth.
"My man cave is located in an active airplane hangar. It is where my friends and I would work on classic cars – I had no idea people from China to Germany would want to stay there."
Dan didn't stop there – he built Danville Inn which has two bedrooms and a 21-foot diameter yurt co-hosted by alpacas, Gwynnie and Sir Gawain, and most recently, a treehouse equipped with a Murphy bed, an elevator and a hot tub made from a jet engine.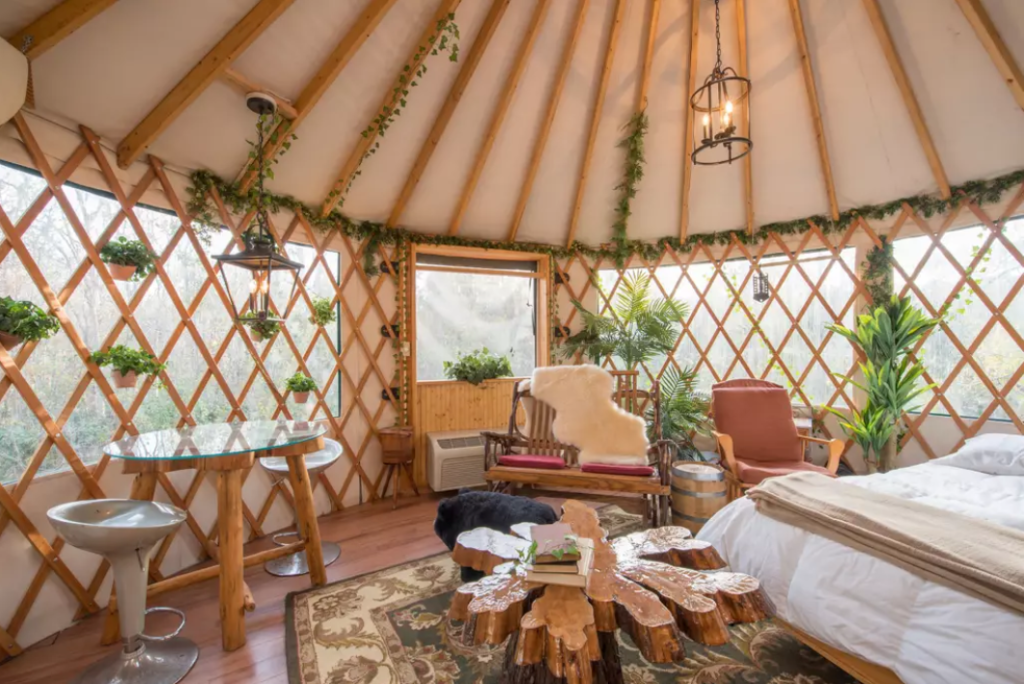 "I didn't want it to be normal, I wanted to build something unusual, different, and fun; we accomplished that. I like to get creative so I'm building a pasture outside the treehouse that will house Nigerian Dwarf goats because goats are cute and, why not?"
And if all that wasn't enough to make you want to book a trip to Danville immediately, there is also a pond with small alligators and other amenities guests can enjoy and have – outdoor showers, wood fire pits, and feeding Deborah's chickens. And adding authenticity to the village, there are mid-century antique typewriters, furniture and period-appropriate phones and street lights.
In Danville, travelers also find activities are plentiful. Guest Krisha from Virginia noted, "Dan's property has many hidden treasures to explore via golf cart, Segway, plane or even electric bike! We were in awe of his creativity."
Celia, a guest from Pennsylvania writes, "we enjoyed Happy Hour with Dan and other guests in the pub sharing great stories."
There have been dozens of weddings on the property and Dan finds many guests visiting him year after year. Guest Georgette from Virginia reviewed, "this is the second time I stayed here and Dan is busier than ever building his wonderland but he took time to rekindle our conversation from last year – Dan is very hospitable."
Dan sums up his experience hosting on Airbnb as extremely special.
"I love hosting; during the retirement stage in life, some people choose to travel, I choose to build my dreamland and converse with interesting people. The rewards of meeting people from all walks of life are far greater than the money I've received."
The Airbnb Press Room is aimed at journalists. All Homes and Experiences referenced on the Airbnb Press Room are intended purely to inspire and illustrate. Airbnb does not recommend or endorse specific Home or Experience listings on the Airbnb platform.