Hosts on Airbnb recommend hidden gems in new 'Support Jozi, Shop Local' map
Small businesses run by passionate owners help communities thrive. They offer spaces to connect, bringing people together to eat delicious food, listen to good music or source local products.
However, small businesses in South Africa have suffered from COVID-19 and the resulting lockdown. With people forced to stay at home, fewer people in store means less profit for businesses and soaring overheads. Sadly, many have had to close their doors.
Hosts on Airbnb have always supported small businesses by recommending much-loved spots to their guests and creating economic opportunity for local businesses as a result. That's why it was those same hosts we turned to, to recommend their favourite small businesses in Johannesburg. These local hidden gems – from coffee shops and cinemas, to book stores and boutiques – are the lifeblood of their communities and together, they form part of the Support Jozi, Shop Local map, which features 30+ unique small businesses. The map also features five Airbnb Experiences that help guests live like a local by discovering new facets of the city.
Our hope is that, as long as it is safe to do so, the Airbnb community, along with many others, will use this map to discover hidden gems in Johannesburg neighbourhoods, and that by safely shopping local, they will support the wider small business community. Scroll down to the bottom this page for a full list of host-recommended small businesses featured on the Support Jozi, Shop Local map.
Meet a few of the small business owners below and find out how they have responded innovatively to the COVID-19 pandemic, whilst still keeping community at the heart of what they do.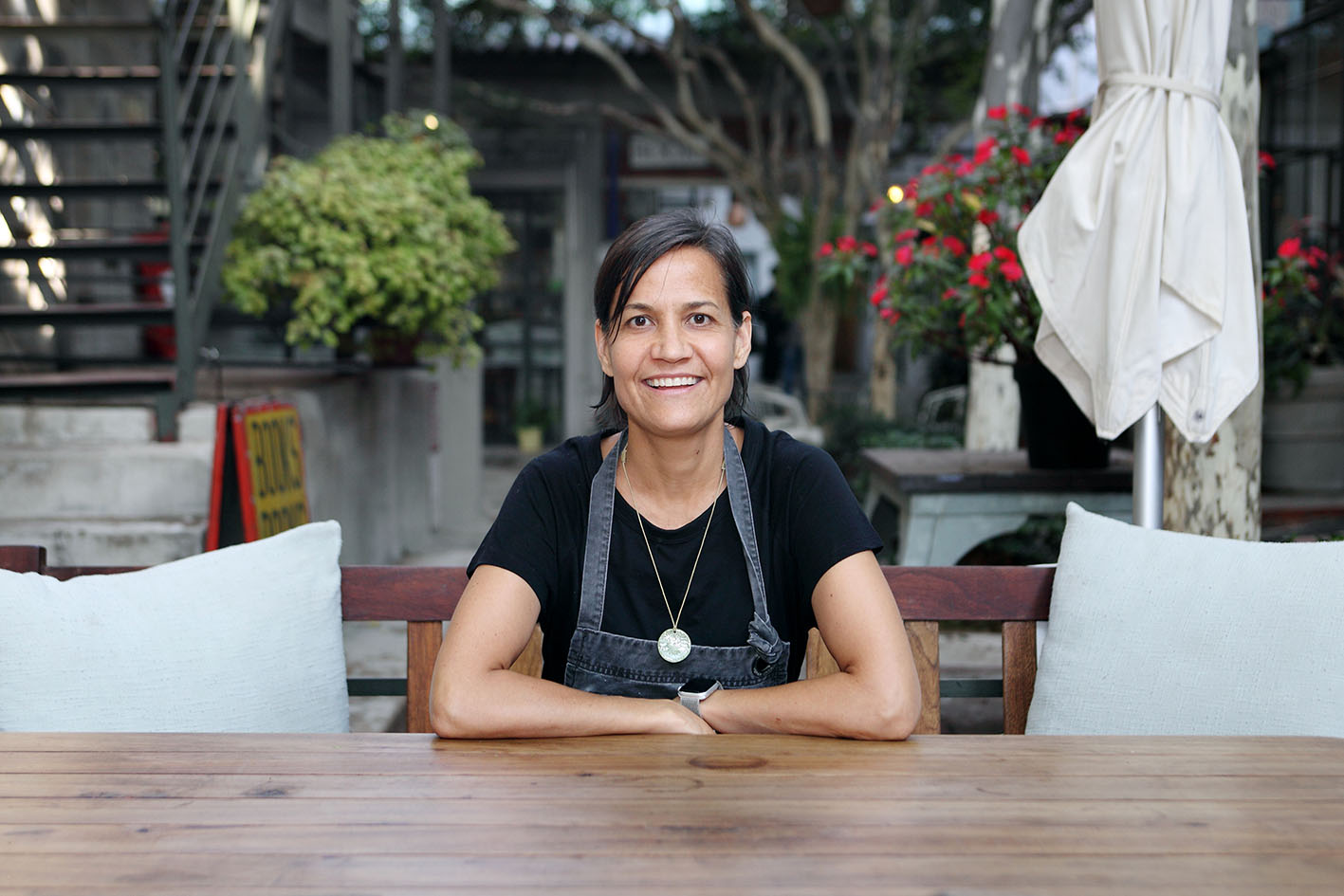 Remko van Niekerk and Claudia Giannoccaro, Salvation Cafe
Remko van Niekerk and Claudia Giannoccaro own and operate Salvation Cafe at 44 Stanley Avenue in Milpark, Johannesburg. Both come from a hospitality background, working on luxury sailing yachts and in ski resorts. The restaurant, which opened in 2006, serves "global cafe food", always freshly prepared and almost always made from scratch, inspired by the couple's adventures together.
The initial impact of COVID-19 came as a shock to the cafe owners, says van Niekerk."Many thoughts went through our heads, from retrenchments to bankruptcy. But we stayed focused, adapted to the lockdown restrictions, accessed funding whilst carefully managing our debt as well as our overheads." They have adapted to the new reality by introducing a QR-code for online screening as well as an online menu and follow strict hygiene standards set out by the Restaurant Association of South Africa. "It helps that 44 Stanley offers an outdoor experience so there is a lot of ventilation," says van Niekerk.
The couple's hard work has paid off, and with sit downs currently allowed, they are seeing revenue increase daily. "We have never worked harder, never earned less and have never been so stressed, but the drive to save our business has kept us going," says van Niekerk. The cafe's motto is: "Good food, good service, good vibes," and despite the challenges caused by the pandemic, that is one thing that hasn't changed.
I recommend The Living Room [to guests] as it is a unique representation of Maboneng and the City of Johannesburg. It's authentic and Afrocentric and a place where guests can immerse themselves within the neighbourhood. It is totally African. Guests just love it – all the time

Lebo, home host on Airbnb since 2016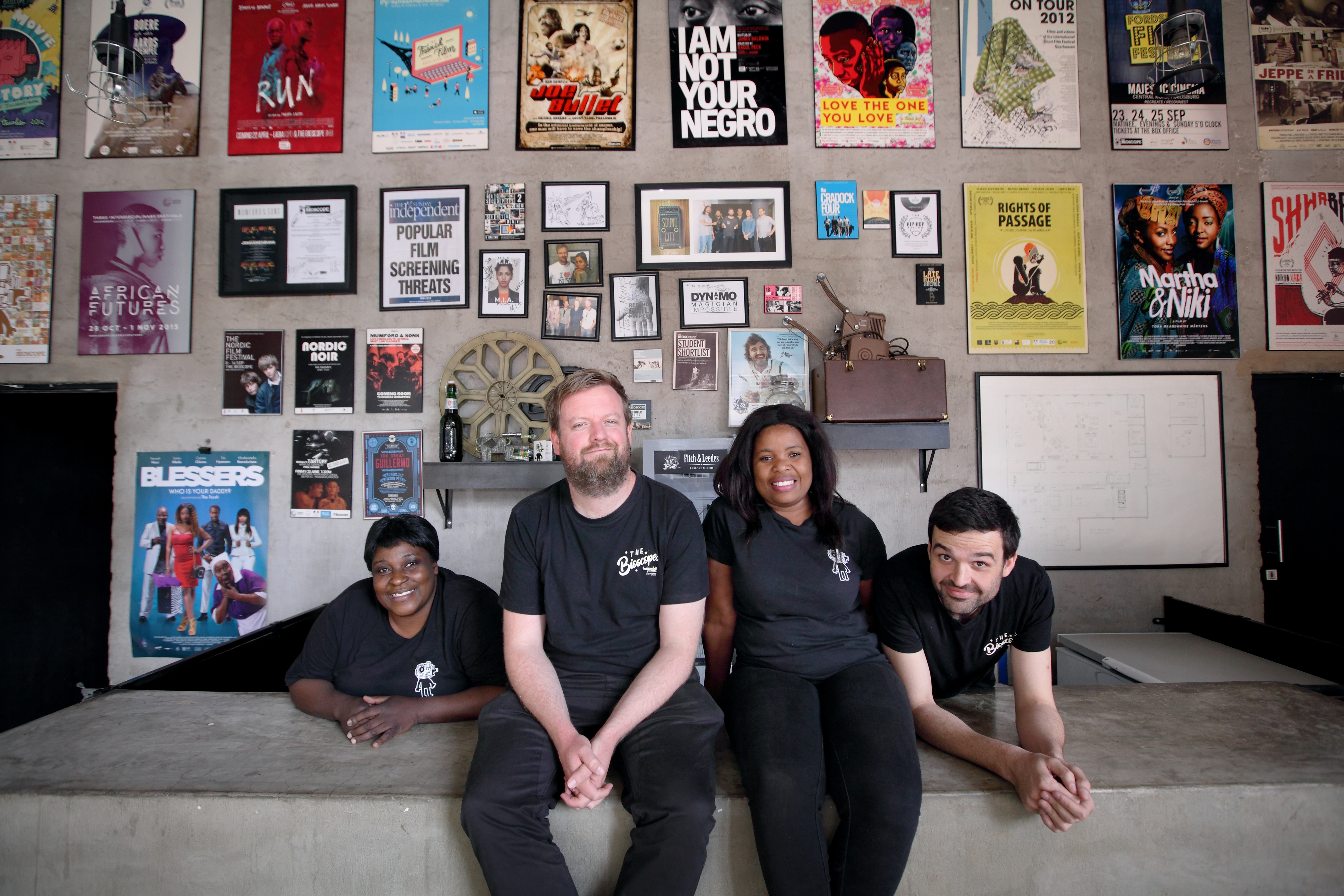 Russell Grant, The Bioscope
When two film students saw a gap in the market for a place to showcase local cinema in Johannesburg, they came up with a fresh, creative concept to start a business that they believed the city needed.
The Bioscope independent cinema opened in June 2010 ‒ a home for local filmmakers to showcase their work and a place for filmgoers to experience something different.
Russell Grant started the venture with fellow film student Darryl Els in June 2010, and has since bought out the business.
The Bioscope thrived for the last 10 years in the vibrant Maboneng Precinct. Now, it has moved to a new space at 44 Stanley, a popular mixed-use precinct and creative hub in Milpark.
Despite being directly affected by the Level 5 lockdown in South Africa, Grant was in the unique position of being mid-move to the new premises when it came into effect, which meant he'd already budgeted to be closed. He'd also set up a small benefit drive – but what started as a fun initiative to help with the move, became a lifeline. "The support we got was key to helping pay the crucial bills during those tough months," says Russell.
The Bioscope has always celebrated local cinema, offering an antidote to commercial, mainstream multiplex-style cinemas. This has stood them in good stead during COVID-19. "All those [Hollywood] films got delayed or postponed. So we could open with older films, our signature events, and private hires. So business was possible."
The Bioscope, according to Grant, offers a place for people to come to experience something different and interesting on a night out, to support local and international cinema, and to potentially learn something new.
"For filmmakers, we offer a place for people to premiere their films, even if they aren't shown in cinemas nationwide. For our customers, we want to provide a different experience for people. We aren't just another bar, restaurant or club. People come together here for an experience that you don't get anywhere else," he says.
"We always want to put a focus on having a great experience, from the moment people arrive. Our aim in the new space is to be a humble, friendly, and approachable place for locals and tourists alike," says Grant.
Adapting to operating during COVID-19 hasn't proved too challenging. "We keep to the capacity regulations and ask that people wear masks inside the venue." Ultimately, says Grant, he wants people to be comfortable. "That's when a trip to the cinema is the best, regardless of COVID-19. That's even more important now."
I recommend many of the small businesses that are in my local village and within walking distance to my listing – like Croft & Co and The Perfect Cup. It gives guests an opportunity to walk through our leafy suburb and visit our special village. I also like to support these businesses myself and by encouraging guests to dine and shop there I can further support these businesses.

Daniella, home host on Airbnb since 2017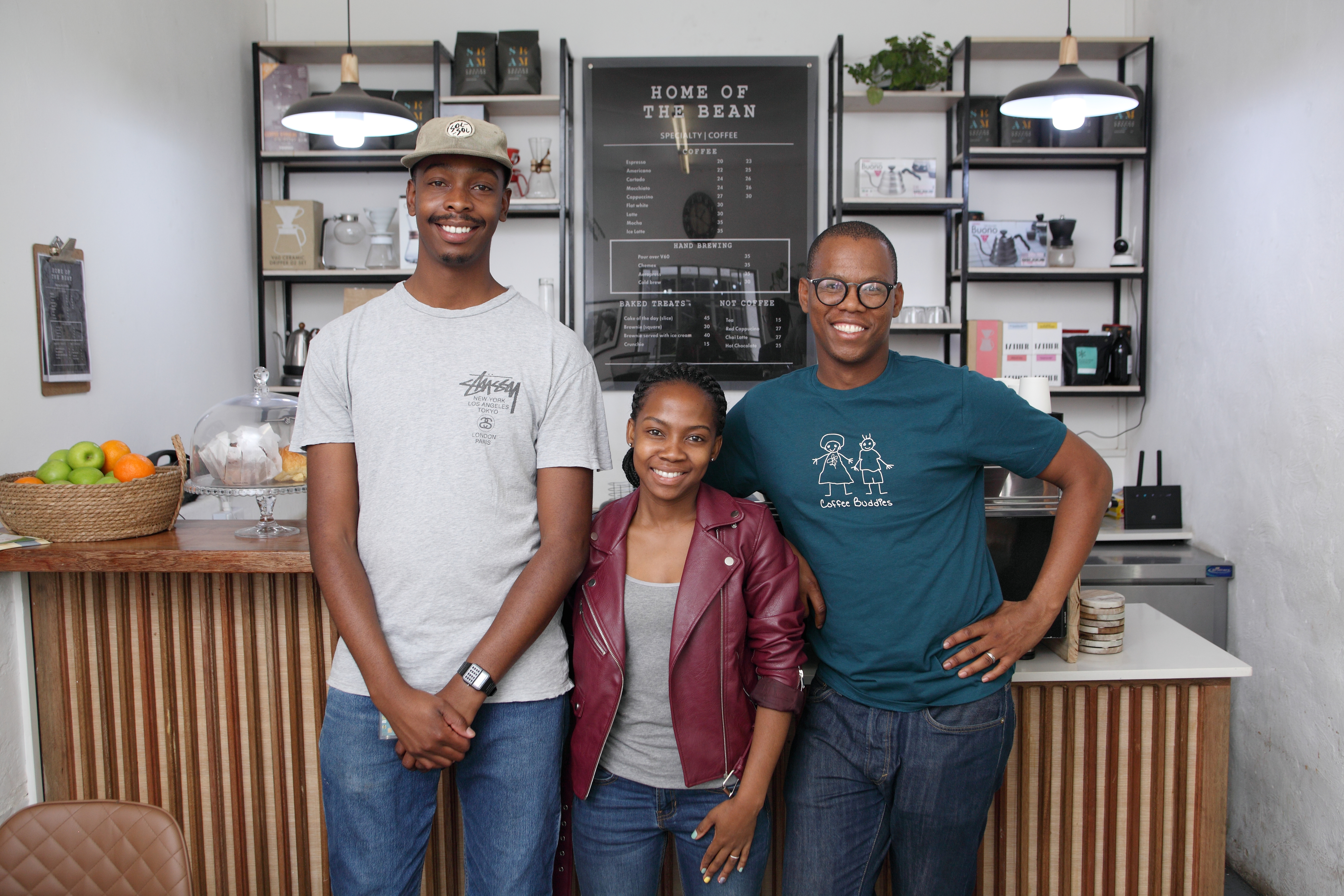 Leroy and Itumeleng Kgopa, Home of the Bean
Leroy and Itumeleng Kgopa, two graduates from the University of Johannesburg with a qualification in Radiography, always dreamed of owning a restaurant. When their passion for specialty coffee was ignited in 2015 thanks to visits to their local Maboneng coffee shop, they decided to change tack and the idea for Home of the Bean was born. Without the capital to buy equipment and pay rent, they decided to go mobile. "We bought a VW 1972 Kombi and converted it to our blue 'kofi kombi'," says Leroy. Going mobile enabled the duo to reach more people and build strong relationships with communities across the country.
"We offered a homely environment where people could connect, belong and be inspired," says Leroy. Then COVID-19 hit. With no customers during lockdown and rent and employees to pay, they needed to develop innovative solutions to survive. "We introduced a delivery service and cut down on all products that were not fast sellers to avoid waste." Most importantly for the couple though, was keeping their employees happy. "They form the backbone of our store," says Leroy. "We not only want to create this home for our customers and the community but we want it to be home to our employees too. We believe in building relationships, consistent growth and serving others."
Every year, via Instagram and word-of-mouth, they collect shoes, books and stationery to donate to under-resourced schools in rural areas. "The community has been so involved and so open to giving," says Leroy.
While the small businesses has not made a profit since March 2020, Leroy and Itumeleng remain positive. "We love our community and the people in it – we have created Home of the Bean to be their second home and we will continue to serve them as long as it is safe to do so."
"As for our coffee, it's great," says Leroy. "But you'll have to come try it out yourself!"
I usually recommend businesses close to my Airbnb Experience in Soweto. Depending on the guest's personality, I recommend an outdoor experience such as Soweto Towers or restaurants like Chaf Pozi in Vilakazi Street. I also recommend Bridge Books which is in the middle of the City of Johannesburg – a guest wouldn't know this bookshop unless they'd been navigating the streets of Jozi.

Madite, experience host on Airbnb since 2018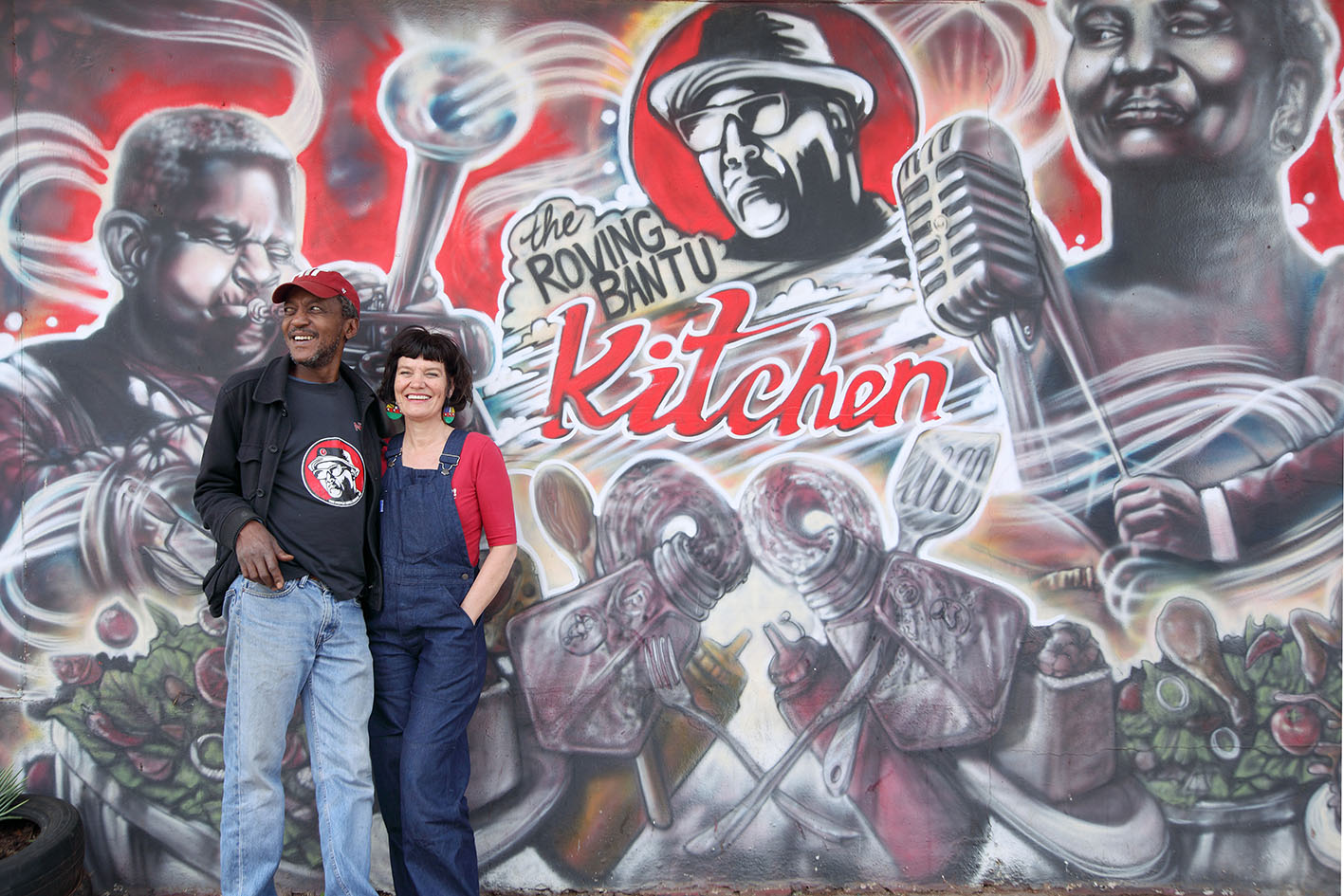 Sifiso Ntuli and Ashley Heron, The Roving Bantu Kitchen
When Sifiso Ntuli returned to South Africa 24 years ago, having found himself in political exile in the early 80s, he started a journey around bringing people together through food and music.
His life's journey took him from his birthplace in Sabie, South Africa, to Swaziland, Tanzania, New York and Toronto, before returning to South Africa in 1996. He has lived in Brixton, Johannesburg, since 1997.
Ntuli and his wife Ashley Heron are co-owners of The Roving Bantu Kitchen in Brixton. They opened the restaurant a few years ago as a place to bring communities together.
Ntuli explains that Johannesburg needed a community centre, a cultural space. The "kitchen", as he fondly calls it, is a place where people from all walks of life can come together to enjoy great music while eating delicious food.
When the pandemic hit, Ashey and Sifiso were forced into an extended break from their business. "At first it was wonderful – it was good to be home, to be with our children and to all reconnect – but none of us anticipated that it would go on for so long," says Ashley. Recognising the devastating impact of an extended lockdown on their community, the couple opened a soup kitchen four days a week. They also used the downtime to refocus and rethink their offering.
When lockdown eased, The Roving Bantu Kitchen had moved to their home, where Ashley and Sifiso had created an outdoor space to accommodate 40 people. Now, they only accept bookings and mask wearing and sanitising is essential. In addition, they now do food deliveries, sell Roving Bantu Street Food at food markets and they're developing a merchandise range.
Some things however, have stayed exactly the same, says Sifiso: they cook delicious afro soul food, you can hear some of the best live jazz in the country and they offer a home away from home. "People have always loved the fact that coming to [our restaurant] felt like being in someone's home – now they are."
Full list of host-recommended small businesses participating in the Support Jozi, Shop Local campaign. Earn or spend JoziBucks cashback vouchers when paying with the SnapScan app at these stores:
Meville
De La Creme: As the name suggests, this cafe and bakery is where to load up on sugary treats.
Pablo House: This boutique guesthouse is filled with carefully selected South African artwork. Enjoy the views over the Melville Koppies from the indigenous garden.
Bookdealers: Serious book lovers will delight in Bookdealers' selection of collectable and used books.
The Roving Bantu Kitchen: "Afro soul food" – think mogodu (South African tripe stew), walkie talkies (chicken feet), coconut chicken and samp and beans.
The Parks and Surrounds
Nice on 4th: Popular with locals for breakfast, brunch and lunch. Bring the kids for the crumpets!
The Perfect Cup: Serving a range of single origins and blends, you're guaranteed to find a coffee flavour to suit your taste buds.
Croft & Co: This firm community favourite offers delicious food for breakfast and lunch from 6am Monday to Saturday and from 6.30am on Sundays.
Dry Dock: Boutique wine and liquor store specialising in out-of-the-ordinary products like Malfy Con Arancia, an Italian gin made using Sicilian blood oranges.
Colourbox: Head here for locally and internationally- sourced lifestyle labels such as Colombian swimwear brand Maaji.
Salvation Cafe: The airy courtyard is the perfect spot to tuck into delicious food that's good for the soul. Just remember to leave room for their home-baked cakes!
The Bioscope: Sit in repurposed car seats and watch local and international films or documentaries in this cool independent cinema. Then pop over to The Bioscope Café for craft beers and pizzas named after movie stars (obviously!).
Jolly Cool: Relaxed sports bar and restaurant serving woodfired pizza.
Wild Hair: A luxurious and light-filled hair salon with beautiful pressed ceilings. There's a nail bar, too.
Fab & Co: Tuck into breakfast, a light lunch or Fab & Co's Italian homemade artisanal gelato.
One-Juice: Turmeric juice, green juice, black lemonade? Get your detox on at this cold-pressed juice bar.
Hannah Lavery: Classic, contemporary, softly tailored basics from this Cape Town-based womenswear designer.
Dr Pachanga: The vegan leather handbags combined with bold African wax fabric sold here make for a striking style statement.
City Centre
The Living Room: A lush eco-oasis in downtown Joburg, this stylish rooftop bar and event space offers epic views over the city. Head here on Sundays from 10am – 8pm for food, drinks and tunes.
Victoria Yards: This inner city development is a vibrant community of artists, artisans and craftspeople. Earn and spend Jozibucks at the following small businesses: Pulp Paperworks, Danger Gevaar Ingozi, Yol Jewellery, Foakes Coffee Roastery and KOOP.
Bridge Books: This book lovers treasure trove sells new and secondhand books with a focus on supporting African writers.
Home of the Bean: A good cup of coffee can be life changing, say the husband and wife duo behind this stylish coffee spot. We suggest you find out for yourself!