Love is in the Airbnb: One Million Guests Tied the Knot in Homes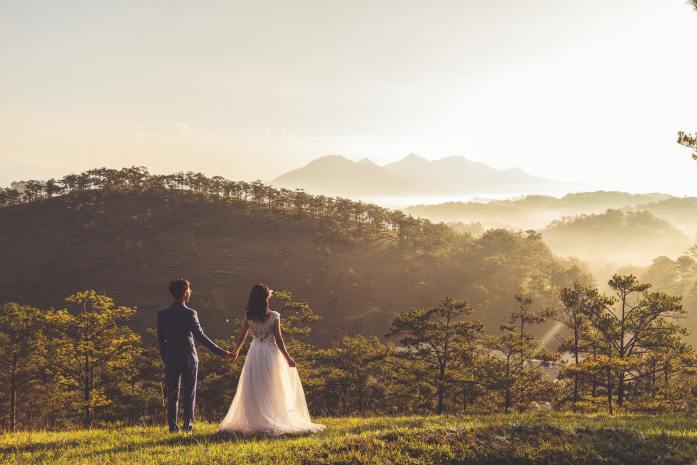 They say love can be found in the most unexpected places — and since 2008, an estimated one million guests have hosted their weddings in Homes on Airbnb*.
Many couples also consider Airbnb for accommodations for themselves and their guests on their special day, and over the last year, wish lists containing the word 'wedding' have grown 50 percent, with nearly 700,000 wedding wish lists created by Airbnb travelers**.
When planning a wedding, destination choices can be seemingly limitless. For those looking for a ceremony setting that is more unique, or off-the-grid, Airbnb is sharing some trending wedding destinations that cater to a variety of couple types, with a sampling of the most wish listed Homes to house the happy couples and their guests below****:
The Adventurers
For some couples, a calming beach vista is the ideal backdrop, but for others, the thrill of a destination more suited to exploring the great outdoors is more fitting. The destinations below boast majestic mountain views, cascading waterfalls and babbling hot springs for those seeking a more action-packed matrimony.
The City Slickers
For couples looking to celebrate their love in a vibrant metropolis with nightlife, incredible food and something for everyone on the guest list, the cities below are rising in favorability.
The Sun Worshipers
The beachy retreats below might often be overlooked in lieu of other tropical hot spots, but these more secluded oases make for the perfect, low-key wedding spot. Aside from the warm turquoise waters, these seaside towns have much more to offer — from eclectic street vendors in Itapema to breathtaking surf breaks in Merimbula, Australia.
The Escapists
Truly disconnecting and getting out of town is a trend we're seeing from Airbnb travelers, and couples planning their weddings on the platform are no different. Many of the trending destinations for weddings this year are in remote locales tucked away in country hills, the edges of desert highways, and mountain ranges to national parks.
The Culture Connoisseurs

For couples seeking cultural immersions to celebrate their love, plenty of Airbnb's trending wedding destinations are rich in heritage, art and have hundreds of years of historical significance***. From the Byzantine and Moorish-influenced port city of Tangier, Morocco, to the ornate royal palaces and Javanese performance pavilions of Yogyakarta, Indonesia, there are options for couples seeking a local experience.
*Based on Airbnb internal data that is estimated using review comments from August, 2008-April, 2019 including "I/we got married here and I/we had our wedding here" keywords and translated keywords.
**Based on Airbnb internal data of year-over-year growth of wedding wish lists from April 2018 to April 2019.
***Based on Airbnb internal data of cities with highest year-over-year growth in the number of active listings on wish lists including the word 'wedding' from April 2018 to April 2019.
****Based on Airbnb internal data of the most wish listed listings in the top trending cities for weddings, per the data point above.
The Airbnb Press Room is aimed at journalists. All Homes and Experiences referenced on the Airbnb Press Room are intended purely to inspire and illustrate. Airbnb does not recommend or endorse specific Home or Experience listings on the Airbnb platform.