Mom-of-three wins Php400K of stays and flights from Airbnb and AirAsia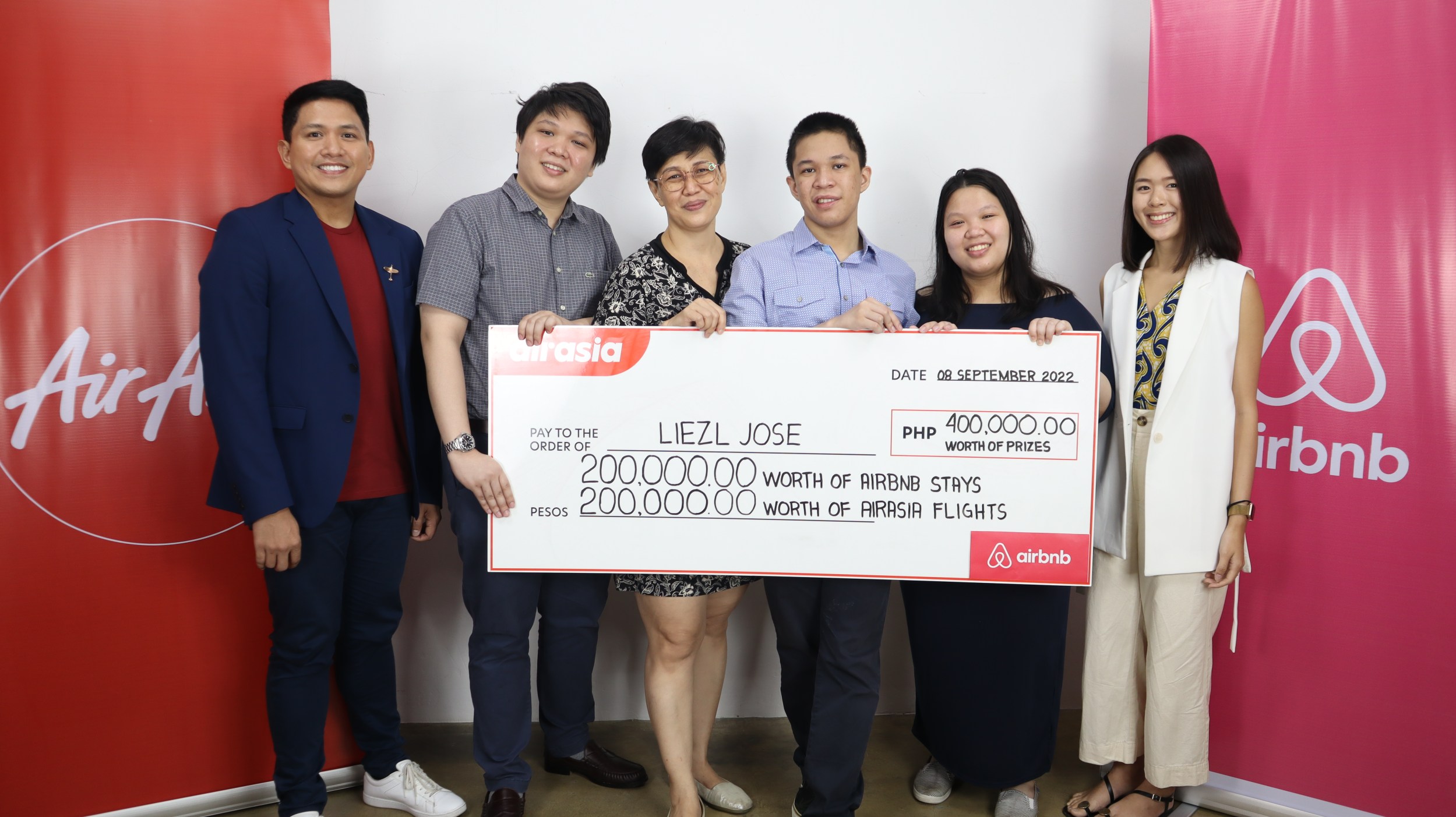 Agritourism and slow-living advocate Liezl Sophia Jose has emerged as the winner of Airbnb and AirAsia's inaugural Fly & Live Anywhere adventure giveaway. The mother of three's heartwarming entry detailing her dream travel nomad adventure through different unique agricultural and eco-tourism destinations in the country bested over 1,820 entries submitted.
Jose, a mother of three, will be sharing her Php 200,000 worth of Airbnb Stays and 12 round-trip tickets to any AirAsia Philippines domestic destination and with her family. She is bringing along her three children – Luis (24), Isabel (21), and Ramon (18).
"When I saw that the winner of Fly & Live Anywhere can bring along three companions, I knew this trip was destined for our family. We are now at different stages of our lives. Luis has started to work and has taken on a considerable number of responsibilities ever since his dad passed right before the pandemic. Isabel has recently graduated and is ready to go out and find inspiration before she pursues a career in creative writing. And Ramon, our youngest, is in need of more outdoor adventures after being cooped up during the pandemic. I believe this trip will bring us closer together as a family as we enter these new chapters in our lives," shares Sophia.
The Jose family eyes Dumaguete as their first destination in their month-long inter-region stay. Sophia, an advocate of eco and agricultural tourism for 10 years now, looks forward to experiencing the rural allure of the City of Gentle People with her family, particularly its greenery, marine ecosystem and cultural heritage. She appreciates the many unique stays in the area, and how Dumaguete's location makes it the perfect gateway to more destinations in Central Visayas and Northern Mindanao.
Airbnb Communications Lead for Southeast Asia Cheryl Tay notes: "The Jose family truly epitomizes the heart of our Fly & Live Anywhere contest. From the get go, we wanted this partnership to inspire Filipinos to discover and explore the Philippines, and encourage them to live anywhere with their loved ones as remote working and learning becomes a reality. We are beyond excited for Sophia and her family to embark on this adventure of a lifetime."
AirAsia Philippines Head of Communications and Public Affairs Steve Dailisan shares: "The Philippines is blessed with multifarious forms of tourism. As travel bounces back, we at AirAsia are working closely with various stakeholders to promote other viable tourist destinations besides the usual sun and sea spots. We, together with Airbnb, are glad to have farming and agricultural tourism champion Sophia Jose as the winner of the Fly & Live Anywhere contest. We are excited to fly her and her family to ecotourism destinations around the Philippines."
The Jose family will also be traveling to Boracay via Caticlan, Cagayan De Oro, Batangas and Rizal.
Airbnb and AirAsia's Fly & Live Anywhere contest giveaway represents the travel giants' first collaboration in the Philippines. The contest sought the most creative and exciting entries vying to win the ultimate Philippine travel nomad experience.