Check-In to the Trend: It's a Bus, it's a Plane, it's an Airbnb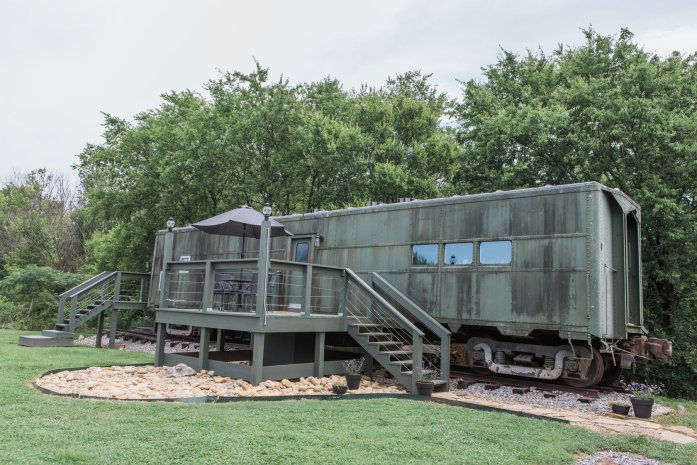 The idea of waking up in an Apollo 11 replica steps away from the shimmery blue Lake Pukaki in New Zealand seems other-wordly enough to be the subject of our wildest dreams. However, host Peter along with thousands of other hosts have created magical retreats out of more than 280K unique places to stay*.
Many of those hosts have gotten extra creative in recreating or renovating moveable spaces such as planes, trains, boats and buses and have transformed them into idyllic dwellings fit for any mobile traveler.
Guests have caught on to the trend, with moveable stays being wishlisted more than 2 million times in 2019 on Airbnb, compared to 1.5 million times in 2018**. Whether you prefer accommodations on wheels, or on water, there's a growing number of moveable homes to explore on Airbnb***:
13,000+ RVs and buses
9,000 boats
328 trains
75 planes
Plus several spaceships
To see what the moveable stay trend is all about, I paid a visit to the Smith family's fully renovated WWII troop kitchen train car in Maryville, TN, which travelers can explore along with this sampling of moveable spaces below:
Stay tuned for next month's Check-In to the Trend.
*Based on Airbnb internal data from May 2019 of specific listing types on the platform, that include but are not limited to moveable listing types (38 different types are encapsulated in this number).
**Based on Airbnb internal data showing growth of new wishlisted listings by listings type (June 1, 2018-May 31, 2019 compared to 12 previous months).
***Based on Airbnb internal data on number of active listings as of June 4, 2019.
The Airbnb Newsroom is aimed at journalists. All Homes and Experiences referenced on the Airbnb Newsroom are intended purely to inspire and illustrate. Airbnb does not recommend or endorse specific Home or Experience listings on the Airbnb platform.