Thailand: Slow Travel by Rail
Thailand's Northeast is steeped in history and culture, has an abundance of natural beauty, and is a region that is often overlooked by international and domestic visitors alike. Commonly referred to as "Isaan", the region has never been more easily accessible than it is today.
With rail becoming a popular form of travel around the world, Thailand's established rail network covers the country from South to North, West to East, and offers visitors a convenient, cost-effective and comfortable way to travel. Trains depart multiple times a day from Bangkok's main train station Hua Lamphong, and the 52 stations along Thailand's Northeastern rail network allow plenty of opportunities for exploration.
For those who wish to have an authentic, off-the-beaten-path Thailand experience, Airbnb is sharing four destinations in Northeastern Thailand that cater to a variety of travellers, including families, backpackers and those travelling solo.
Saraburi
Situated near Bangkok, Saraburi offers an escape from the hustle and bustle of the urban jungle, allowing visitors to enjoy fresh air, space and the large expanse of nature. Saraburi is widely known for its slower pace of life, and there are many historical sites, caves, temples and local festivals. Saraburi is popular for its fields of flowers, in particular sunflowers.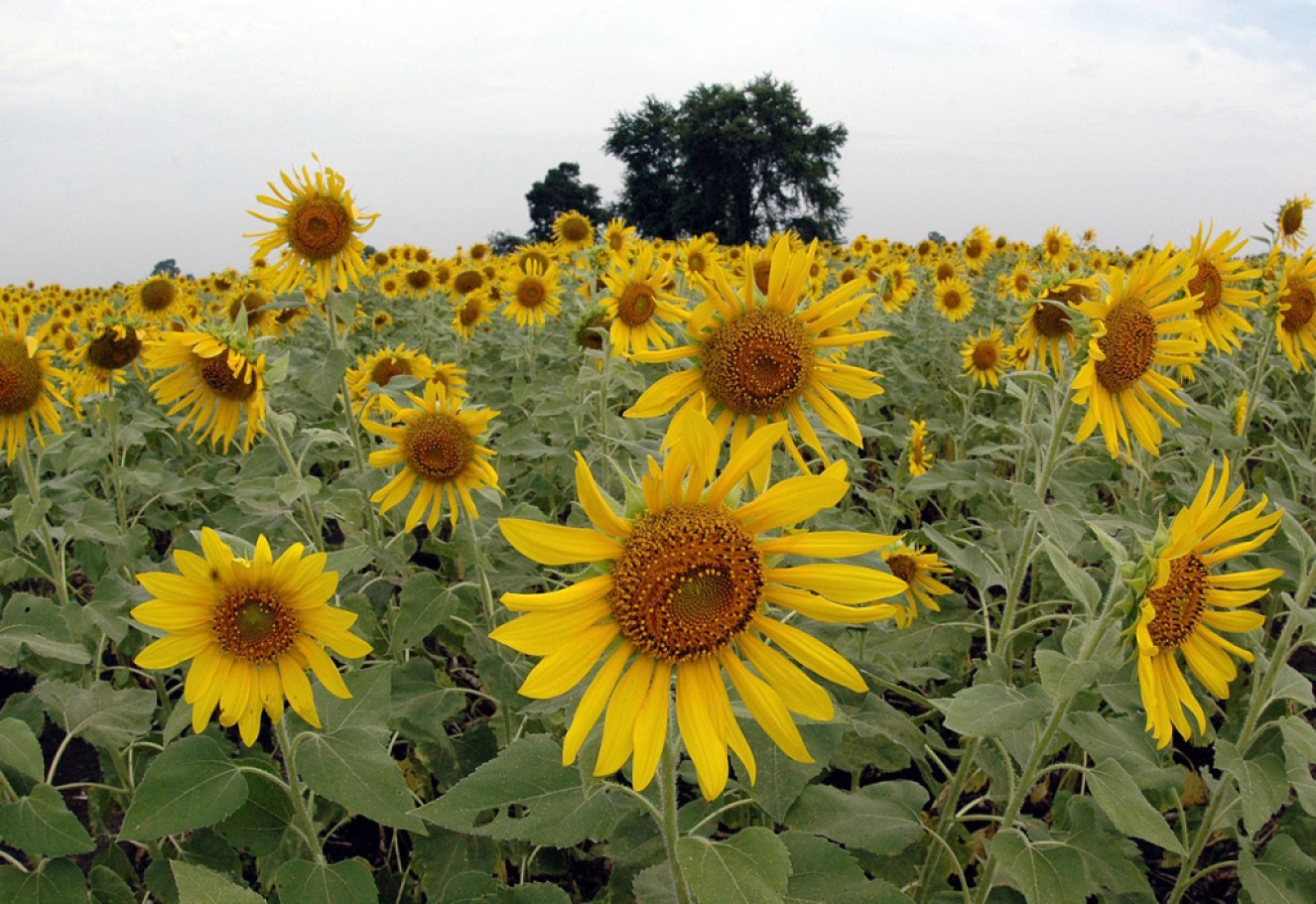 Saraburi Sunflowers

During the November-December cool season, Saraburi's fields and roadsides are a riot of colour as sunflowers bloom as far as the eye can see. With thousands of acres of sunflowers across the province, there are many places to view and enjoy the spectacular scenery.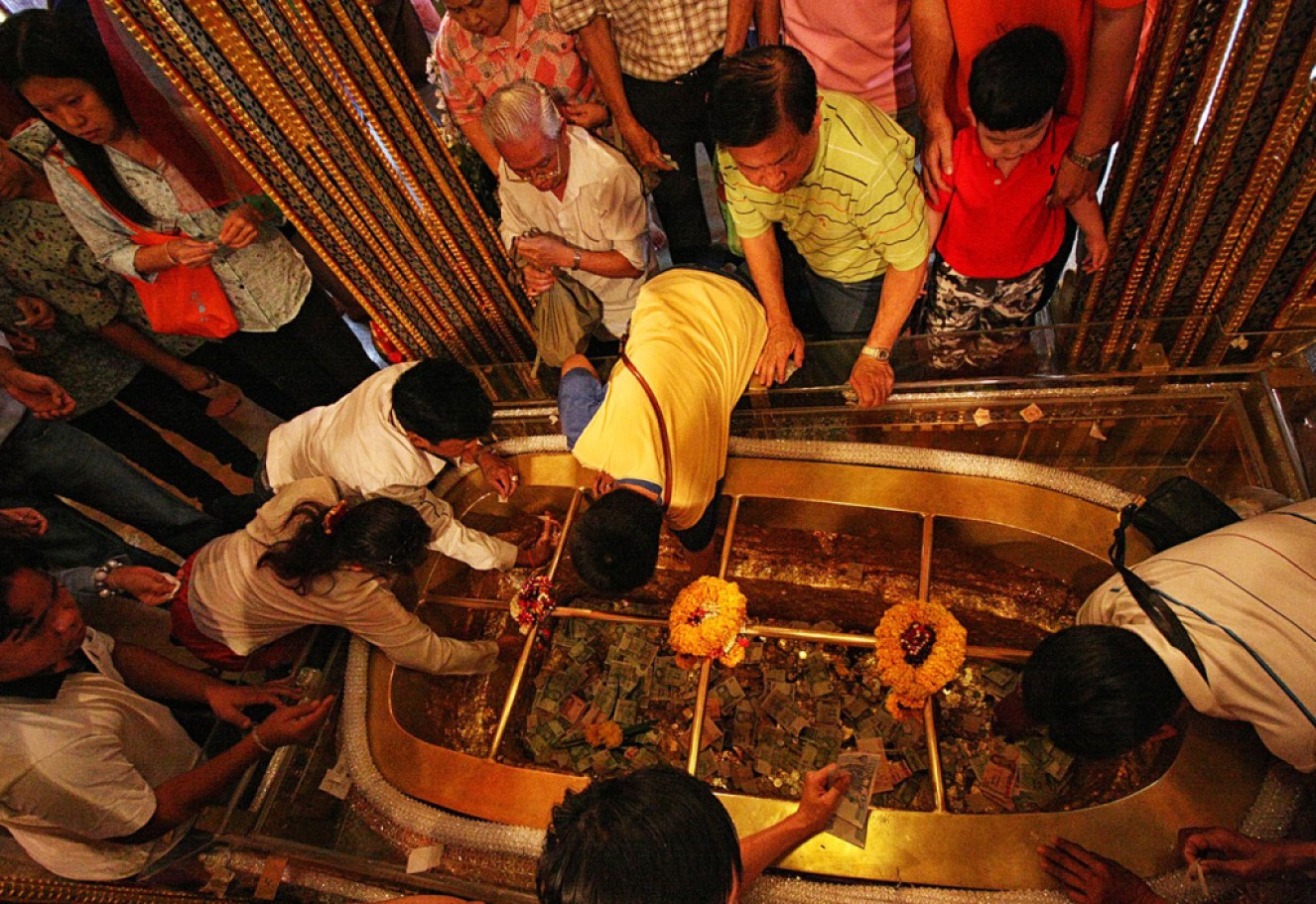 Wat Phra Phutthachai
Also known as the Buddha Footprint Temple, Wat Phra Phutthabat was built in the 17th century and it is an important pilgrimage site for Thai Buddhists. Located approximately 25 kilometers away from Saraburi town, the temple complex spreads across different levels on a hillside, with the Buddha footprint located on a rocky outcrop near the bottom and inside an ornate mondop.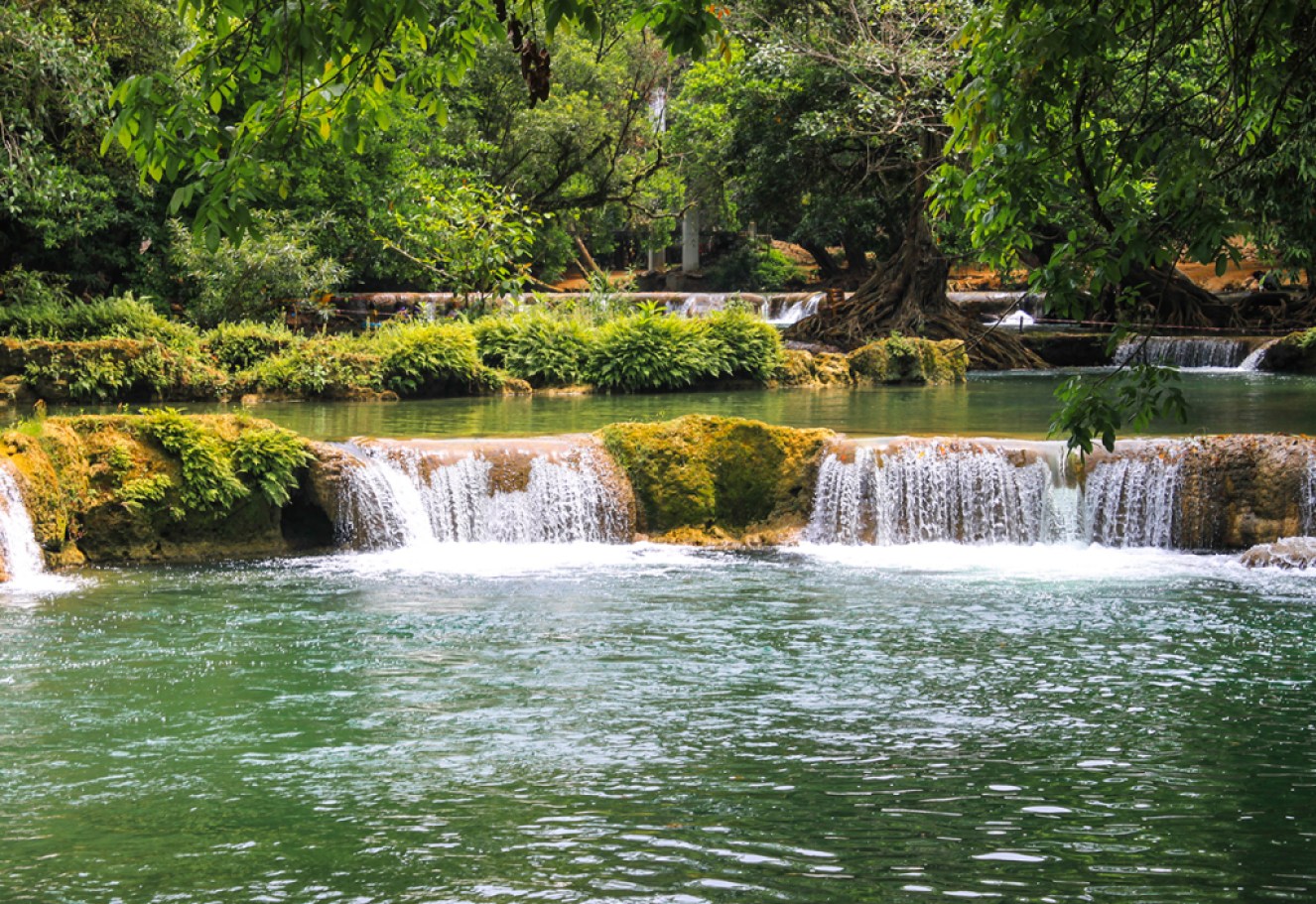 Chet Sao Noi Waterfall
The Chet Sao Noi Waterfall is located in the Muak Lek district of Saraburi. This seven-tiered waterfall streams down into emerald green pools, making them ideal for relaxing. While the deeper pools are off limits, the shallower pools are open for visitors to swim in.
Baan Baan Homestay is located in a small village in Nong Saeng, Saraburi. Hear the stories of local Thai farmers and experience their way of life as they bring you around on a free local tour to attractions nearby, including the bamboo bridge, Phiphitthaphan Ban Rai Kafae, Talad Rong Kua and Wat Nong Sri Da. Breakfast and dinner are provided, using home-grown organic vegetables and seasonal fresh fruits.
Nakhon Ratchasima
Nakhon Ratchasima is the largest province in the Northeastern region of Thailand. It has a long multi-cultural history and was part of the Khmer empire in the 14th century. Pak Thong Chai is considered to be the spiritual home of Thailand's silk weaving industry and as such, there are some excellent examples of Thai silk in the markets, alongside pottery and ceramics from the rural town of Dan Kwian. Nakhon Ratchasima is also home to many sites of natural beauty, including the country's first national park, Khao Yai.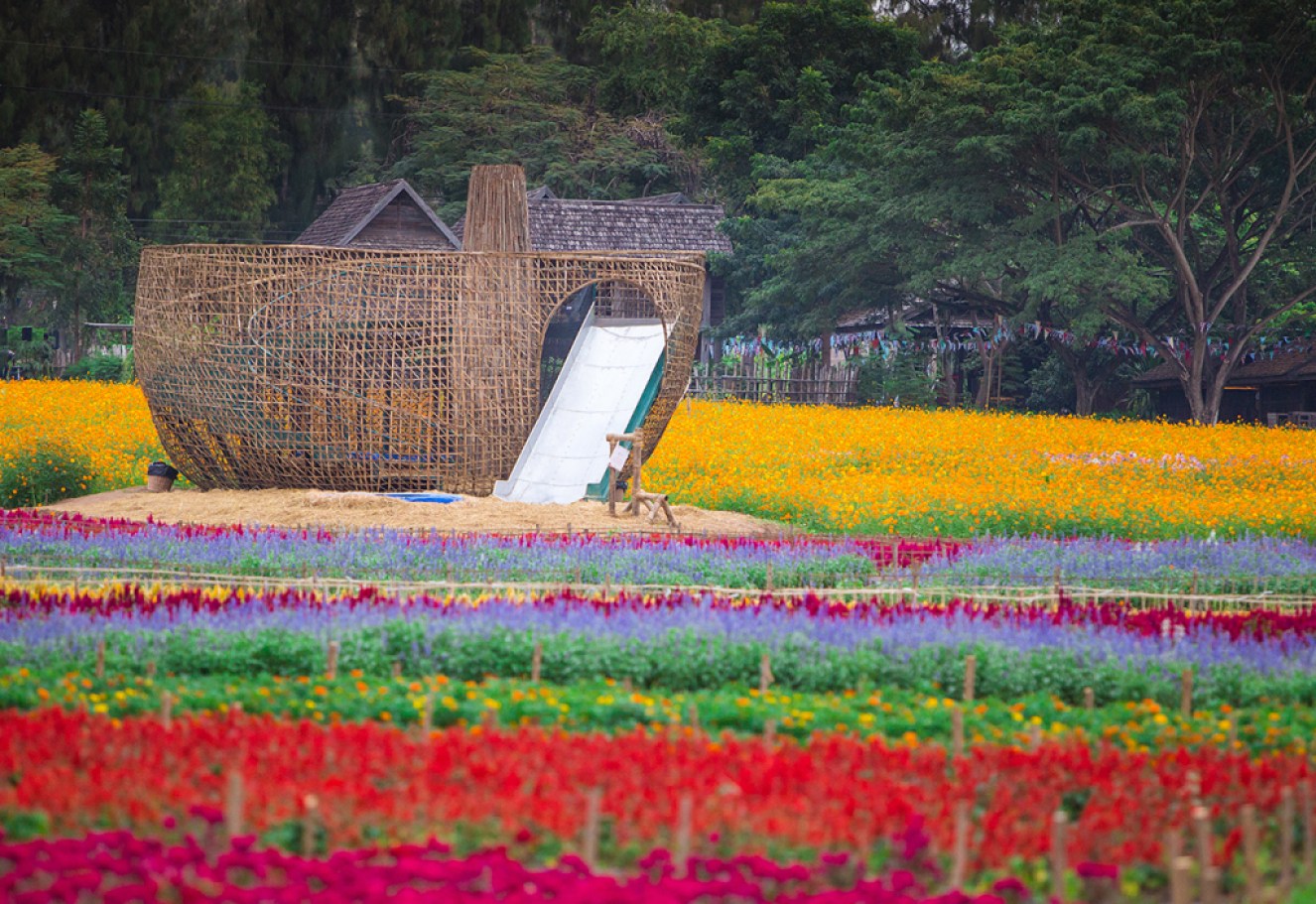 Jim Thompson Farm
The Jim Thompson Farm is an agricultural experience for the entire family. Set on 600 rai in the foothills of Payaprab mountain, the farm allows visitors to immerse themselves in nature and appreciate the stunning scenery of the area. Visitors can learn about silkworm cultivation, enjoy the colourful flower fields and explore the traditional northeastern architecture village located nearby.
Phimai Historical Park
A must-visit in Nakhon Ratchasima, this protected site is one of the largest Khmer temples in Thailand and is reminiscent of Cambodia's Angkor Wat. Most buildings are believed to have been built between the late 11th and 12th centuries. Although the Khmer who built it was Hindu, it is interesting to note that it was built as a Buddhist temple.
Khao Yai National Park
Thailand's first national park is still one of the most popular parks in the country. Wild animals sighted include elephants, macaques, barking deer, sambar deer, gibbons and more. There are many waterfalls in the park, including the Haew Suwat Waterfall which is 20 metres high and was a film location for the movie The Beach starring Leonardo Di Caprio. Visit Pha Diew Dai viewpoint which sits 1,100 metres above sea level, or PB Valley Khao Yai Winery located approximately 22 kilometres out.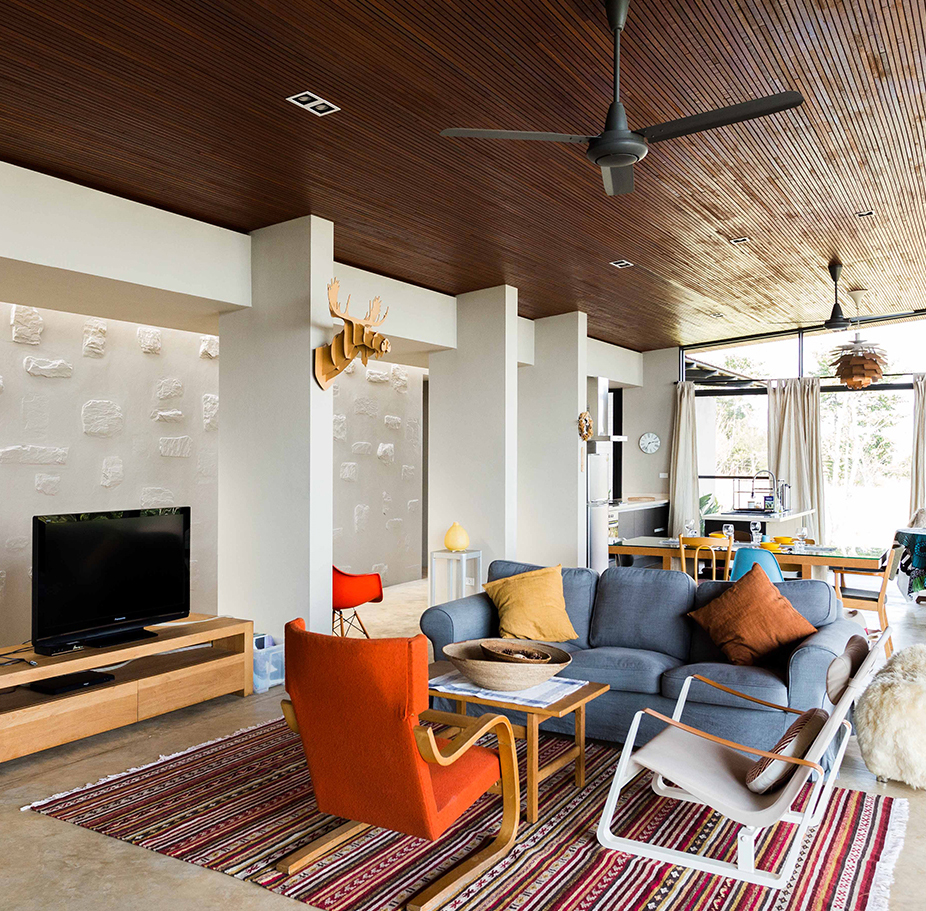 This one-storey home in Pong Ta Long sits atop a hill overlooking the Khao Rom mountain, providing a stunning panoramic view of the entire province. Spanning an area of approximately 300 square metres, the home can accommodate up to 8 guests, making it perfect for big group gatherings with family or friends.
Buriram
Having formerly been part of the Khmer empire, Buriram is steeped in history. This is still evident today, especially in the rural areas of the province where many ancient ruins and stunning Angkorian temples are still intact. Buriram offers an authentic northeastern Thailand experience where visitors can slow down and immerse themselves in the rural Thai life. Look out for the dormant volcanoes! Today, the province is famous for its football club and international-standard racing circuit which is home to Thailand's MotoGP.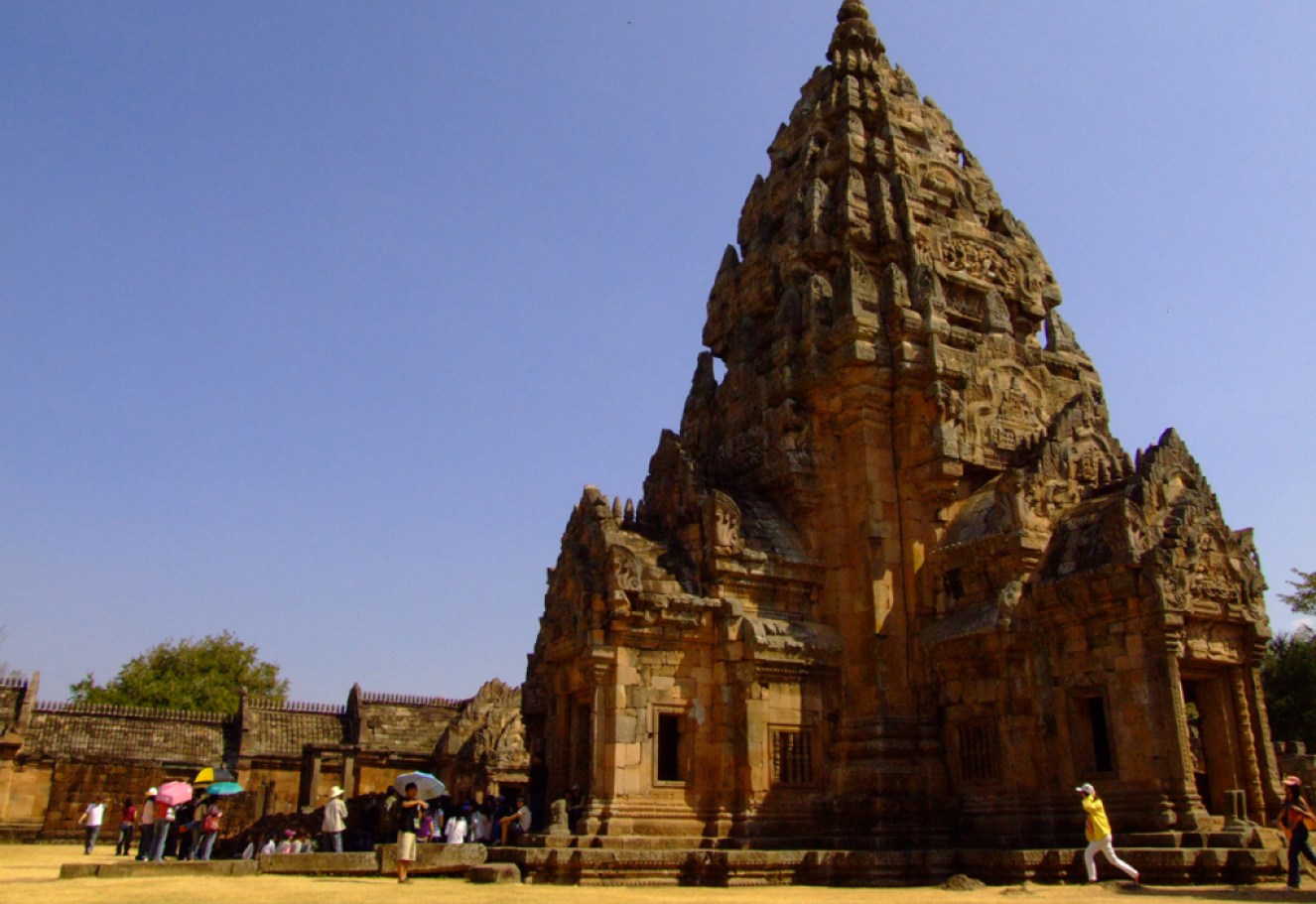 Phanom Rung
Arguably the most significant and impressive of the Khmer temples in Thailand, Phanom Rung was built on the top of a hill between the 10th and 13th centuries, and it is a Hindu temple. Located approximately 50 kilometres south of Buriram town, the site has been submitted to UNESCO for consideration as a future World Heritage Site. Each April, a festival will be held there as well.
Long Boat Racing
The Mun River runs along the border of Surin province and is home to the Long Boat Racing festival in November every year. Racing in traditional long, narrow boats powered by up to 55 oarsmen, there is also a procession of ornately decorated boats and lots of riverside fun for visitors to enjoy.
(Image Credit: nirutti / Shutterstock)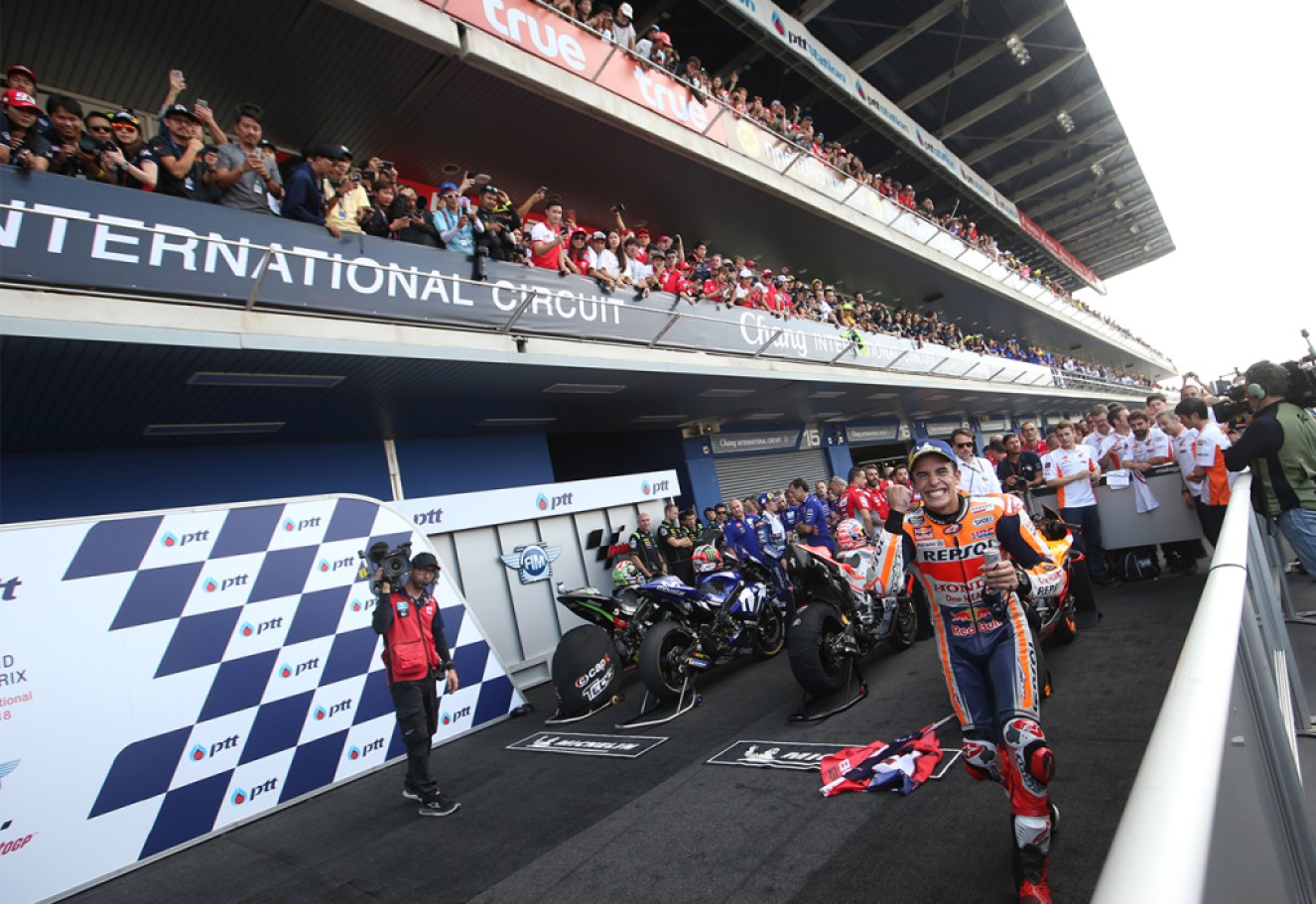 Chang International Circuit
Home to Thailand's MotoGP in October each year, Chang International Circuit is the centre of motor racing in the province and it is located near Buriram United's football stadium, also known as 'Thunder Castle' locally. This sporting centre, as well as adjacent Buriram Castle, has become popular with visitors in recent years.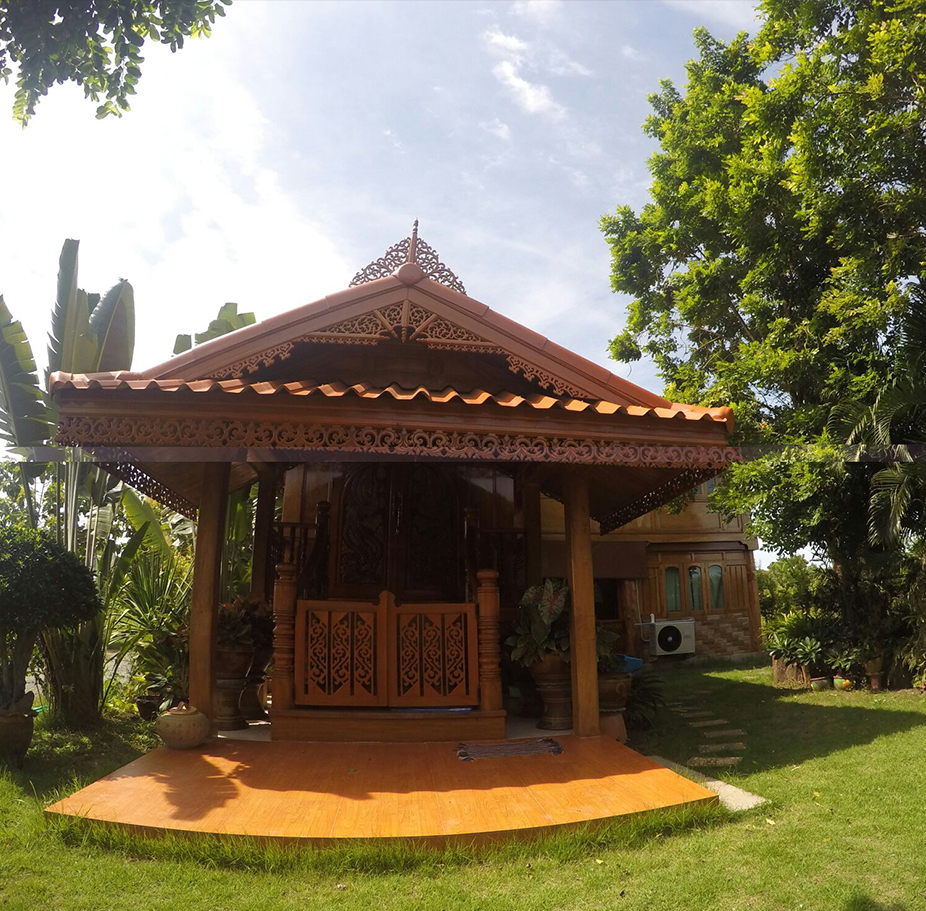 Stay in a traditional Thai cottage furnished with locally-made furniture at Ruen Ailada Guest Home. The home is situated 2 kilometres away from the city centre and 10 minutes away from Chang International Circuit and i-Mobile Stadium. Host Ailada and her mum enjoy preparing home-cooked breakfast for their guests every morning, making this truly a home away from home.
Ubon Ratchathani
The city of Ubon Ratchathani is a major urban centre in the Northeastern region of Thailand. Explore the old quarter with its rustic wooden houses, walking streets, fresh markets and street-side food. Get a glimpse of local handicrafts such as basketry, bronze-ware, silk and cotton products. The province's hinterlands abound with natural attractions from caves to waterfalls, natural stone sculptures, d beaches and more. Bordering Laos, the Mun River runs through the province and is a must-visit.
Geological Discoveries
Located along the Mekong River, Pha Taem National Park is home to some of the most impressive rock formations, waterfalls, and fields of wildflowers. Prehistoric paintings on the cliffs above the Mekong River date back to 3,000 to 4,000 years and show traditional life in those times. Hike up Cha Na Dai Cliff for an amazing sunrise view of the Mekong River, and drop by Sam Phan Bok, also known as "Thailand's Grand Canyon" for its unique geology and water pools.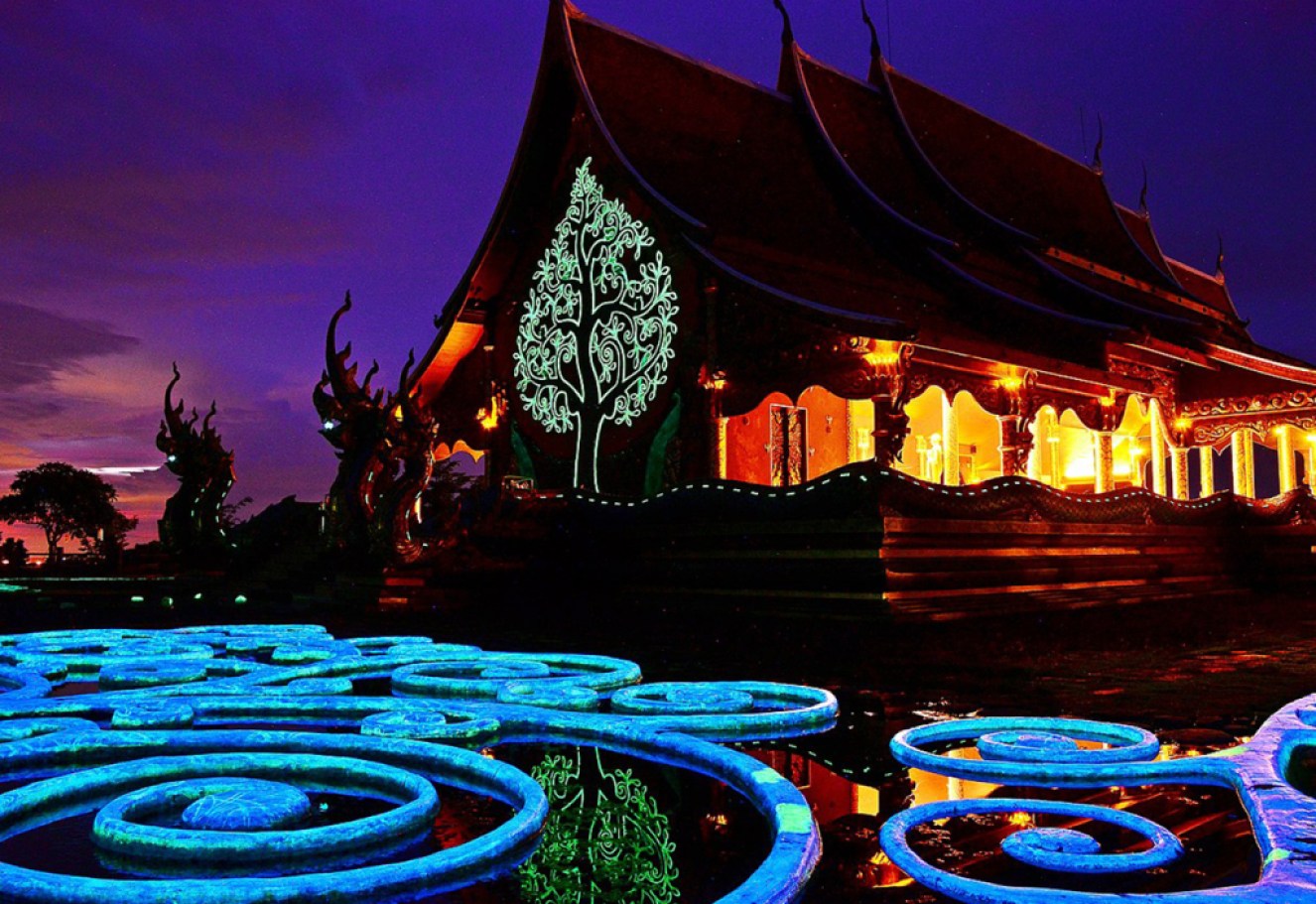 Sirindhorn Wararam Temple
Located on a hill bordering Laos, this golden Lanchang-style temple is a must see for its beautiful architecture. Inspired by the movie Avatar, the fluorescent tree on the temple's exterior wall was designed by Kunakorn Parinyapunno, a skilled artist who is a long time friend of the temple's head monk. As the sun sets, the "Tree of Life" glows in the dark and is popular with photographers and those looking for the perfect Instagram shot.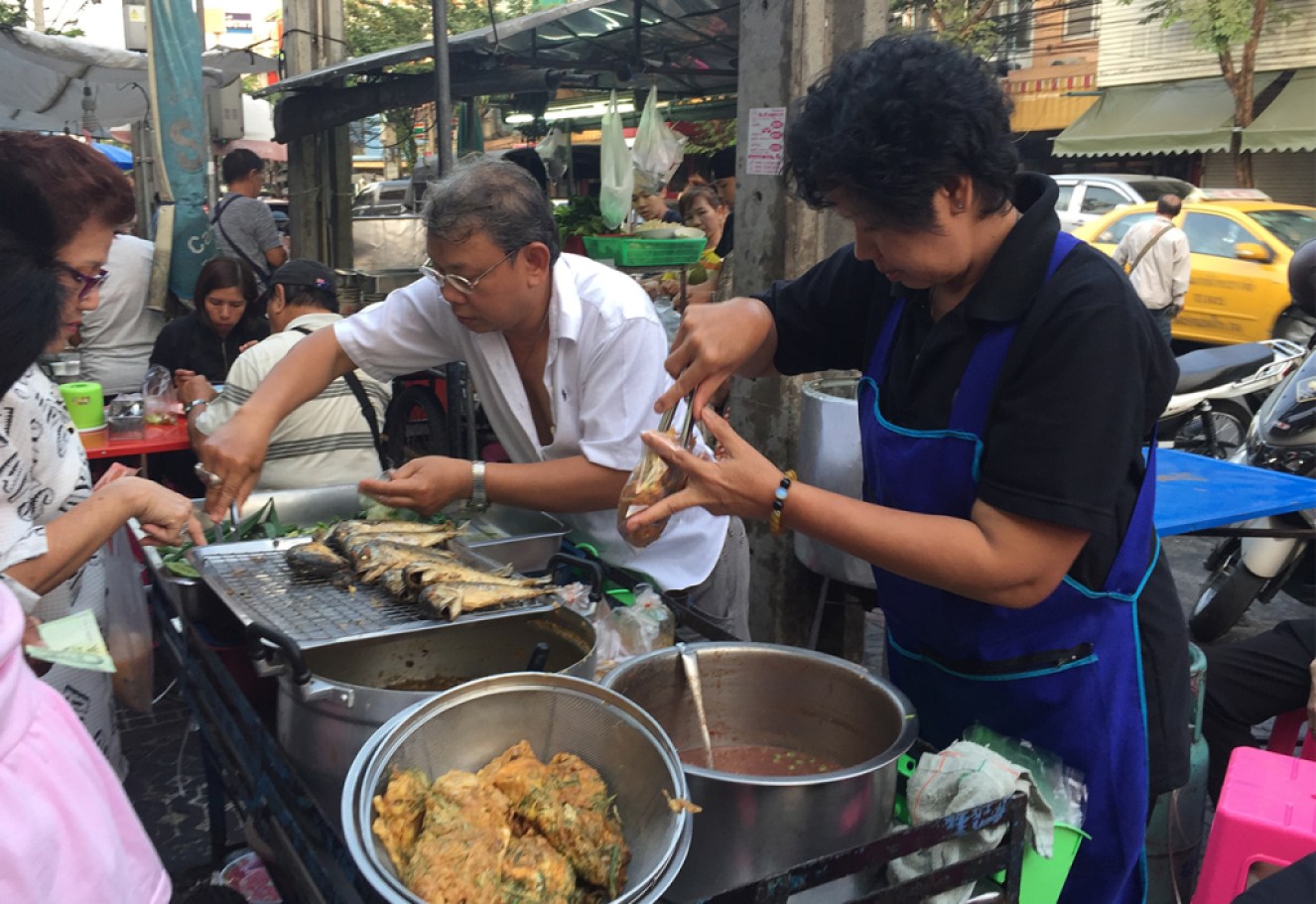 The Old Town 
Ubon Ratchathani is an eclectic mix of Lao and Isaan-Thai combined with Chinese- and Vietnamese-Thai. Walking around the old town, you can see these influences in local architecture and the province's famously spicy cuisine. Situated along the Mekong River, the old town offers a large fresh market with restaurants and cafes dotting the riverfront. On Saturdays, drop by Khemratthani Walking Street for a wide variety of stalls selling food, traditional items and souvenirs as well as cultural and folk performances.
Located in the capital district of Ubon Ratchathani, De Lit is a stylish boutique hotel a stone's throw from the city centre. The rooms are beautifully decorated with lovely little touches and breakfast is provided. Chill and unwind in the pool or take a tuk tuk to visit Wat Phra That Nong Bua in the vicinity.