The great outdoors surge for spring and summer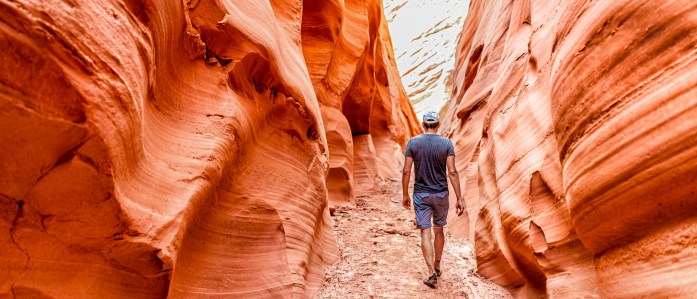 As US citizens look to turn their pent-up travel dreams into reality, combined with President Biden's plan to get the nation back outside by July 4, guests are increasingly looking for ways to safely reunite and meaningfully connect with loved ones on Airbnb. With our recent report revealing new Hosts have earned $1 billion during the pandemic, and Hosts making on average $7,900 per year, the anticipated early summer surge is also a good opportunity to consider hosting.
When it comes to locations, warm weather locales, small beach towns, and access to state and national parks are fueling spring and summer wanderlust. From the soaring arches of Zion National Park to the historic Outer Banks town of Kitty Hawk, North Carolina, US visitors are gravitating towards these top destinations this spring and summer, based on search data*.
1. Southern Maine
2. Cape May, NJ
3. Round Top, TX
4. Lake Powell, AZ
5. Cape San Blas, FL
6. Orderville, UT
7. Mammoth Cave, KY
8. Kitty Hawk, NC
9. Lake of the Ozarks, MO
10. Whitefish, MT
Guests are also looking for nontraditional stays that offer plenty of privacy and outdoor space. According to a recent Airbnb survey**, 84 percent of respondents were open to exploring unique and remote lodgings for a future trip, with cabins, barns and treehouses ranking at the top of the list. Turns out those are also the types of spaces US guests are increasingly seeking and saving to wishlists in 2021:
Cabins are the #1 most wishlisted unique stay type in 2021
80% increase in treehouse views since March 2020
63% increase in barn views since March 2020
Most wishlisted cabins in the US:
Searches for stays with outdoor spaces for families and intimate gatherings are also surging compared to last year, with the top three trending amenities being patios and balconies (35x growth); gardens or backyards (8x growth); and barbecue areas–quintessential for small July 4th gatherings–seeing 19x growth.
Stays with barbecue areas:
Ahead of the anticipated travel rebound, prospective Hosts can learn more about how much they can earn by sharing their space on Airbnb with the What's My Place Worth tool.
*Top destinations based on growth in searches for trips March-August 2021 vs. searches for trips in January-February 2021.
**Based on a sample of 2,000 US adults (18 years or older) was surveyed between February 19, 2021 and February 21, 2021. The margin of error is 2.2%. DKC Analytics conducted and analyzed this survey with a sample procured using the Pollfish survey delivery platform, which delivers online surveys globally through mobile apps and the mobile web along with the desktop web. Unless otherwise noted, all statistical information is from the DKC Analytics survey.
Forward-Looking Statements:
This release contains forward-looking statements within the meaning of the "safe harbor" provisions of the Private Securities Litigation Reform Act of 1995 about us and our industry that involve substantial risks and uncertainties. All statements other than statements of historical facts contained in this release, including statements regarding the future of travel, the effects of the COVID-19 pandemic, the behavior of hosts and guests, and our future performances, prospects, plans, objectives, and strategies are forward-looking statements. Although we believe that the expectations reflected in these forward-looking statements are reasonable, we cannot provide any assurance that these expectations will prove to be correct.
The following factors are among those that may cause actual results to differ materially from the forward-looking statements:
the effects and duration of the COVID-19 pandemic;
additional or continued declines or disruptions in the travel and hospitality industries or economic downturns and the other factors discussed under "Risk Factors," "Management's Discussion and Analysis of Financial Condition and Results of Operations," and "Cautionary Note on Forward-Looking Statements" in our Annual Report on Form 10-K filed with the U.S. Securities and Exchange Commission (the "SEC") on February 26, 2021.
Any forward-looking statements speak only as of the date of this release and reflect our beliefs and opinions as of the date of this release. We expressly disclaim any obligation to update or revise any information contained in this release.