The Top Trends Fueling Airbnb Travelers' Wanderlust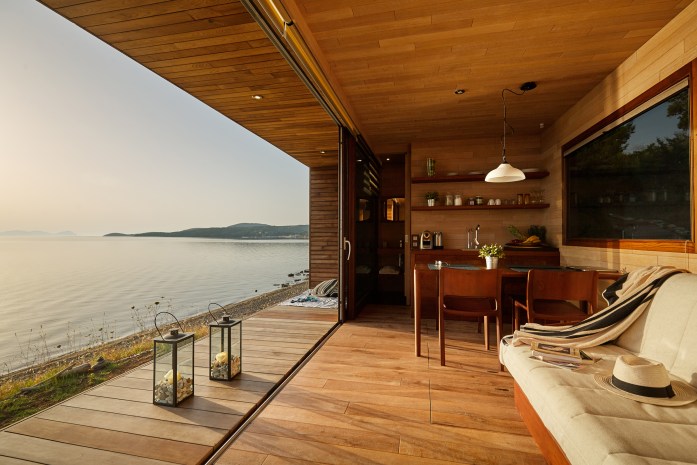 As communities around the world slowly begin to open their doors, the idea of future travel is beginning to inspire those at home. Airbnb internal data reveals early signs of future trip planning through search and wish lists created by guests ready to reconnect with each other and the world.
From cozy cabins to poolside respites for summer, the outdoors are calling out to those who have stayed at home to protect themselves and those around them. As travel planning starts to rebound, here are the top trends that are fueling Airbnb guests' wanderlust.
Top 10 Most Wish Listed Homes
Travel might be restricted for now, but that isn't stopping guests from dreaming of one-of-a-kind experiences in far flung destinations. Week-over-week, guests are increasingly turning to wish lists to save listings they hope to travel to one day1.
From a Grecian cave house to a secluded, modern Icelandic apartment, these are the top 10 most wish listed homes since March2 enticing travelers even while under lockdown.
Redefining Cabin Fever
Those at home are dreaming of being surrounded by nature with cabins being the second most searched listing type by guests in the United States in early May3, and of the top 10 most wish listed space types globally, they're the fastest growing in wish list inclusions at more than 20 percent growth week-over-week4.
And with more than 35 percent of homes searches being for just two guests5, this sampling of rustic stays can provide private and idyllic settings within driving distance of home.
Special Occasions and Beachfronts Abound
Top keywords from wish lists created in the last 60 days indicate guests are looking to Airbnb to commemorate special occasions that may have been cancelled and are looking to enjoy the sun in the warmer months ahead.
Top wish list keywords include6:
Summer 2020
Beach
Birthday/Bday
Wedding
Honeymoon
Anniversary
Getaway
Vacation
Below is a sampling of coastal homes with access to the beach.
Online Experiences – The New Dinner and a Show
Launched in April, Online Experiences have swiftly evolved to be one of guests' favorite ways to be transported to new destinations while at home, with 20,000 seats booked in the first two weeks7.
According to a recently commissioned Airbnb online survey, guests booked Online Experiences to be entertained (63%), to learn something new (60%), and to experience other cultures and lifestyles (56%)8. Food and Drink is the most popular category, accounting for nearly 40 percent of seats booked9, but guests are being drawn to a number of distinctive activities, including these most booked Online Experiences10:
1Based on Airbnb internal data measuring week-over-week growth of wish list inclusions comparing April 28-May 4, 2020 to May 5-11, 2020.
2Based on Airbnb internal data measuring wish list inclusions of specific listings from March 11-May 4, 2020.
3Based on Airbnb internal data measuring the most searched listing types by US users from May 1-11, 2020.
4Based on Airbnb internal data measuring week-over-week growth of wish list inclusions based on listing type, comparing May 4-11, 2020 to April 26-May 3, 2020.
5Based on Airbnb internal data measuring the share of trip searches by number of guests from May 1-13, 2020.
6Based on Airbnb internal data measuring the number of times specific keywords are used in wish list titles in the last 60 days, as of May 13, 2020.
7Based on Airbnb internal data measuring number of Online Experiences' seats booked from April 8-22, 2020.
8Online survey sent to guests booking an Online Experience between April 9-May 1, 2020.
9Based on Airbnb internal data as of May 13, 2020 measuring the share of Online Experiences bookings by Experience category.
10Based on Airbnb internal data measuring the seats booked of specific Online Experiences, as of May 13, 2020.