Airbnb Announces New Year's Eve Plan to Protect Public Health
As the world grapples with another COVID-19 wave, today we are announcing our plan to strengthen our hosts' protection against unauthorized house parties and large gatherings over New Year's Eve. This approach will be anchored by a two-night minimum in entire home listings for guests without a history of positive reviews in parts of North America, Western Europe and Australia.
This plan marks the latest of a number of recent changes to our platform to meet this specific public health moment, prioritize safe and responsible travel, and do our part to try and stop large gatherings that can spread this virus.
Here is what we have done
To help protect public health during the pandemic, in August we instituted a global party ban at Airbnb listings, including a new 16-person occupancy cap in our listings.
Over Halloween weekend in the US and Canada, we took the step of prohibiting all one-night reservations in entire home listings to reduce unauthorized parties. This initiative went successfully.
In the ensuing weeks, we have listened to our US and Canada host community who provided feedback that in the future, the strategy could be improved by allowing a pathway for guests who have demonstrated a commitment to being responsible travelers through their histories of positive reviews, while still maintaining robust protections against unauthorized parties. We have taken that feedback seriously and it motivated our New Year's Eve plan.
Here is how it will work over New Year's Eve
The changes will take effect in the US*, UK, Canada, Mexico, Australia, France and Spain.
Effective today, in these countries, guests without a history of positive reviews on Airbnb will be prohibited from making one night reservations in entire home listings on New Year's Eve.
Guests who have a history of positive reviews on Airbnb will not be subject to this restriction.
We will allow already booked one-night reservations to go through as planned, as our data has historically shown that one-night New Year's Eve bookings made prior to now very rarely lead to unauthorized parties. 
Here's how we'll complement the booking restrictions over New Year's Eve:
As New Year's Eve approaches, we are deploying more stringent restrictions on one and two-night reservations that may pose heightened risk for parties. For example, we will leverage our technology that restricts certain local and last-minute bookings by guests without a history of positive reviews on Airbnb and also block reservations within an expanded radius.
All guests globally with successful bookings must attest that they will not throw an unauthorized party and that they may be pursued legally by Airbnb if they break our rules on parties and events (see below).
We are providing guidance to hosts in those countries on how to further reduce the likelihood of unauthorized parties, including updating and proactively communicating their house rules to guests.
Airbnb will be operating a virtual command center to get ahead of any issues, along with trained safety agents on call throughout New Year's Eve.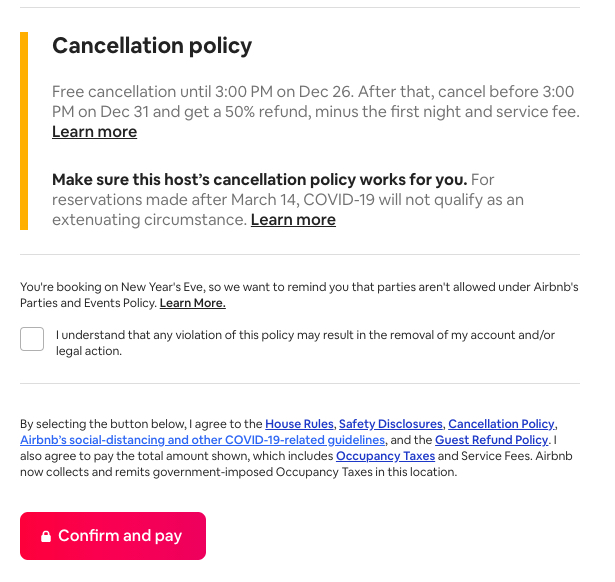 This is the latest step we have taken since the declaration of the pandemic to prioritize safe and responsible travel. We have launched a Frontline stays program for frontline responders and health care workers, introduced an Enhanced Cleaning Protocol to support safer travel, announced our intent to bring legal action against unauthorized partiers, and shared out new restrictions on certain local and last-minute bookings. We have banned parties globally. And last month we announced the Airbnb City Portal to help provide cities a one-stop-shop to access tools, including support for trust and safety needs. We understand that the world will continue to evolve quickly and we will evolve our policies based on learnings with the objective of organizing our work around building trust with our hosts, guests and the communities in which we operate.
Our hosts are our partners in this mission – and we have carefully developed this New Year's Eve initiative informed by their feedback along with a review of our data, systems and tools. We also know that the great majority of guests are respectful of our hosts' neighbors, and that they treat their hosts' homes as if they were their own homes. We believe this plan will help prevent large gatherings while supporting the type of safe, responsible travel that benefits guests, hosts and the neighborhoods they call home.
* Including Puerto Rico and US Virgin Islands.