Airbnb-produced Documentary Film GAY CHORUS DEEP SOUTH to Premiere at Tribeca Film Festival on April 29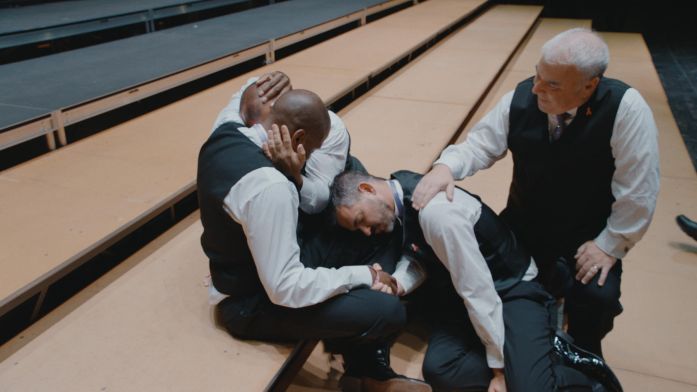 Airbnb announced today that the company developed and produced GAY CHORUS DEEP SOUTH, a documentary feature on the power of belonging, is set to premiere at the world-renowned 18th annual Tribeca Film Festival on April 29, 2019. This is Airbnb's first documentary feature film.
Directed by David Charles Rodrigues, the film captures the San Francisco Gay Men's Chorus as they traveled through the southeastern United States to perform on their Lavender Pen Tour, a multi-state and larger than life story showing the power of music to promote acceptance and belonging.
Starting in 2017, Rodrigues and producers Bud Johnston and Emmy®- nominated filmmaker Jesse Moss, captured each step of the San Francisco Gay Men's Chorus journey, which led to the development of GAY CHORUS DEEP SOUTH. The 300-person gay men's chorus, led by conductor Tim Seelig, went on a 10-day journey across Mississippi, Alabama, Tennessee, North Carolina and South Carolina. The film depicts the challenges the Chorus faced as they took their music inside of people's homes, churches and concert halls to inspire conversation around inclusivity and use the power of song to unite local communities.
"Making this film with Airbnb and the Chorus has been an experience of a lifetime," said GAY CHORUS DEEP SOUTH director David Charles Rodrigues. "When we learned about the tour, I immediately saw a rare chance of telling an emotional story in divisive times. What we saw up close, was a positive movement of acceptance and belonging. It's a humbling opportunity to premiere at Tribeca and most importantly to spread the Chorus's message to the world."
"As a community, Airbnb is rooted in the power of people to people connections to drive belonging and this film tells that story. We believe that every person – regardless of sexual orientation or gender identity – should not only be treated with dignity and respect, but should be welcomed and celebrated. When we heard the San Francisco Gay Men's Chorus was touring to sing about those values, we wanted to help amplify this shared mission of belonging."

James Goode, Airbnb Head of Creative
Members of the San Francisco Gay Men's Chorus will perform following the premiere of GAY CHORUS DEEP SOUTH at the Tribeca Film Festival. Tickets to see the film during Tribeca Film Festival are available to the public here.
About GAY CHORUS DEEP SOUTH
Led by Gay Chorus Conductor Dr. Tim Seelig, the tour brings a message of music, love and acceptance to communities and individuals confronting intolerance. Over 300 singers travelled from Mississippi to Tennessee through the Carolinas and over the bridge in Selma. They performed in churches, community centers and concert halls in hopes of uniting us in a time of difference. The journey also challenges Tim and other Chorus members who fled the South to confront their own fears, pain and prejudices on a journey towards reconciliation. The conversations and connections that emerge offer a glimpse of a less divided America, where the things that divide us—faith, politics, sexual identity—are set aside by the soaring power of music, humanity and a little drag.
About the San Francisco Gay Men's Chorus
For more than 40 years, the San Francisco Gay Men's Chorus has courageously served as the international standard bearer for a powerful and accomplished mix of performances, human rights and community activism, empowerment and inclusiveness, establishing it as an icon among LGBTQ organizations. Under the leadership of Artistic Director Dr. Timothy Seelig, SFGMC has established a heightened level of performance standards bringing renewed audience and choral industry acclaim. In the fall of 2017, 300 members of SFGMC embarked on the unprecedented Lavender Pen Tour through the Deep South, celebrating music, challenging intolerance, and confronting their own dark coming out stories to confront a resurgence of anti-LGBTQ laws. For more information, visit www.sfgmc.org.
About Airbnb
Airbnb has long been committed to supporting the LGTBQ community and was a founding member of the Human Rights Campaign Business Coalition for the Equality Act, advocating for comprehensive legal protections for LGTBQ people. Founded in 2008, Airbnb exists to create a world where anyone can belong anywhere, providing healthy travel that is local, authentic, diverse, inclusive and sustainable. Airbnb's accommodation marketplace provides access to 6+ million unique places to stay in more than 81,000 cities and 191 countries. With Experiences, Airbnb offers unprecedented access to local communities and interests through 25,000+ unique, handcrafted activities run by hosts across 1,000+ markets around the world. Airbnb's people-to-people platform benefits all its stakeholders, including hosts, guests, employees and the communities in which it operates.