Our Commitment to Safer Travel: New Health and Safety Mandate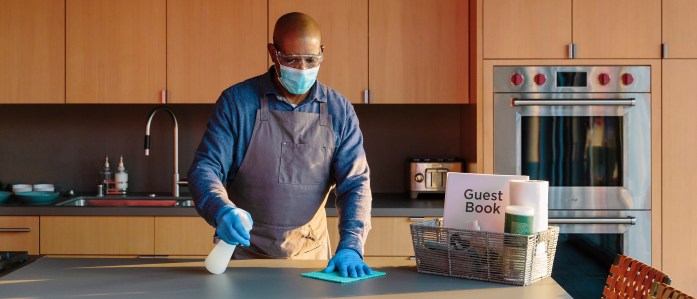 As people continue to find new ways to travel and host safely, in line with guidance and rules issued by local governments and health authorities, cleanliness remains a priority. Today, we announced hosts and guests must agree to follow Airbnb's COVID-19 Safety Practices, which include wearing a mask, practicing social distancing, and, for hosts and their teams, abiding by our five-step enhanced cleaning process. This commitment will help provide extra assurances to try and safeguard all our stakeholders – hosts, guests, their communities and governments.
Earlier this year we introduced Airbnb's Enhanced Cleaning Protocol, a set of guidelines for cleaning and sanitization developed with guidance from leading experts in hospitality and medical hygiene and former U.S. Surgeon General Dr. Vivek Murthy, which earned the Safe Travel stamp from the World Tourism and Travel Council (WTTC).
Since the launch of the program in June, hosts have enrolled nearly 1.5 million listings and guests have given these listings an average 4.8* star rating for cleanliness. Early in the pandemic, Airbnb also issued health and safety guidelines about wearing a mask and practicing social distancing in accordance with guidance from the World Health Organization and Centers for Disease Control.
In an effort to reiterate our commitment to responsible travel and the well-being of our communities, we are now requiring all hosts and guests to commit to the following COVID-19 safety practices:
All guests and hosts must wear masks and practice social distancing when interacting with each other.
All homes hosts must commit to implement Airbnb's five-step enhanced cleaning process by November 20.**
Starting next week, homes hosts will be prompted to commit to these health and safety guidelines when they log into their Airbnb account and guests will be asked to agree to the guidelines when they book a listing. This builds on existing cleaning and safety initiatives for in-person Airbnb Experiences which require all hosts and guests to wear face coverings and social distance.
Hosts have until November 20, 2020 to commit, otherwise their accounts may be subject to warnings, suspensions and, in some cases, removal from the Airbnb platform.
Resources to support hosts
To help hosts and their hosting and cleaning teams uphold these standards, we continue to update our Resource Center with information, resources and tools to help them offer a safer travel experience. We also developed the Airbnb Cleaning Hub that provides hosts with access to tools and resources to help them uphold the health and safety commitments, like articles, checklists and recommended supplies. 
Consumers are voting with their feet
Now more than ever, guests are looking for the features that have made Airbnb unique – private homes beyond densely populated tourist and hotel districts with more space and more control over their environment. Roughly three out of four guests recently surveyed by Airbnb*** said they would be more comfortable staying with their families in a listing than in a hotel with other people.
The new requirements will not only help bolster the quality of listings on our platform, they will also help hosts meet changing consumer demands. According to internal Airbnb data, listings enrolled in the Enhanced Cleaning Protocol are some of the most popular listings and have three times more bookings on average than listings that were not enrolled in the protocol.**** Guests continue to turn to listings enrolled in the program to have a more socially distanced travel experience.
While hosts are doing their part to support healthier stays, we also continue to encourage our community to follow the latest local health guidelines. To learn more visit our Airbnb Resource Center.
*According to internal Airbnb guest review data on listing cleanliness as of June; out of five stars.
**Except hosts in Mainland China.
***Based on a March 2020 Airbnb-commissioned survey, conducted by Decode_M, of 940 prospective guests on Airbnb in the U.S.
****Based on internal Airbnb data between June 18-September 30, 2020.