For Lauren and Greg Newell, a shared love of animals is what brought them together. Lauren, a former advertising executive, and Greg, a multi-generational beef cattle farmer, first met online almost 10 years ago and say they have been soulmates ever since. The couple joke that they're like the "real life version of Farmer Wants a Wife, without being on television".
Together Lauren and Greg own and run Linga Longa farm in Wingham on the Mid-North Coast of New South Wales, where they live with their three dogs Tinkerbell, Gizmo and Dexter, and their cat, Sabah. The Newells breed Hereford cattle on their 200 acre farm and sell their meat direct at farmers markets in Sydney. They also list their farm cottage and studio on Airbnb, opening their home to guests from around Australia and the world.
While the couple say they first starting hosting on Airbnb to help with a little extra income during tough times, they say having guests come to stay has really changed the reasons why they continue to host.
"We just love having people come and learn about the farm and do the whole 360 experience," Lauren says. "We get such a wide variety of people coming through, whether people are coming up for a wedding, a family gathering, or for work. For us it's become more than just a bit of extra income, it's more about interacting with our guests and teaching them about the farm and where their food comes from. We have made friends from all over the world and we've had a few guests come back two or three times now. In fact, some guests who stayed with us 18 months ago now come and house sit for us when we're away!"
Greg adds, "I think the proof is in the pudding for us with Airbnb, it's a fantastic way to meet new people, and it's just a really fun thing to do. It's the most wonderful experience sharing knowledge with our guests. Education and communication is one of the most powerful tools that we get out of having people come here, and I love to walk guests around the farm and just tell them about it. We probably haven't even walked ten foot away from the front door and we have this great exchange of information."
Airbnb guests visiting Linga Longa get the complete farm experience with Lauren and Greg. Whether that's building a fire in the fire pit out the back, feeding the cows and chickens, taking a ride around the property with Lauren on the ATV quad bike, or just having a yarn with Greg. They even offer to stock the fridge with their produce for any Airbnb guests coming to stay who might want some fresh meat or sausages to barbecue when they arrive.
"When people ask me why I host on Airbnb, I've often said: 'you can stay in a house, on a property, have a swimming pool and go and see cows, for the same price you can stay in some box of a hotel'," says Lauren.
"I think more people are now using Airbnb because they want that authentic experience. We certainly do. If Greg and I travel, we don't want to go and stay in a hotel, we want to go to someone's place. In fact, we recently stayed in a converted train someone had done up in their yard, it was great."
For Lauren and Greg, the joys of hosting extend far beyond the ends of their guests' stay. They have made life-long friendships with people that have been passing through and stayed with them on the farm.
"We make connections with people all across the world, and that's the lovely thing about it. Whether it's a Facebook message or an email or a text message it's just nice to know that someone cares to check in on you. And visa versa, if we hear about something happening overseas and we know one of our guests is over there, we are able to communicate and let them know we are thinking about them too," Greg says.
Living in a small country town, Lauren and Greg rely on this sense of belonging and community spirit shared by fellow locals. Greg is a retained firefighter with NSW Fire and Rescue and the couple visit Ronald McDonald House in Forster once a month with Club Taree to help cook a meal and provide meat for the families at the retreat. They are also currently fundraising for drought relief having already raised $8,000 for the Burrumbuttock Hay Runners.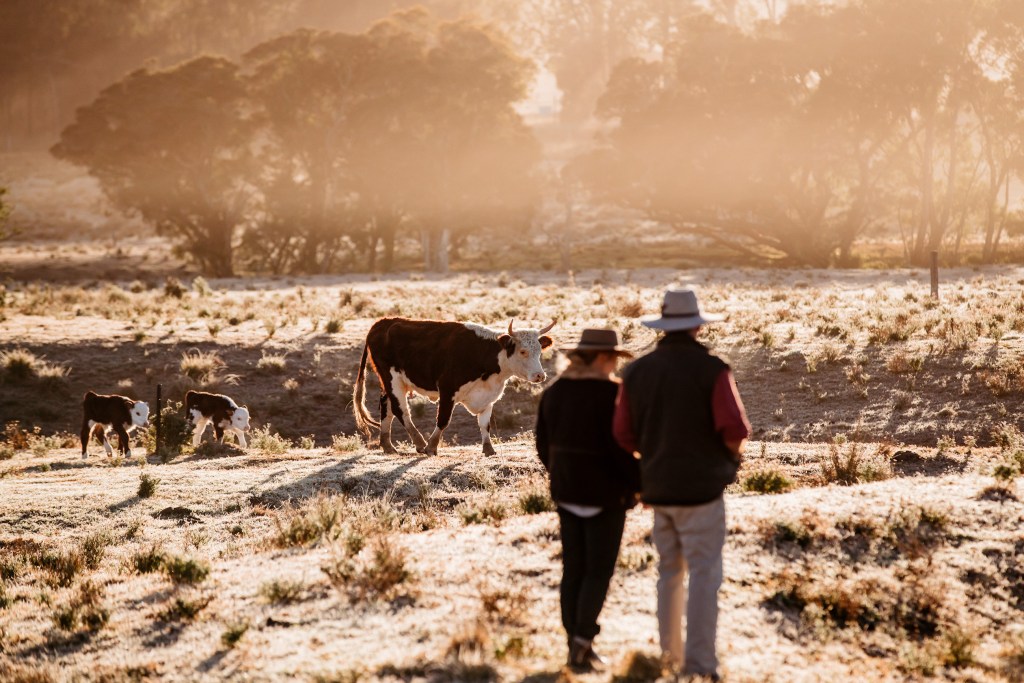 "The whole of NSW is drought declared at the moment and it is a really challenging time. We're lucky that Airbnb has been a fantastic source of income in helping us through. It's the worst drought that NSW has seen since 1962 and our heart goes out to all our fellow farmers out west who are doing it a bit tough. We just can't do enough, that's why we've been fundraising to help them," Greg says.
And it seems the couple love hosting on Airbnb so much they're only too willing to encourage their friends to do it too.
"One of my friends, a retired couple, live just outside of Wingham. They knew that we hosted on Airbnb so I walked them through it, showed them how to set it up online, had a look at their space, and gave them some tips on how to set it up and what to do for breakfast. Now they're getting lots of bookings and as they are retired, they've got a little bit of extra income coming in. Every time I see them now they're just so excited, telling me about the amazing people that have come and stayed with them," Lauren says.
So what are their tips for anyone thinking about becoming an Airbnb host?
"I think the most important thing about being an Airbnb host is just being yourself. Just do what you would normally do, live the lifestyle you would normally live, and include your guests. If you're a welcoming person and you enjoy other people's company, Airbnb is the way to go. You get so much out of it," Greg adds.
Airbnb celebrates its 10th birthday this month. To become an Airbnb host visit airbnb.com.au/host