HRC Recognizes Airbnb as One of the Best Places to Work for LGBTQ Equality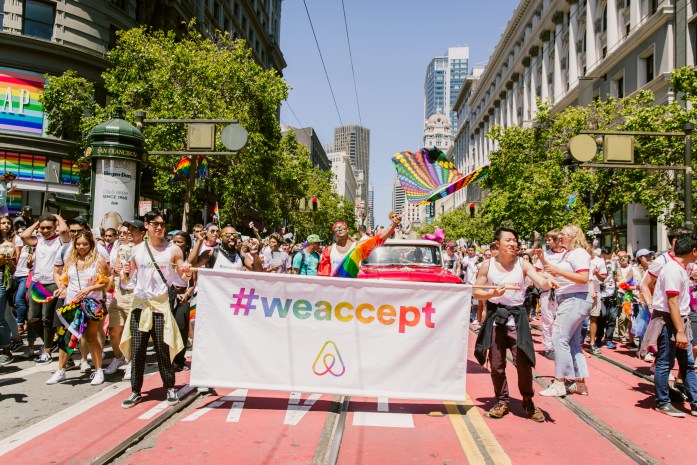 Airbnb has been recognized by the Human Rights Campaign (HRC) as a top place to work for LGBTQ equality, scoring 100 percent on the organization's annual Corporate Equality Index (CEI). We are proud to receive this designation for the sixth year in a row, joining more than 760 major businesses in the United States that also earned top marks this year.
The CEI rates companies on detailed criteria falling under four central pillars:
Non-discrimination policies across business entities;
Equitable benefits for LGBTQ workers and their families;
Supporting an inclusive culture; and,
Corporate social responsibility.
"From the previously unimaginable impact of the COVID-19 pandemic, to a long overdue reckoning with racial injustice, 2020 was an unprecedented year. Yet, many businesses across the nation stepped up and continued to prioritize and champion LGBTQ equality. This year has shown us that tools like the CEI are crucial in the work to increase equity and inclusion in the workplace, but also that companies must breathe life into these policies and practices in real and tangible ways. Thank you to the companies that understand protecting their LGBTQ employees and consumers from discrimination is not just the right thing to do – but the best business decision."

Alphonso David, Human Rights Campaign President
Airbnb's mission is to create a world where anyone can belong anywhere, and that includes within our company. We're committed to creating a diverse, inclusive, and equitable company where anyone can belong. We continue working hard to find ways to support our LGBTQ employees, including:
As of 2020, our US and Canada-based employees have the option to identify their gender identity and sexual orientation as part of their demographic data. This will help us better represent, recognize and understand the identities of our employees, and we will continue to expand our definitions of diversity.
In 2019, Airbnb adopted an official US policy to support transgender employees in the workplace and our Anthem medical coverage for employees in the US follows the World Professional Association for Transgender Health (WPATH) standards of care.
We are so proud and thankful for the hard work the AirPride and Trans@ employee resource groups do to make Airbnb a great place to work for LGBTQ employees. AirPride's mission is to celebrate the diversity of gender identity and sexual orientation and empower Airbnb to be a positive force for both its own LGBTQ+ employees and the world. The mission of Trans@ is to support trans and gender non-conforming employees and advocate for improvements to Airbnb that will benefit the trans community.
"Supporting our LGBTQ team members, hosts, and guests, and the global LGBTQ+ community is an important part of Airbnb's mission. We're proud to receive this honor from the HRC, which acknowledges the commitment we've made to fair and equal treatment for people of all sexual orientations and gender identities," said Melissa Thomas-Hunt, Airbnb Global Head of Diversity and Belonging. "In partnership with our Employee Resources Groups, AirPride and Trans@, executive sponsors and other allies, we remain unwavering in our commitment to fostering a workplace where our LGBTQ+ teammates can thrive." –
Consistent with our ongoing commitment to LGBTQ+ equality, Airbnb is proud to support non-discrimination laws and policies. In 2020:
We're also proud to celebrate LGBTQ culture. With in-person gatherings canceled during last summer's Pride season, Airbnb brought to life our first virtual celebration of LGBTQ+ culture, history and activism. Pride enthusiasts were able to travel virtually and join Online Experiences led by hosts in Thailand, the United Kingdom, the United States, Australia, Germany, Portugal and more from the comfort of their living room.