Last September, Hurricane Maria struck Puerto Rico, devastating infrastructure and the economy as the biggest natural disaster in the history of the island. One year later, we look back at how Puerto Rico and the Airbnb community have worked together to respond to Hurricane Maria. We also look forward: to how the Airbnb community can continue to assist Puerto Rico in rebuilding to be stronger than ever. Today, we're releasing new data that shows Airbnb travel to Puerto Rico is rebounding quickly, and, in some cases, surpassing pre-hurricane levels. And the Airbnb host community is coming back strong: the number of listings has rebounded after a post-hurricane decline, and now there are more Airbnb hosts ready to welcome guests from around the world and more Airbnb listings in Puerto Rico than ever before.
In the aftermath of Maria, Airbnb activated our Open Homes program on the island, which enabled hosts not directly impacted by the storm to open their homes and provide emergency shelter to those displaced by the hurricane. Airbnb also worked with our partners in disaster relief to help their assessment teams and workers find places to stay as they responded to the crisis.
Host Jesus in San Juan, for example, opened his home on multiple occasions to All Hands And Hearts Smart Response, a relief organization that utilized his listing as a mission control center, receiving incoming volunteers and coordinating a team of assessors on the ground. Since the hurricane, All Hands and Hearts has facilitated over 1,200 global volunteers to complete over 600 relief and recovery jobs on the island.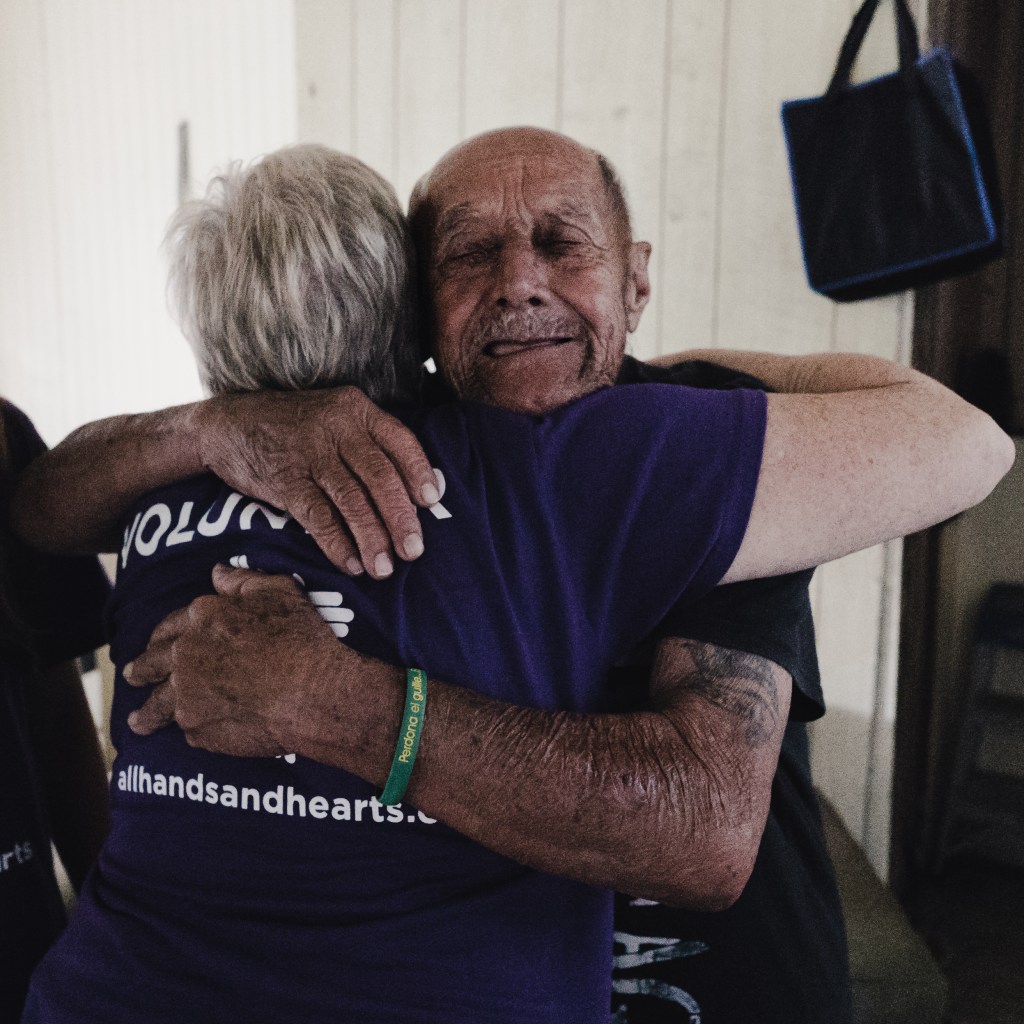 By partnering with Airbnb, we were able to help to restore a sense of home and belonging to many Puerto Ricans affected by Hurricane Maria like 88-year old Sylvia.

Sylvia lives in a house that was built by her father and she grew up there with her 10 sisters. To restore her home after Hurricane Maria was to restore a monument in celebration of her family and her vibrant life.

All Hands and Hearts
Airbnb also worked with relief organization Mercy Corps to quickly set up emergency response bases in Puerto Rico, as they housed sixteen staff members across three Airbnb properties in San Juan, one of which they used as an office. Host Brian in San Juan helped Mercy Corps find a generator so they could have electricity and internet—rare amenities in San Juan at the time—which were critical to launching their response. In the initial aftermath of Hurricanes Irma and Maria, Mercy Corps delivered 5,000 solar lanterns, 2,500 water filters and nearly $300,000 in emergency cash assistance to thousands of families across Puerto Rico.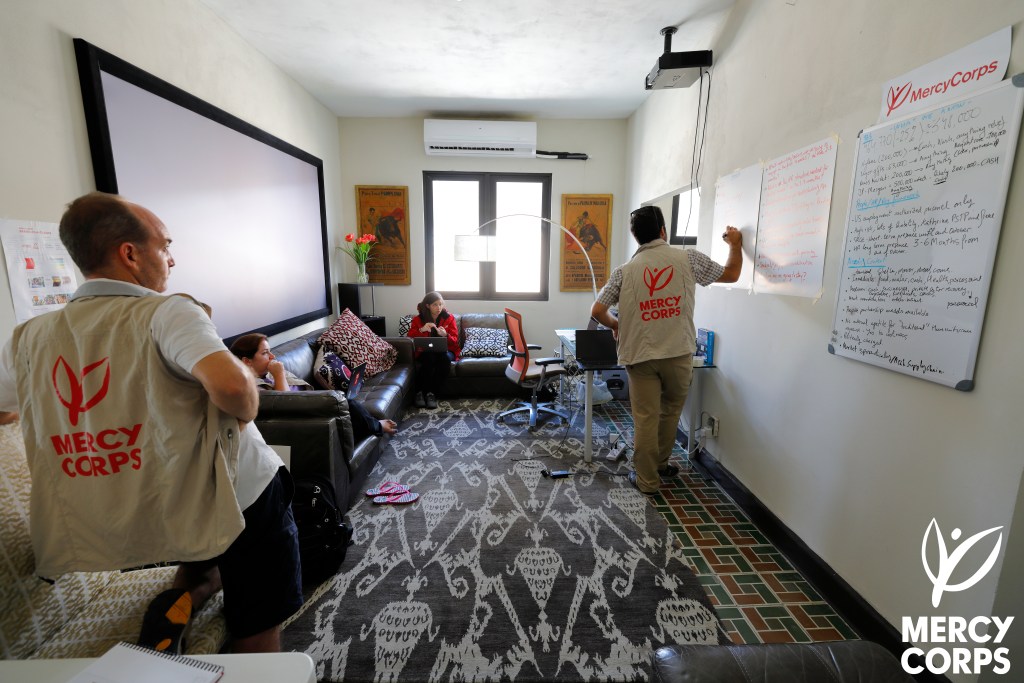 In the months following, Airbnb has worked to help Puerto Rico rebuild its status as a tourism destination. Tourism has long been a central pillar of Puerto Rico's economy, but the hurricanes devastated much of the island's accommodations and drastically cut the flow of travelers to the island.
In May, Puerto Rico Governor Ricardo Rosselló and Airbnb Co-Founder, CEO and Head of Community Brian Chesky announced a new partnership to drive tourism to Puerto Rico and support the island as it rebuilds. As part of this partnership, Airbnb launched the popular Experiences program in Puerto Rico, helping guests enjoy the authentic Puerto Rico through unique, handcrafted activities hosted by locals. To help aid the ongoing recovery efforts across the island, Airbnb donated fees from trips booked in Puerto Rico for three months to organizations including All Hands and Hearts and Lin-Manuel Miranda's Arts Fund with the Flamboyan Foundation.
Airbnb and the Puerto Rico Tourism Company (PRTC) also committed to a destination marketing campaign, designed to highlight the diverse experiences the island has to offer. Carla Campos, PRTC's Executive Director said, "Our beautiful and enchanted island has recovered and is stronger than it was before. Now, more than ever, we are ready to welcome visitors. Airbnb has been an outstanding partner, working hand in hand with the Government of Puerto Rico throughout our recovery and rebuilding process. We thank Airbnb, not only for providing suitable lodging alternatives for both rescuers and visitors, but also for working with us to prepare for the future and make us a more resilient destination."
One year after the Hurricane, new Airbnb data shows that signs of a tourism rebound are beginning to emerge. Airbnb travel to the island is growing quickly.
There are now over 80 Experiences available on Airbnb across Puerto Rico. Experiences are scattered across the island and range from a sunset sail in San Juan Bay to hiking a nature reserve in the mountainous northwest.

Though the numbers of Airbnb home listings in Puerto Rico fell after the hurricanes, numbers have rebounded and now surpass the pre-Hurricane Maria levels. On September 1, 2017, there were roughly 7,700 active home listings in Puerto Rico. After falling 11 percent after Hurricane Maria, the number of listings has grown dramatically–especially over the past five months. Today, there are more than 8,300 Airbnb listings in Puerto Rico, creating additional economic opportunity for residents on the island and surpassing pre-Hurricane levels.

As expected, Airbnb guest arrivals to Puerto Rico fell dramatically after the hurricane. But the past few months have shown that travelers are returning to the island. Since May, the number of guest arrivals to Puerto Rico has exceeded the same time period in 2017. In fact, July was the biggest month ever for Airbnb guest arrivals to Puerto Rico. 
Though there is still much work to do, these numbers are encouraging signs that tourism is returning to Puerto Rico. Hurricane Maria deeply damaged Puerto Rico, and it will take many years for the island to fully recover. Airbnb is humbled that our community can play a small role in helping these efforts. We are proud to assist the government of Puerto Rico in revitalizing the tourism industry on the island, re-introducing the world to all the cultural and natural wonders that Puerto Rico has to offer.