Sports and Airbnb: A Winning Combination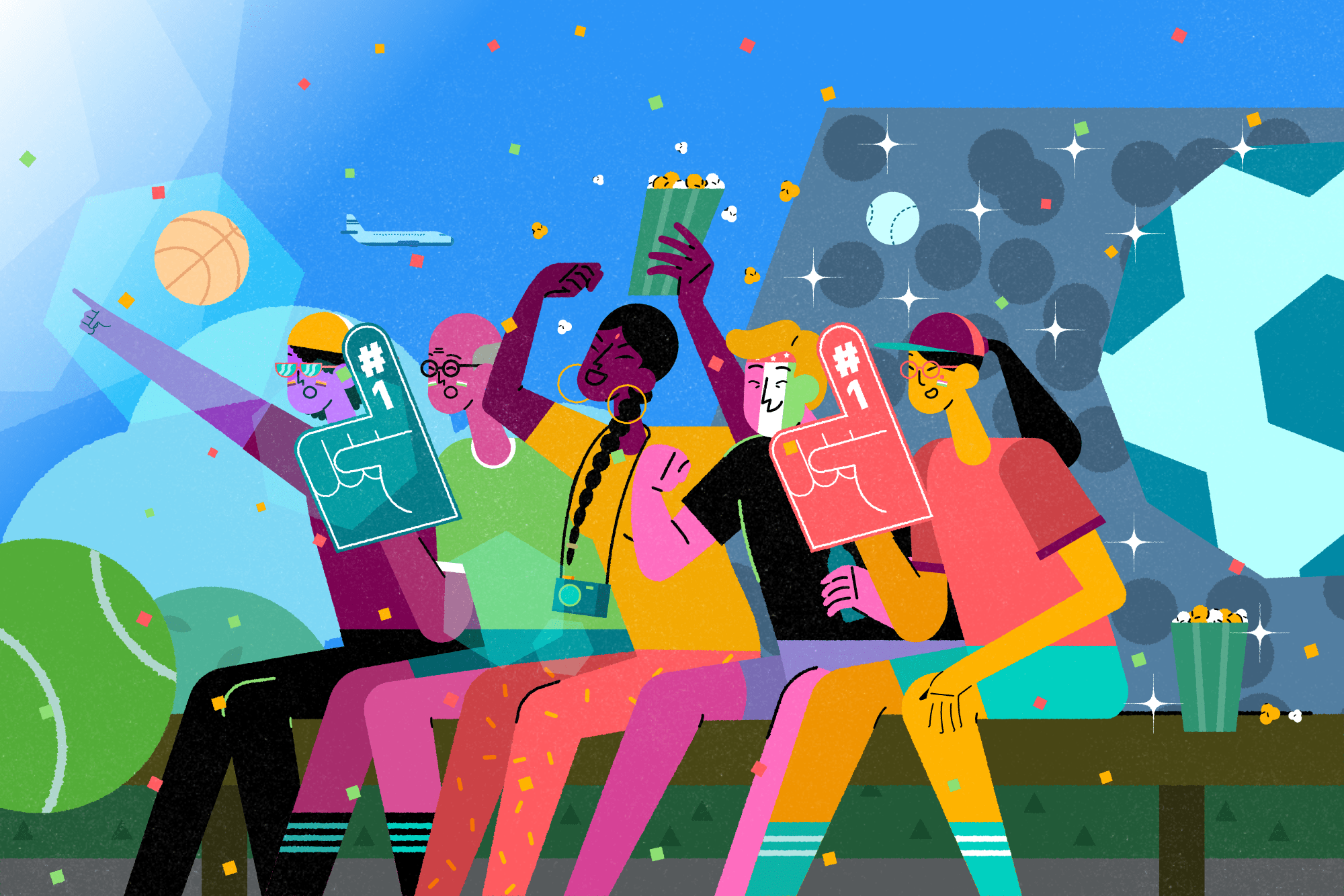 Sporting events have always been a pillar of global travel. Nothing captivates the world like a huge, global sporting event, and for decades they have served as beacons for travelers from around the globe, bringing together people from dozens of different countries for weeklong festivities.
It is fitting, then, that sports have been a key driver of Airbnb's popularity ever since the earliest days of the company. In 2010, when the Airbnb community was just beginning its worldwide growth, soccer fans headed to South Africa and hosts there welcomed just under 500 guests arrivals at homes across the country, earning just over $100,000 from reservations that spanned the big event.1
The Airbnb community has come a long way since then: there are now over 6 million Airbnb listings around the globe, and there have been over 500 million guest arrivals at places to stay on Airbnb. Every week, Airbnb hosts are welcoming fans into their homes as they attend sporting events large and small, or Airbnb Experience hosts are joining their guests on unique, one-of-a-kind sporting Experiences. And sporting events have been crucial to helping Airbnb work toward its mission of creating a world where anyone can belong anywhere: few other forces are better at bringing communities together and cutting across the barriers of language and culture. Sports are a universal language.
Today, we're exploring new data that illustrates the strong, long-running relationship between sports and Airbnb. Over the past decade, Airbnb has helped cities host major sporting events, creating new, flexible accommodations inventory and promoting healthy travel that better enables local communities to benefit from these global showcases. Sporting events have also been a galvanizing force for the growth of home sharing in local communities, introducing a new economic platform with positive ripple effects that last long beyond the final whistle. In fact, 44 percent of Airbnb hosts around the world say they hosted guests traveling for a sporting event, which goes up to 54 percent in the United Kingdom and 55 percent in the United States.2 And Airbnb has been an increasingly popular platform for sporting communities around the world, especially with the development of new sports Experiences.
Helping Cities Welcome The Sporting World To Their Doorstep
For cities around the world, hosting a major sporting event can be both a burden and a benefit. They can create a tremendous economic windfall, but groups like the Brookings Institution and World Economic Forum have questioned how much of that windfall actually makes its way into the pockets of local citizens.3, 4 And the massive influx of tourists can place a strain on a city's infrastructure, especially in places with limited accommodations. Over the past decade, Airbnb has helped to ease the infrastructural burden for cities that host major sporting events, and has enabled local residents to more directly participate in the economic benefits they can often bring. Global sporting events help to illustrate the potential and benefit of the Airbnb platform like few other things can.
In 2016, Airbnb was the Official Alternative Accommodations provider for the Olympics in Rio de Janeiro, Brazil. Our community of hosts in Rio helped make up the gap in the city's existing accommodations inventory, with over 80,000 guest arrivals occurring at Airbnb listings over the 3 weeks of the event.5 And unlike mass tourism that bottles up the economics of travel and takes money out of communities, Airbnb's unique form of healthy travel helped local Rio residents see economic benefits from the influx of travelers to their city: hosts in Rio earned over $30 million from reservations spanning the weeks of the event.6
In 2018, when the soccer world descended on Russia, Airbnb hosts welcomed nearly 300,000 guest arrivals at listings across the country during the month of the event and earned over $40 million in collective income. Travelers from over 150 countries (and nearly 8,000 different cities) stayed at Airbnb listings during this time, including a disproportionately high percentage of families and big groups traveling together. Ten percent of all guest arrivals were by families, and 17% of all guest arrivals were by groups of five or more.7 All of the top twenty biggest nights in Russia in Airbnb history occurred during this time.8
A review of Airbnb booking data shows that this pattern has played out at major sporting events around the world throughout Airbnb's history.9
Events
Estimated Guest Arrivals at Listings During Span
of Event
Estimated Total Host
Earnings from
Reservations Spanning
Event Dates
World Cups (2014, 2018)
391,000
Over $79 million
Olympics (2012 through
2018)
112,000
Over $37 million
Super Bowls (2015-2019)
49,000
Over $27 million
NCAA Final Fours
28,000
Over $8 million
We anticipate this pattern continuing into summer 2019, and as Airbnb grows, so does our community's participation in hosting major sporting events. Based on current booking data, we estimate the following projections for a variety of global and regional sporting events10:
Event
Estimated Projected
Guest Arrivals at Listings in Host Cities During
Span of Event
Estimated Projected
Total Host Earnings
from Reservations
Spanning Event Dates
Copa America (Brazil)
Over 80,000
Over $11 million
Cricket World Cup
(England, not including
London)
Over 150,000
Roughly $5 million
Rugby World Cup (Japan)
300,000
Over $43 million
Wimbledon (London)
Over 185,000
Over $3 million
Sports Galvanizing Home Sharing in Local Communities
Sporting events have been a galvanizing force for the growth of home sharing in local communities, bringing new economic opportunities to hosts that last long beyond the events themselves.
Throughout Airbnb's history, sporting events have played a huge role in introducing home sharing to communities that may not have encountered it before. When cities are hosting major sports events, they often receive an influx of guest demand for accommodations. Airbnb's flexible platform means that a city doesn't need to undergo the infrastructural burden of building new accommodations to meet this demand. Instead, we consistently see a wave of new hosts that join Airbnb and add their listings to the community.11
Event
City
% Growth in Listings in
the Six Months Before
Event
Winter Olympics 2018
Gangwon-do, South Korea
123%
Summer Olympics 2016
Rio de Janeiro, Brazil
88%
World Cup 2018
Russia (12 Host Cities)
201%
World Cup 2014
Brazil (12 Host Cities)
221%
Super Bowl 2017
Houston
215%
Super Bowl 2018
Minneapolis
188%
Super Bowl 2019
Atlanta
132%
NCAA Final Four 2016
Houston
72%
NCAA Final Four 2017
Phoenix
30%
NCAA Final Four 2018
San Antonio
27%
A Growing Sporting Community
Airbnb has long been popular among athletes and those in the sports community, especially those who are frequently on the road or travel to cities for events that last several weeks at a time, like tennis players.
And worldwide, a number of Airbnb destinations are popular among those seeking out athletic activities from ski to sea. We looked at the data to see which cities are the most sports-heavy, both in the US and internationally.
Top US sports towns (based on number of reviews that mention sports as percentage of total active listings):
Bellingham, WA
Burlington, VT
Buffalo, NY
Asheville, NC
Eugene, OR
Top International sports towns (based on number of listings that mention sports in description as percentage of total active listings):
Calangute, India (popular water sports destination in Goa)
Huez, France
Xabia (or Javea), Spain
Porec, Croatia
Protaras, Cyprus
Sports are also an increasingly big driver of the popularity of Airbnb Experiences. Providing opportunities for travelers to stay active while meeting new people in a new destination, sports Experiences are among the top five categories of Experiences booked by travelers over the past year.
And they're gaining momentum: sports Experience bookings have grown 380% in the past year.12 Countries in Latin America and Asia are trending as sports Experience destinations:
Fastest-growing countries based on year-over-year sports Experience bookings growth for May 2018 vs. May 2019:
Puerto Rico
Mexico
Vietnam
Costa Rica
Italy
From Brazil to England to Japan, the entire Airbnb community looks forward to a summer full of sporting events, and the unique opportunities they bring for the world to join together under the universal language of sports.
Based on Airbnb internal data from South Africa between Jun 11, 2010 – Jul 11, 2010
Based on a survey administered by Airbnb in January 2019 that received over 237,000 responses from hosts and guests around the world about their experience using Airbnb in 2018
World Economic Forum, https://www.weforum.org/agenda/2018/06/world-cup-football-smart-investment-russia-host/
Brookings Institution, https://www.brookings.edu/book/circus-maximus-the-economic-gamble-behind-hosting-the-olympics-and-the-world-cup/
Based on Airbnb internal data from Rio between Aug 5, 2016 – Aug 21, 2016
Based on Airbnb internal data from Rio between Aug 5, 2016 – Aug 21, 2016
Based on Airbnb internal data from Russia host cities for the World Cup between June 14 – July 15, 2018
Based on Airbnb internal booking data pulled May 2019
Table below based on Airbnb internal data from the dates and places of each sporting event
Table below based on internal Airbnb data measuring future guest bookings and host earnings for each event
Data in table below based on internal Airbnb data from the dates and places of each of the events listed below
Based on year-over-year Airbnb booking data comparing May 2018 to May 2019