Travel rebound means $800+ million for domestic cleaners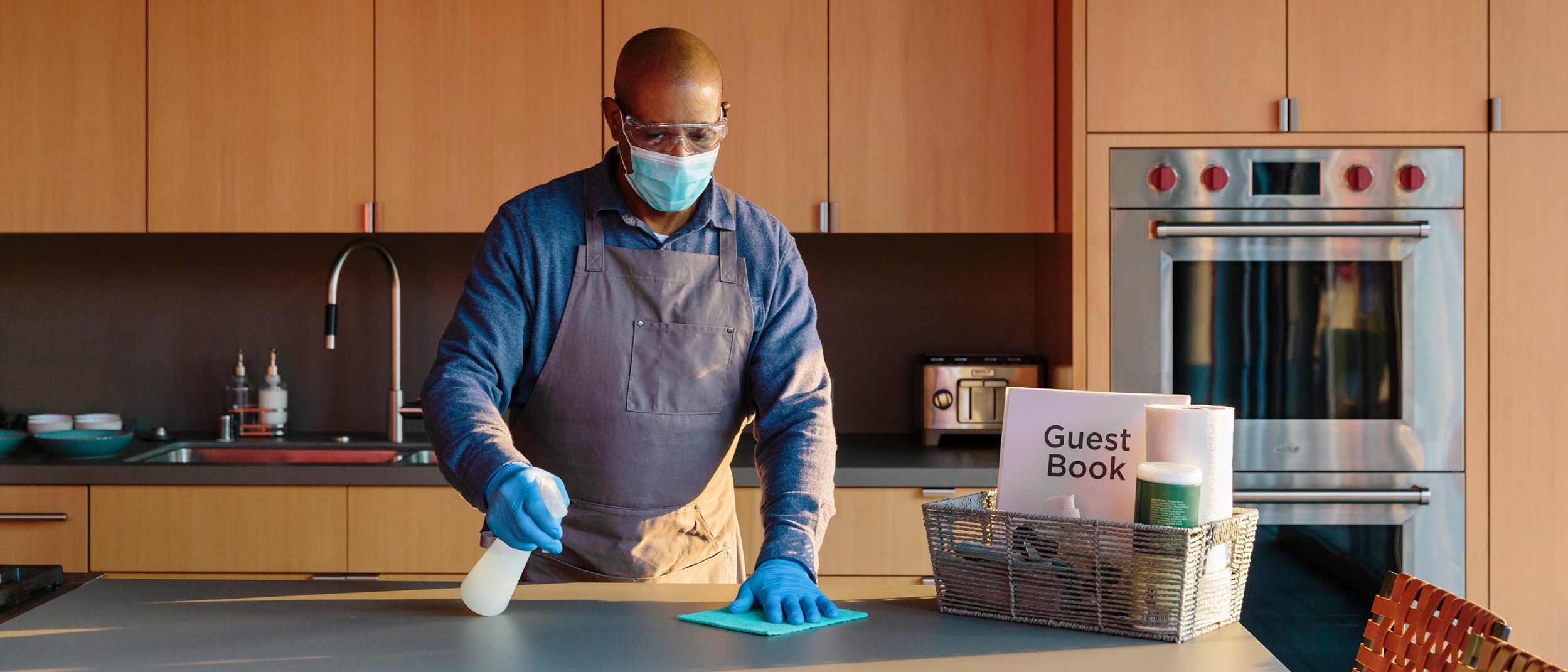 As guests seek larger homes, more economics are generated for local communities.
Executive summary
This Labor Day, many American consumers are concerned about rising prices, but some higher costs are resulting in more money flowing directly to those who need it.
Cleaning fees at Airbnb listings are one example. Per-trip cleaning fees, which are set by Hosts, at Airbnb listings have increased by about $25 over the past two years – influenced by COVID-19 pandemic-driven changes in traveler behaviors, needs and preferences. The desire to gather safely with friends and family has resulted in larger groups traveling and seeking larger accommodations that cost more to clean.
At the same time, Hosts increasingly have turned to house cleaners to help them follow Airbnb's Enhanced Cleaning Protocol and assuage guests' health-related concerns. Recent outreach to Airbnb Hosts in the US suggests an increase in the share of Hosts who have hired cleaners for their listings during the pandemic, with one or two cleaners typically spending between two and four hours on each job. While Airbnb does not track such data, other research suggests it is fair to assume that a majority of these cleaners are women and also are people who identify as minorities, such as Black or US Hispanic*.
As a result, while the increase in cleaning fees has outpaced the overall rate of inflation by almost 40 percent to 6 percent, with the increase, travel on Airbnb within the US generated $830 million for house cleaners from July 1, 2020 through June 30, 2021.
This increase in cleaning fees represents a flow of money from Airbnb's more well-off guests, to and through our often middle-class Hosts, to working people:
Airbnb's American guests skew higher-income than the national average, with nearly half of them reporting household income of at least $100,000 per year**.
Our American Hosts are everyday people. Over half reported less than $100,000 in total household income for 2020. Almost two thirds (64%) are women, 24 percent are retired, and 25 percent of employed Hosts are teachers or healthcare workers***.
44 percent of American Hosts reported hiring house cleaners in 2020. These cleaners fulfilled about 8.3 million cleaning jobs at Airbnb listings from Q3 2020 through Q2 2021.
The increase in cleaning fees coincides with a pandemic-driven redirection of travel on Airbnb, not just from international to domestic, but from cities to more rural areas:
American travelers have been shifting from international to domestic travel due to travel restrictions and other pandemic-related concerns, driving up the volume of travel within the US.
Within the US, Arkansas, South Dakota and West Virginia saw the highest state-level growth in travel activity (i.e., total nights stayed) from H1 2019 to H1 2021.
The trend holds for longer stays as well as short trips: While cities historically have been the most popular US destinations for long-term stays (28 days or more), since the pandemic began, long-term stay growth also has shifted to non-urban areas.
Together, these income and geographic patterns represent a flow of money from the better-off in American cities to working people in more rural areas.
How the income flows
Airbnb has always kept more of the returns of tourism in the communities and neighborhoods where it takes place:
Hosts keep the vast majority of what they charge for their listing.
Accommodation accounts for about 24 percent of guest spending in the US – money that flows directly to Hosts.
Beyond accommodation, more than half of what guests spend during their US trips – 54 percent in 2020 – occurs in the neighborhoods where they stay.****
But in addition to communities benefiting from guests' direct spending, they also benefit from Host spending – from income earned by Hosts that passes through to locals and their businesses. Nowhere is this more evident than with house cleaners, who were paid $830 million to clean Airbnb listings in the US from July 1, 2020 to June 30, 2021.
In the first half of 2021, the average cleaning fee per US booking was about $100 – an estimated $25 increase from the first half of the pre-pandemic year of 2019, driven by a range of pandemic-related dynamics such as:
American domestic travel on Airbnb quickly gaining share due to pandemic-related travel restrictions.
Hosts who used to clean their own listings hiring house cleaners to follow Airbnb's Enhanced Cleaning Protocol and help reassure guests about the safety of their homes. An Airbnb survey of American Hosts in early 2021 found 44 percent saying they hired professional cleaners in 2020, 10 points higher than the 34 percent of American Hosts who responded as such in June 2020.
Changes in guest travel behaviors, including greater interest in booking entire homes in general, and in booking larger, more expensive homes to accommodate bigger groups of family and friends. From Q2 2019 to Q2 2021, we saw dramatic increases in both the share of travel to entire homes and in average group size, in turn driving a significant increase in occupancy for larger entire homes. This twofold trend alone accounts for about one third of overall cleaning fee increases in the US.
Durham, North Carolina-based Airbnb Hosts Robert and Ilze explained their decision to give their cleaner a raise and increase their cleaning fee accordingly:
"The pandemic brought the realization of increased cleaning needs but also that cleaning is a key aspect of our success as Airbnb Hosts. The cleaner is the one who sets the stage for our guests, makes them feel safe and secure, provides atmosphere, and the care that goes into this work is not a commodity, which is why we decided to increase our cleaning fees and the payment to our cleaner, neither of which will be reduced moving forward. The pandemic made visible to us the value of this work that had been shrouded by our norms toward this kind of labor. If we do anything further regarding the structure of this role and its compensation, it will be finding ways to make the work of our cleaner more of a partnership, because that is how she approaches her work with us, and that is how the results of her work impact our business."
How the income spreads
The distribution of the cleaning fees also represents a flow of money from primarily bigger cities into less urban and more rural areas. Most Airbnb guests in the US hail from urban areas, and travel to rural states (i.e., nights stayed) has grown the fastest recently as shut-in city dwellers have sought to vacation in smaller towns and more remote areas. States that have seen the highest growth in travel activity include Arkansas, South Dakota and West Virginia, while the more rural regions of the US have seen more growth overall:
Between Q2 2019 and Q2 2021, in non-urban (i.e., rural) areas, spending on cleaning fees per bookings increased by 40 percent, from $71 to $100. That being said, house cleaners across all types of geographies have benefited from cleaning-fee increases on Airbnb. As of Q2 2021, about 90 percent of all trips to both high-density and low-density urban areas included cleaning fees, and more than 80 percent of all trips to non-urban areas also included cleaning fees. Between Q2 2019 and Q2 2021:
In high-density urban areas, spending on cleaning fees per booking increased by around 40 percent, from $64 per trip to $89 per trip.
And in low-density urban areas, spending on cleaning fees per booking also increased by around 40 percent, from $84 to $105 per trip.
The economic impact of Airbnb travel
Increased cleaning fees are just one way in which guest spending on Airbnb benefits locals who live in the communities where Airbnb travel takes place. An Oxford Economics study earlier this year found that in 30 destinations around the world, Airbnb guest spending supported more than 300,000 jobs across the restaurant, retail, entertainment and transportation sectors. And based on the communities studied, on average, every 1,000 Airbnb guests supported nine jobs.
As local economies recover from the COVID-19 pandemic, Airbnb is helping to redistribute wealth, and increasingly in communities that have not traditionally benefited from tourism.
*Based on data from https://www.zippia.com/house-cleaner-jobs/demographics/
**According to a survey of 5,575 US-based Airbnb guests from February 1, 2021 to March 3, 2021
***According to a survey of 6,250 US-based Airbnb Hosts from February 1, 2021 to March 3, 2021
****According to the Airbnb US guest survey noted above