Tulsa Remote and Airbnb Help Remote Workers "Try Before They Buy" in Tulsa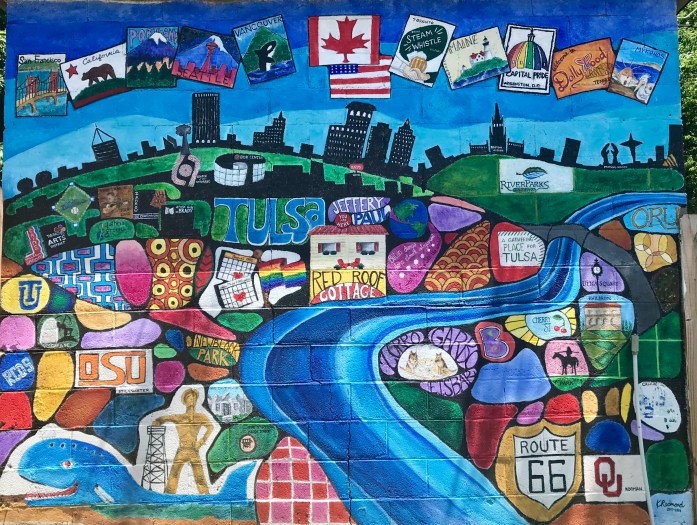 The COVID-19 pandemic has ushered many changes into our lives, including significant shifts in how we live, work and travel, which will persist long past our recovery. This includes the trend of remote work, with two in five Americans (41%) now able to work or study from home at least some of the time. In a recent survey commissioned by Airbnb, 35 percent of respondents said it will become more common post-pandemic for people to relocate to new places so they can take advantage of the ability to work remotely.*
Tulsa Remote is on the forefront of this trend, working to build a thriving community of remote workers in Tulsa, offering social and networking opportunities, group activities, connections to local volunteering, civic engagement opportunities and more. And today, Tulsa Remote has announced a new homeownership initiative that will offer selected members $10,000 towards the purchase of a home in Tulsa. Accepted Tulsa Remote members will have the option to receive the full cash grant upon the purchase of a residential property. Previously, the cash grant would be paid out in installments throughout the duration of the member's first year in the program, which will remain an option for members. The new offering aims to attract remote workers from across the nation to purchase a home in Tulsa (a goal often unattainable in many cities across the United States) and stay in the community for the long term.
Saving for a down payment can be one of the largest barriers to homeownership and this initiative aims to eliminate that obstacle. With a median home price in Tulsa of $157,000 according to the National Association of Realtors, the grant can be used to cover nearly one third of a down payment on average. Through this initiative, Tulsa Remote is proving its commitment to helping young professionals, families, and entrepreneurs attain the dream of homeownership, explore new experiences and establish roots in an urban city.
"This new program makes home ownership more attainable for many program applicants. With greater flexibility in how to apply the $10,000 grant, it not only gives members the opportunity to reach long-term financial goals but also establishes them in our community through home ownership and immediate connection with our network."

Sofia Noshay, Tulsa Remote
Airbnb also announced today that we will partner with Tulsa Remote to help these members discover their favorite neighborhoods in Tulsa and decide where they want to make their new home. In a recent survey conducted by Airbnb, over one-third of US consumers expressed interest in staying in an Airbnb listing to "try out" a new city or neighborhood before moving permanently.** Airbnb will offer select Tulsa Remote members a $150 gift card, so that they too can "try before they buy" their new home in Tulsa. Tulsa Remote offers virtual and in person visits for members to get acquainted with neighborhoods, amenities and locations that will fit their lifestyle, including a $500 travel reimbursement.
Airbnb has long made it possible for visitors to experience their communities as locals do. Hosts help their guests discover and connect to their communities, including driving vital economic activity to local small businesses outside of traditional tourism areas. Nearly nine in 10 Hosts (87%) reported that they recommended shops, cafes, restaurants and other points of interest to guests in the neighborhood of their Airbnb listing or Experience in 2019, generating $117 billion in estimated direct economic impact across 30 countries alone.
"Tulsa is not only home to the world famous 'center of the universe'. With its thriving community of remote workers, it is also the center of the live and work from anywhere trend. We are seeing the emergence of a post-travel world, where people are seeking to try out places to live that offer a high quality of life – and Tulsa is leading the way in leveraging the city's high quality of life and commitment to community to encourage people to try out Tulsa, knowing that many will stay to call it home. Airbnb is thrilled to partner with Tulsa Remote as they lead this movement."

Chris Lehane, Senior Vice President for Global Public Policy and Communications at Airbnb
And for Tulsa Remote members now looking for a place to stay during their house hunt, Airbnb and our Tulsa Host community are here to help. We've rounded up some of our most highly-recommended listings, so that you can "try out" life in every corner of this city as you settle on your future home.
You can also find more places to stay in Tulsa here.
Applications and more information on Tulsa Remote can be found at TulsaRemote.com. To be eligible for the program, individuals must be a permanent resident of the United States, show consistent income, be at least 18 years of age, currently live outside of Oklahoma with the ability to work remotely and commit to moving to and living in Tulsa for at least one year.
*Nationally representative survey of the US adult population conducted by ClearPath Strategies from September 15-19, 2020, n = 1,010 US adults, with a margin of error of +/-3.1%.
**Based on a survey commissioned by Airbnb and conducted by ClearPath Strategies from December 18-23, 2020 of 1,036 US adults.