A Touchdown Stay in the Goodyear Blimp on Airbnb
No matter who you root for on Saturdays, no one can deny the Blimp-sized place Goodyear's iconic airship holds in college football's heart. To celebrate the spirit of the gridiron pastime and its fans,
Goodyear is listing the famous Goodyear Blimp on Airbnb
, with three one-night stays leading up to the college football rivalry game at the University of Michigan on October 26. Beginning October 15, passionate fans will be able to request to book the Blimp for a one-night stay in its hangar in Mogadore, Ohio, on October 22, 23, or 24.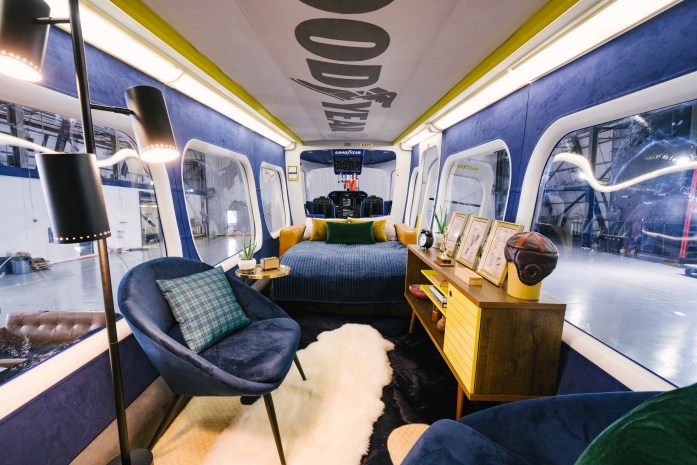 The Blimp, which later this year will become the first non-player or coach to be inducted into the College Football Hall of Fame, began providing aerial game coverage in 1955 and since then has soared above marquee sports and entertainment events more than 2,000 times since. And while fans are no strangers to the big blue and gold Blimp, this marks the first time they'll be allowed to stay overnight inside the gondola.
The stay is hosted by Goodyear Chief Pilot Jerry Hissem, who will welcome guests to the Blimp's house – aka its hangar. Each overnight is priced at $150 a night (plus taxes and fees), celebrating the 150th anniversary of college football. The nostalgic-inspired stay for two guests comes complete with all the must-haves for any college football fan:
● Access to the Goodyear hangar, which is the size of 2.6 football fields and home to the Blimp
● Football lounge where guests can relax and watch some of the all-time best rivalry games in college football history
● Lakefront spot with a grill, fire pit, cornhole, and other tailgate essentials, perfect for taking in views of the sunset and maybe even the resident bald eagles soaring by
● Prime tickets to the college football rivalry game in Ann Arbor, MI, on October 26, and official gear to show your pride
● Space for up to four friends to join in the revelry before the two guests retire to the cozy gondola of the Blimp
Booking opportunities will roll out throughout the day, so Blimp and college football enthusiasts need to keep their eyes on the listing so they don't fumble their chance to request to book a stay on their desired date.
To honor the first-of-its-kind offering, Goodyear and Airbnb will collectively donate $5,000 to the Cotton Bowl Foundation, in support of the organization's vision to make an impact on those who play the game, attend the game and support the game. Goodyear also sponsors the Goodyear Cotton Bowl Classic.
For more information or to book the Blimp, visit airbnb.com/blimp.
*The three individual one-night stays at the Goodyear Blimp is not a contest.