Expanding the Urgent Support Line
Key Takeaways
The important safety feature is now expanding globally to 11 new languages.
Key Takeaways
The important safety feature is now expanding globally to 11 new languages.
We're announcing a significant global expansion of one of Airbnb's most important safety features —the Urgent Support Line — to 11 new languages. Developed in 2020, the Urgent Support Line is a one-touch feature within the Airbnb app that provides direct access within 30 seconds to our highly trained Community Support Safety team, for Hosts and guests in the midst of crisis and emergency situations during active reservations.
Initially available in English, the feature has been extremely well-received by our community. The Urgent Support Line is now expanding globally to Airbnb users who have identified any of the following as their primary languages: Japanese, Brazilian Portuguese, French, Korean, Dutch, Spanish, Malay, German, Italian, Czech and Hungarian.
Safety issues during Airbnb reservations are extremely rare, but when they happen, we provide quick support from our highly-trained crisis support team members to help our Hosts and guests de-escalate the situations and prioritize their safety. For example, situations where we strongly encourage use of the Urgent Support Line include threats to physical safety, like an unauthorized party in progress or a violation of privacy.
The Urgent Support Line was developed for use only during active Airbnb reservations. For this reason, it appears within the Safety Center of the app 24 hours prior to check-in, and it disappears 24 hour after check-out. In situations where users call the Urgent Support Line with non-urgent issues, our support team is trained to politely transfer users over to the general Community Support line so that our Safety team can remain free to handle true emergencies where every second matters.
Airbnb's Safety Center is the central in-app hub where Hosts and guests can quickly find the tools they need in the rare event of an emergency during a reservation. In addition to the Urgent Support Line, our one-touch Local Emergency Services feature is available to help guests contact local emergency services in 34 geographies. This is particularly important for guests traveling internationally, where they may not know off the top of their heads the right phone number to reach local authorities in the event of an emergency.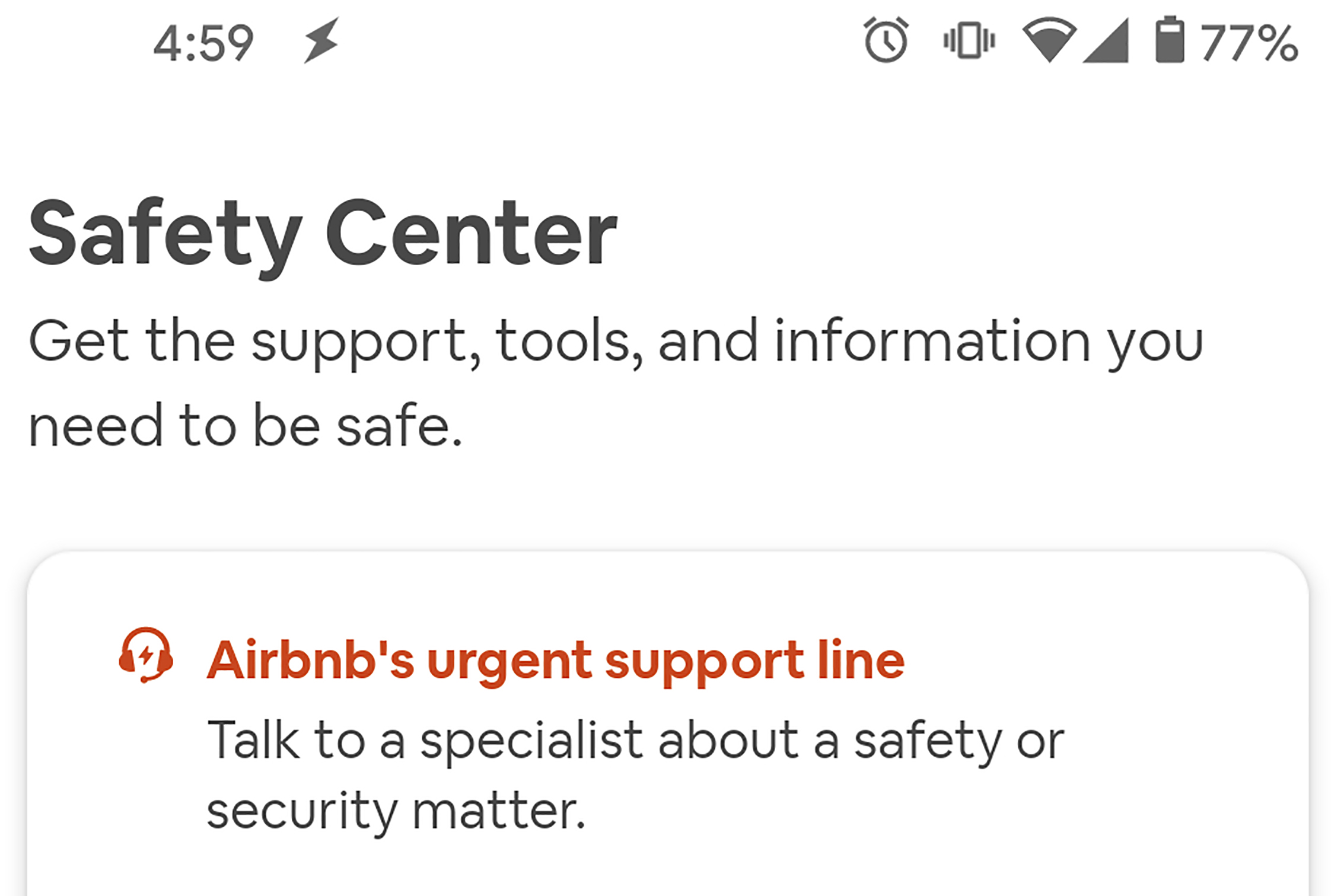 Airbnb is committed to the continual development of Trust and Safety products and initiatives to help create a safer community. The Safety Center is part of a suite of products and features that we've developed to promote community safety and help give our community peace of mind — such as our Identity Verification process that requires users to prove that they are who they say they are before being allowed to use Airbnb as a Host or guest, or our Neighborhood Support Line which allows neighbors to flag disruptive listings or parties in progress so that we may take appropriate action. We continue to support these products with thoughtful Community Policies that prioritize the safety of our community.