Supporting our work for LGBTQ+ equality in the workplace 
Key Takeaways
For the seventh year, Airbnb Earns a Perfect '100' From the Human Rights Campaign Foundation's Annual Assessment on LGBTQ+ Workplace Equality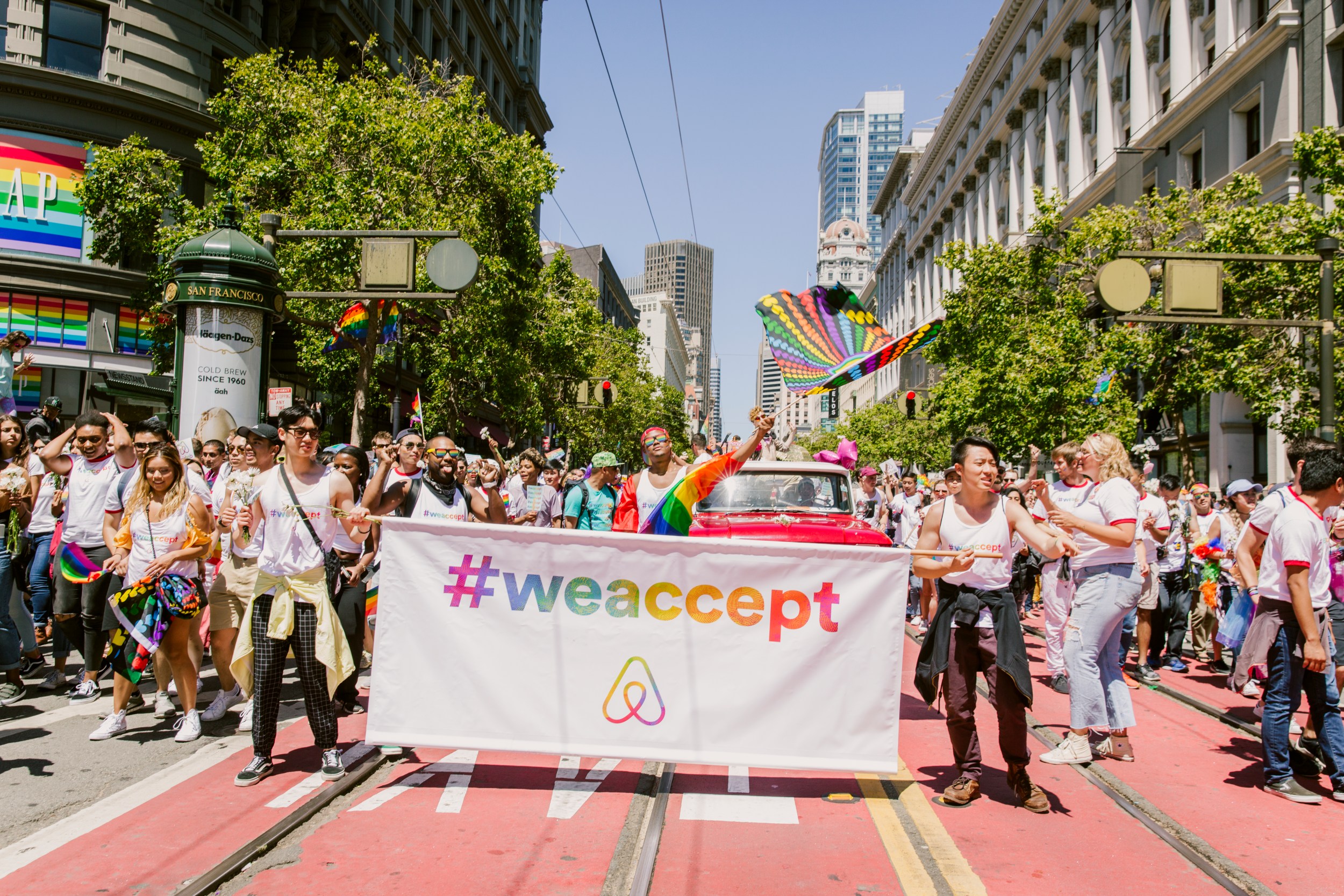 Key Takeaways
For the seventh year, Airbnb Earns a Perfect '100' From the Human Rights Campaign Foundation's Annual Assessment on LGBTQ+ Workplace Equality
Airbnb has been recognized by the Human Rights Campaign (HRC) as a top place to work for LGBTQ+ equality, scoring 100 percent on the organization's annual Corporate Equality Index (CEI). We are proud to receive this designation for the seventh year in a row, joining the ranks of over 840 major U.S. businesses that also earned top marks this year.
The CEI rates companies on detailed criteria falling under four central pillars:
Non-discrimination policies across business entities
Equitable benefits for LGBTQ+ workers and their families
Supporting an inclusive culture
Corporate social responsibility
When the Human Rights Campaign Foundation created the Corporate Equality Index 20 years ago, we dreamed that LGBTQ+ workers — from the factory floor to corporate headquarters, in big cities and small towns — could have access to the policies and benefits needed to thrive and live life authentically. We are proud that the Corporate Equality Index paved the way to that reality for countless LGBTQ+ workers in America and abroad. But there is still more to do, which is why we are raising the bar yet again to create more equitable workplaces and a better tomorrow for LGBTQ+ workers everywhere.

Jay Brown, Human Rights Campaign Senior Vice President of Programs, Research and Training
Airbnb is committed to creating a diverse, inclusive and equitable company for everyone. We continue working hard to find ways to support our LGBTQ+ employees.
Last year, Airbnb employee resource groups Trans@ and AirPride, shared a Guide for LTGBTQ+ Allyship with our employees to deepen our collective understanding of gender diversity, and the ways we can act in stronger allyship towards the LGBTQ+ community. This included common terms and guidance for being an ally everyday, spotlighted the importance of pronoun allyship, and encouraged self-education to advance inclusion through intentional, positive and conscious efforts.
We are so proud and thankful for the hard work of the AirPride and Trans@ employee resource groups and for their dedication to making Airbnb a great place to work for LGBTQ+ employees. AirPride's mission is to celebrate the diversity of gender identity and sexual orientation and empower Airbnb to be a positive force for both its own LGBTQ+ employees and the world. The mission of Trans@ is to support trans and gender non-conforming employees and advocate for improvements to Airbnb that will benefit the trans community.
Along with supporting our employee community, Airbnb is committed to partnering with companies owned by minorities, women, veterans, members of the LGBTQ+ community and people with disabilities through our dedicated Supplier Diversity program. In 2020, we exceeded our goal of 10 percent US spend with diverse suppliers, and in 2021, we added the goal that 20 percent of businesses in our US supply chain will be diverse as of 2025. As of August 2021, 13.5 percent of businesses in our US supply chain are owned by minorities, women, veterans, members of the LGBTQ+ community and people with disabilities.
We're also proud to celebrate LGBTQ+ culture. To help guests mark a year of Pride celebrations unlike any other, Airbnb curated a special wishlist, featuring stays and experiences in top trending US destinations. The Celebrate Pride from around the world wishlist is a collection of natural retreats and outdoor experiences (including those led by local LGBTQ+ communities) where guests can disconnect as they reconnect with friends and loved ones – and it even received a special seal of approval from America's fiercest sweetheart, Jonathan Van Ness.