Frontline Stays Global Program Update
At Airbnb, being a good neighbor strikes at our very foundation as a company. The trust of not only our hosts and guests, but also the communities in which they live, is one of our priorities. It's why we have committed to work with governments around the world to create clear, 21st century rules for short-term rentals. It's why we have partnered with governments and NGOs, as well as destination marketing organizations and local nonprofits, to keep most of the economic benefits of tourism where it happens.
Now, in the midst of this pandemic, it's also why we are standing up to work with states, cities and other key institutions to provide an invaluable resource—accommodations for frontline responders.
Last month, we launched Frontline stays, a new program to allow hosts to share their homes with those on the front lines of the COVID-19 pandemic. Since then, frontline workers have booked more than 100,000 nights in free or subsidized accommodations as part of this initiative.
"Since launching Frontline stays 6 weeks ago, our community has offered over 200,000 places to stay to support the frontline responders fighting the spread of COVID-19," said Brian Chesky, Airbnb Co-founder, CEO and Head of Community. "I am inspired by the generosity of our hosts and grateful for the over 40 partners around the world who have joined us in helping to ensure that we can provide this resource during this time of global crisis."
Partnering with government on Frontline stays
From the moment we launched Frontline stays, we knew that opening doors to first responders alone would not be enough—we wanted to ensure we could connect those frontline workers to these opportunities as efficiently and simply as possible. With state and city governments leading the on-the-ground response to this crisis, we immediately turned to local officials to connect the dots, with the financial support necessary to be impactful.
In just the past few weeks, we have joined forces with states, cities and counties across the United States and Canada—New York State, New Orleans, Los Angeles County, Florida, and Toronto—to deliver that direct support to those fighting the spread of COVID-19. And today, we are proud to announce that we will now also be deploying our support to another city—Boston—where we are working with the Boston Medical Center directly, as well as responders affiliated with hospitals across the city.
"I want to thank Airbnb for this opportunity for free housing for the frontline workers who have come to Boston to help battle the pandemic. It's a testament to the fact that we are all in this together and we will get through this by working together."

Marty Walsh, Mayor of Boston
This month, we also began work with the New York City Fire Department to connect their officers—including Emergency Medical Services operators—to hotel rooms via the Airbnb platform and HotelTonight (part of the Airbnb family).
These workers are among the over 100,000 nights booked under this program so far, and all at no cost to them—their stays have been backed by a personal contribution of up to $5.7 million from Airbnb Co-Founder and CEO Brian Chesky.
"I'm grateful to Airbnb for their generous donation that will provide our healthcare heroes much needed relief with a safe, comfortable place to rest."

Supervisor Kathryn Barger, Chair of the Los Angeles County Board of Supervisors
But the impact of the Frontline stays is hardly limited to the United States and Canada—working with local governments and nonprofits, we have been able to serve frontline responders all around the world.
In March, we launched Frontline Stays in the United Kingdom where thousands of hosts offered free stays for NHS and healthcare staff. In six weeks, more than 700 stays and 10,000 nights were booked by staff as they carry out their vital work.
March also brought the launch of Frontline stays in Italy, partnering with a local host organisation—OspitaMI—to oversee the bookings process. In just six weeks, more than 4,000 listings were offered for free by Italian hosts and over 12,000 nights were booked by medical professionals fighting this unprecedented outbreak.
In April, we launched Frontline stays in Malaysia, endorsed by the Ministry of Health. Since then, we have partnered with local grassroots movement Homes4Heroes to match healthcare frontline responders with available stays. Today, free and paid stays can be booked by any COVID-19 frontline responder directly on Airbnb, or through local partners in Malaysia, including Homes4Heroes—and to date, hosts across the country have offered over 1,000 places to stay for healthcare staff and first responders.
"The efforts undertaken and goodwill shown by Airbnb in a bid to assist the government especially the healthcare front liners, by providing access to free or subsidized accommodations during the COVID-19 outbreak is highly appreciated."

Dato' Seri Dr Chen Chaw Min, Secretary-General, MOH
In Latin America, the Frontline stays program has been launched in Mexico in alliance with the Mexican Red Cross, with close to 2,500 nights since booked by frontline responders across the country. We have also activated the program in Colombia to support independent frontline responders, and we are continuing to partner with local health institutions to ensure their workers can access the housing they need.
"We are infinitely grateful to Airbnb and its hosts for being in solidarity with all the frontline responders who are dedicating each day of their lives to fight against COVID-19. Mexico and Mexicans have always shown that by joining efforts and being in solidarity we succeed. I am sure that this occasion will be no exception."

Fernando Suinaga Cárdenas, National President of Mexican Red Cross
Frontline stays for working families
In addition to these partnerships with local governments, we were also determined to build on our longtime support of organized labor at this crucial moment. Working families—including hospital custodial and cafeteria staff and health home aides—are among the most impacted by regular exposure to COVID-19, demonstrating a significant need for emergency housing to prevent the further spread of the virus.
Last month, we joined forces with 1199SEIU United Healthcare Workers East, Service Employees International Union-United Healthcare Workers West (SEIU-UHW), Services Employees International Union Healthcare and the New York State Nurses Association to help address that exact need, offering their members some peace of mind and the ability to safeguard their families off the clock.
"1199ers are working hard on the frontlines, fighting to protect their patients from the ravages of COVID-19. Through this partnership with Airbnb, they will have a safe place to rest between their shifts, so they are able to continue to provide quality care to the patients who so desperately need it."

George Gresham, President of 1199SEIU United Healthcare Workers East
Altogether, 1199, UHW, SEIU Healthcare and NYSNA members across California, Florida, Maryland Massachusetts, New Jersey, New York and Washington, D.C.—as well as the Greater Toronto Area—will receive direct access to housing at no cost, via Frontline stays.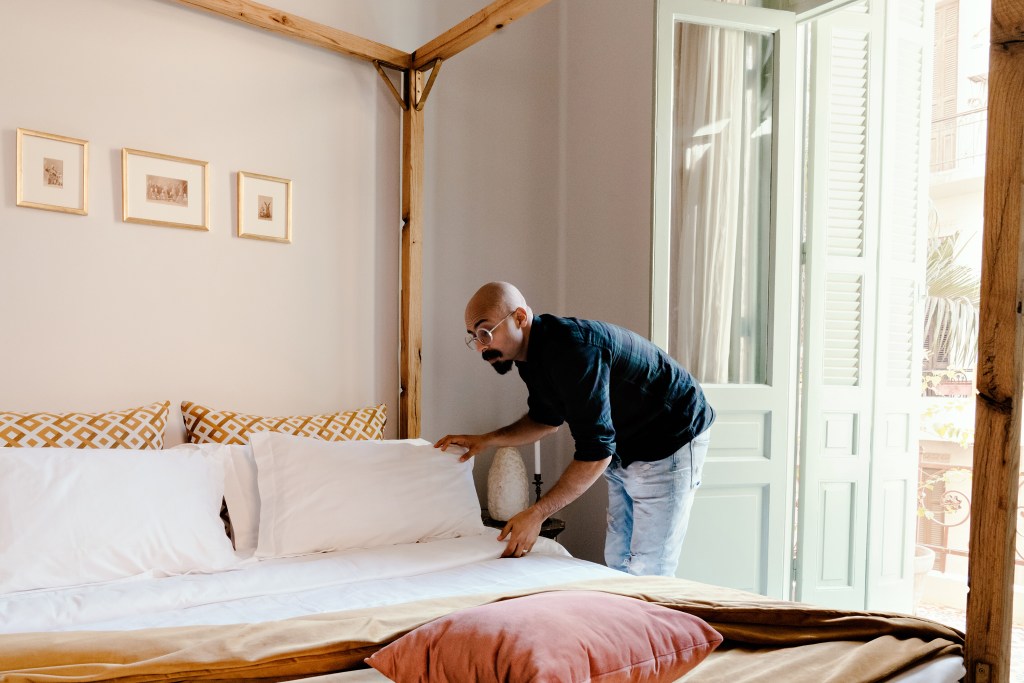 Hosting on the frontlines
For hosts, opening up their home to medical professionals in need is simply the right thing to do. Airbnb hosts from across the country are housing nurses and other medical professionals often for weeks, and often for free or reduced stays. From New York City to New Orleans and Los Angeles, hosts are stepping up to help others, just as many have previously done so in other cases like natural disasters.
"We have offered our property for free to health care workers and are currently housing two nurses from Pennsylvania. Out of state responders like them are crucial to getting us through this pandemic. We appreciate them and we know that New York City needs them. So this is our way of contributing and we feel it's the right thing to do."

Sam, Superhost on Airbnb, Brooklyn, New York
"My family and I signed up to participate in the Frontline Stays Program because we want to help keep families safe. A lot of people in our community—a lot of our neighbors—are frontline responders. These are people we see at PTA meetings and at the grocery store. How can we not help?"

Catlyn, Superhost on Airbnb, Long Beach, California
Even when the peak of this crisis is long behind us, we know that our partnership with states, cities and organized labor will be far from over. This will include our Enhanced Cleaning Initiative launched in April, which will support hosts, guests and communities with enhanced cleaning resources and standards, optimized for COVID-19 prevention and prepared with guidance from the former US Surgeon General Dr. Vivek Murthy and in partnership with leading experts in hospitality and medical hygiene. As we have demonstrated through this program, we are committed to both ensuring our hosts and guests can easily meet needs and expectations as well as offering a controlled approach for governments and health authorities to reopen travel and reignite tourism economics.
Building on Frontline stays and the Enhanced Cleaning Initiative, we stand ready to continue to work with governments toward our recovery, and the safe and responsible return of travel.