Our design to live and work anywhere and Live and Work Anywhere initiative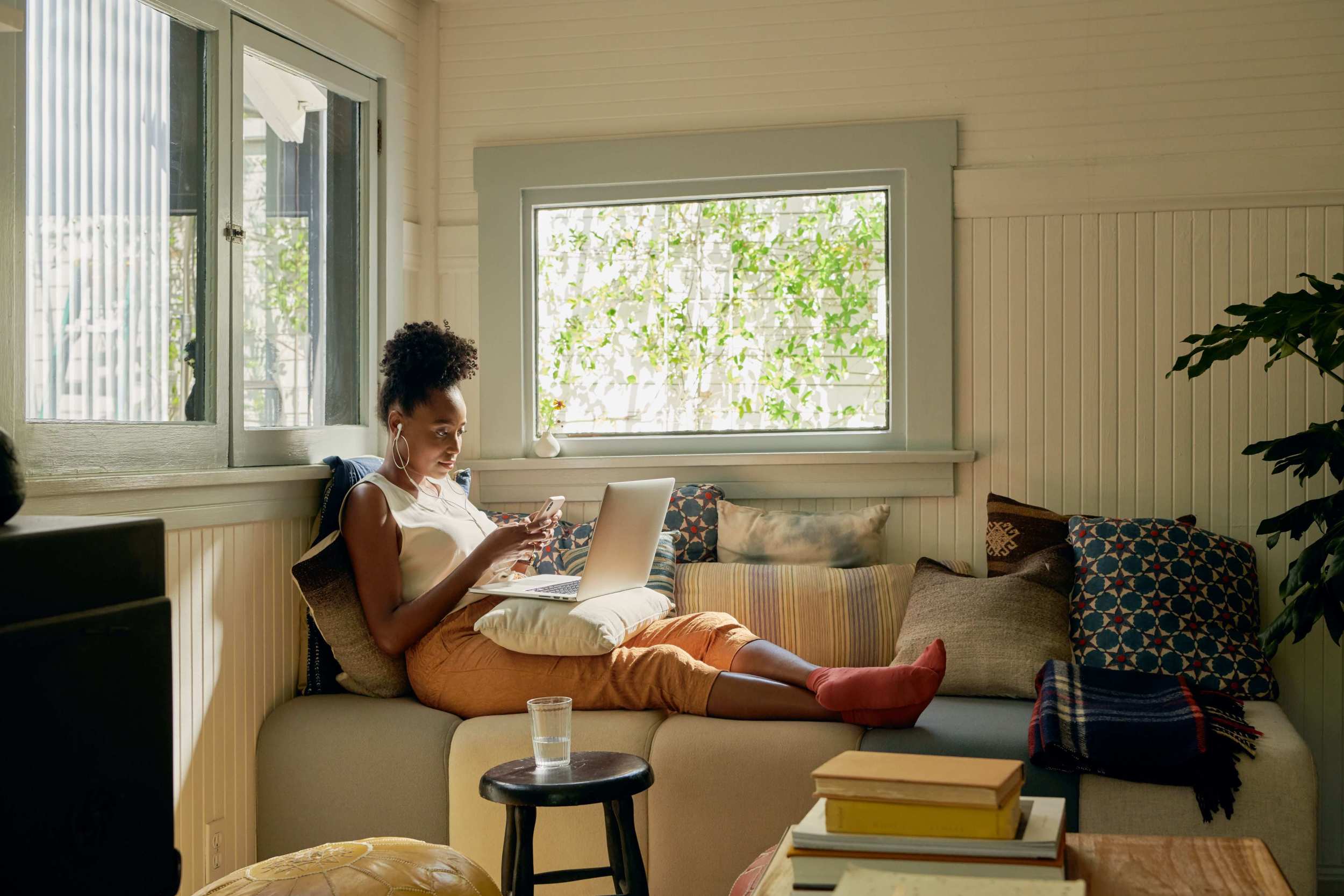 Since the COVID-19 pandemic began, a new world of travel has emerged. Millions of people are now more flexible about where they live and work. In response to this trend of newfound flexibility, Airbnb today announced our approach to allow employees to live and work anywhere, and how we will partner with destinations to help them attract remote workers.
Untethered from the office
Over the last two years, the world has undergone the biggest change to travel since the advent of commercial flying. Remote work has untethered many people from the need to be in an office every day. As a result, people are spreading out to thousands of towns and cities, staying for weeks, months, or even entire seasons at a time. For the first time ever, millions of people can now live anywhere.
We see this happening on Airbnb. Nearly half of our nights booked from July to December 2021 were for stays of a week or longer. One in five nights booked were for stays of a month or longer. And in the past year alone, Airbnb guests stayed in about 100,000 towns and cities around the world, with nearly 175,000 of them booking stays for three months or longer.
As the world has changed, so has Airbnb. Over the last year we have delivered more than 150 updates to our service to support these trends. And today, we are sharing Airbnb's design for where and how we'll work together as a company moving forward.
Our design to live and work anywhere
In an email to Airbnb's employees around the globe, Airbnb Co-Founder & CEO Brian Chesky outlined our design to live and work anywhere.
"Airbnb is in the business of human connection above all else, and we believe that the most meaningful connections happen in person," Chesky wrote in his email. "The right solution should combine the best of the digital world and the best of the physical world. It should have the efficiency of Zoom, while providing the meaningful human connection that only happens when people come together. We have a solution that we think combines the best of both worlds."
Airbnb's design to live and work anywhere has five key features.
Airbnb employees can work from home or the office;
Airbnb employees can move anywhere in the country they work and their compensation won't change;
Airbnb employees have the flexibility to travel and work around the world;
We'll meet up regularly for team gatherings, off-sites, and social events as a company;
And, we will continue to work in a highly coordinated way.
Making it easier to live and work anywhere 
While Airbnb's design for living and working anywhere has many unique features, we are not the only company offering employees flexibility moving forward. In fact, about one in five guests on Airbnb reported using Airbnb to work remotely while traveling in 20211.
As flexibility becomes a permanent part of so many company cultures, we want to make it easier for workers to take advantage of their newly enshrined flexibility. First, we believe that Airbnb has the supply to host people working from anywhere. Of our 6 million listings worldwide, nine out of ten are already long-stay ready. Second, we have innovated our service to offer the types of features that remote workers need, like verified wi-fi. And finally, we have a track record of working with governments around the world and more of them are working to become remote-worker friendly.
We are excited to work collaboratively with governments looking to embrace this trend of worker flexibility and to highlight these destinations. As part of this, today Airbnb is launching the Live and Work Anywhere initiative to partner with governments and Destination Marketing Organizations (DMOs).
This initiative builds off work we began during the pandemic, partnering with governments and DMOs to specifically support efforts to bring remote workers to their communities. We've partnered with governments from Chicago to Tulsa, Malaga, the French Alps, and Buenos Aires to help remote workers try living there before they move longer-term. And, we have partnered with governments from South Africa to Bali and the Rural Mayors Association in France to promote the destinations as the ideal places to work remotely.
Now, we are standing up a cross-functional team to work with governments and DMOs as they work to change their rules and attract remote workers. Dozens of destinations around the world already have policies in place to allow foreigners to work remotely with ease. Italy just adopted a regulation to create a one-year Digital Nomad visa.
We will work with select governments and DMOs to create a one-stop-shop for remote-workers, encouraging them to try new locations while helping to revive tourism and provide economic support to communities after years of travel restrictions. In addition to highlighting why each destination stands out as a great place to live and work, the landing page will include links to each destination's official guide to visa information for remote workers. We will also look to partner with destinations on educational campaigns to promote responsible hosting and traveling as a remote worker.
To learn more about the Live and Work Anywhere initiative or would like to become a partner destination, visit the program website.