The travel recovery has become a travel revolution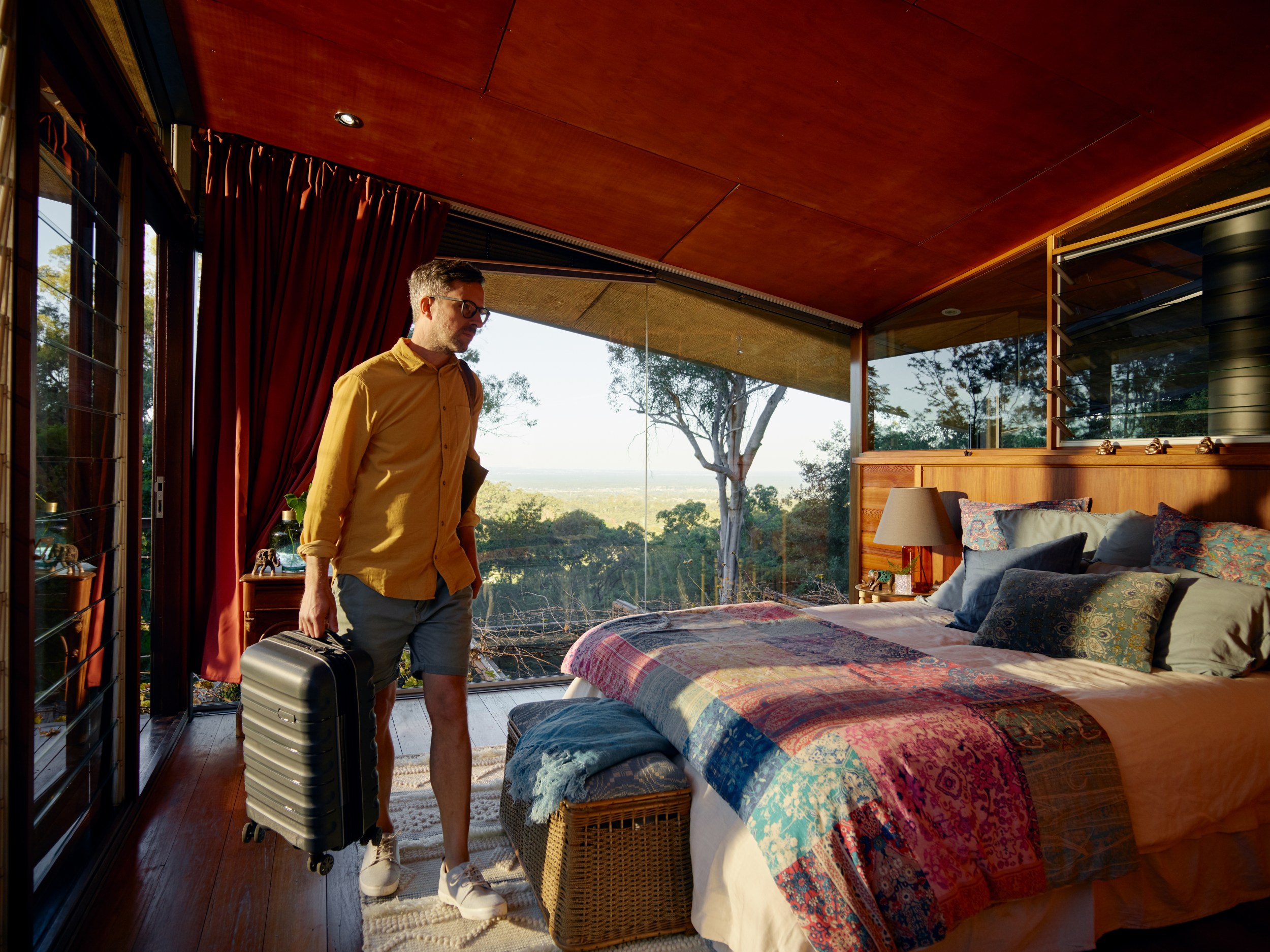 When Airbnb first got started in 2007, we were told that people would never open their doors to strangers. Today, we're announcing that we have passed 1 billion guest arrivals at Airbnb listings around the world and 500 million guest reviews. Home sharing is now mainstream.
As recently as 2019, home sharing was seen as alternative accommodation that was still gaining mainstream acceptance. The COVID-19 pandemic sped up consumer adoption of Airbnb because families and friends came to see whole homes, often either in nearby or remote locations, as the safe, responsible way to gather together. Airbnb's business proved to be resilient and adjusted from long-distance to road trips, and from urban to more rural destinations. We moved quickly to design, build and launch innovations to help lead, shape and support what consumers wanted. Today, we have more listings than ever—more than the world's top six hotel chains combined have rooms.
This shift toward whole homes also has brought meaningful economic benefits for Hosts and their communities. Changes in personal finances caused by the pandemic have inspired people to start sharing their extra space with travelers. One third of Airbnb Hosts surveyed globally said either they or someone in their household experienced a pay cut or lost work hours in 2020 because of the pandemic; 14 percent said they lost their jobs or were laid off themselves, or lived with someone who did.1
New Hosts on Airbnb since the pandemic began have earned $6 billion in income. The typical Airbnb Host earns $9,600. Most of our Hosts are everyday people sharing the homes in which they live. One in five Hosts who are employed are either teachers or healthcare workers.2 A majority (55 percent) of Hosts are women, and we are proud to announce today that women Hosts have earned an estimated $70 billion through Airbnb, all time. 
Beyond the financial help for Hosts, Airbnb is distributing the economic benefits of travel across geographies and income brackets, including by distributing tourism spending by city-based guests to rural areas, and by wealthier guests to workers in the places they visit. During popular travel times over the course of the pandemic, we have seen more guests travel to New York's Hudson Valley than New York City, more to Brittany than Paris, and more to the Costa Blanca than to Barcelona. In the US, travel on Airbnb generated $830 million for house cleaners in a recent 12-month span.3
As the pandemic has stretched on, however, we have noticed an even more systemic change in travel beyond just the shift to whole homes in non-urban markets. For those who are able to work remotely, the longer the pandemic has lasted, the more working and living have blurred together, and the more permanent this way of working and living has become—as evidenced by multiplying studies and reports about the hybrid workplace becoming the norm and the recovery of business travel, and about the second-home market and the commercial real estate sector.
The travel recovery has become a travel revolution.
Propelled by the flexibility created by remote work, travel is undergoing a fundamental change. Zoom and similar services are the latest technological innovation to disrupt travel—preceded by the steam engine that gave us the first trains and ships and helped give rise to the concept of tourist destinations for the privileged; the mass-produced automobile that democratized road trips; and commercial air travel bringing us cross-border travel at scale, among many others. Unlike trains, ships, cars and planes, however, Zoom and similar services haven't just enabled us to travel faster, farther or more affordably—they have given us the ability to choose not to travel at all, such as for business, or to travel anywhere at anytime, such as for remote workers and their families and friends.
Zoom and other technologies that enable remote work have fundamentally altered the rationale for travel—all while cross-border travel is only just starting to recover—and with more innovations to support remote work surely still to come. And the younger the company, the more flexible their remote-work policy is likely to be. An Airbnb-commissioned survey across six countries found, not surprisingly, that the youngest adults (ages 18-34) are the most likely to spend any time working remotely, and also likely to have traveled the most. Full-time remote workers are most likely to be between the ages of 35-44.4
At Airbnb, we believe that travel will be back, bigger than ever—just not like it was in 2019. People have been isolated on a scale and for a duration never seen before, and want to come together. We expect to see a significant shift in how people move around the world as gathering together intentionally—by families, friends and colleagues—becomes more important than ever while the lines between travel, work and living continue to blur:
Longer business trips that blend work and leisure will be part of the future as travel becomes less organized around the week-long vacation and more around where people want to both experience and work. We're seeing an uptick of about 2.5x in the share of long-term stays for self-reported business travel, and long-term stays (28+ nights) were our fastest-growing trip-length category in Q2 2021.
Zoom may not be helpful for business travel but it's good for family travel, and longer weekends that blend work and leisure, made possible by part-time remote work, also will be part of the future. In the US, extended weekends are on the rise: 3- and 4-day weekends with families are up 70 percent from Q2 2019 to Q2 2021.
Remote work arrangements also will give people unprecedented flexibility to book rentals for seasons at a time. In Q1 and Q2 2021, we saw more bookings for long-term stays in Florida than in any other quarters in Airbnb history. People are captivated by the prospect of travel blurring with living: When we invited people to Live Anywhere on Airbnb for a year, not just one season, we received more than 300,000 applications in three weeks.
We'll see more co-living as friends want to stay and move around with friends, families reunite and stay together, and remote colleagues come together to meet. We're already seeing measurable increases in nights booked for larger listings (four bedrooms or more) and in nights booked for family trips from January-August 2021 over January-August 2019.
Looking ahead, technologies like Zoom mean those who are able to work remotely will only have more and more flexibility in terms of when and where they work and live. Airbnb's business proved resilient during the pandemic, but our adaptable platform lets us innovate fast and shape our future. Earlier this year, we introduced product upgrades and new features to cater to remote workers' new flexibility to travel anytime:
Since we began rolling out our new flexible-date and -destination tools in early 2021, more than 500 million searches on Airbnb have been flexible on dates, and among recent searchers, 40% have had flexible dates or destinations.
And to help Hosts position themselves to benefit from increasing demand for not just WiFi but fast, reliable WiFi, we recently gave Hosts a tool to help them display their listings' WiFi speed.
The other reason why Airbnb is leading the travel revolution is because our platform is not just highly adaptable—it's because we are a community built on connection and belonging, and that resonates when people have been isolated to a degree never seen before. At Airbnb, everything we do has to provide a sense of connection—to the places you go and the people you meet. Our Hosts make our guests feel welcomed and cared for and guests respond to that, perhaps especially during a pandemic. Guest reviews are one of the ways in which guests respond—now at 500 million and counting.
 1According to a survey of global Airbnb Homes Hosts who hosted a trip during 2020, from February 1, 2021 to March 3, 2021.
2According to a survey of global Airbnb Homes Hosts who hosted a trip during 2020, from February 1, 2021 to March 3, 2021.
3July 1, 2020 through June 30, 2021
4Morning Consult, August 31 to September 5, 2021 of 7,200 adults aged 18-65 in the US, Canada, France, Germany, Australia and Korea.
Forward-looking statements 
This press release contains forward-looking statements within the meaning of the "safe harbor" provisions of the Private Securities Litigation Reform Act of 1995 about us and our industry that involve substantial risks and uncertainties. All statements other than statements of historical facts contained in this press release, including, but not limited to, statements regarding the effects of the COVID-19 pandemic on us, travel trends, and the travel industry; the future of travel; the behavior of Hosts and guests; and our future performance, prospects, plans and objectives are forward-looking statements. In some cases, you can identify forward-looking statements because they contain words such as "may," "will," "plan," "could," "potential," "objective," or "continues" or the negative of these words or other similar terms or expressions that concern our expectations. Although we believe that we have a reasonable basis for each forward looking statement contained in this press release, we cannot guarantee that the future results, levels of activity, or events and circumstances reflected in the forward-looking statements will be achieved or occur at all.
Forward-looking statements are subject to a number of known and unknown risks, uncertainties, assumptions, and other factors that may cause actual results to differ materially from the results expressed or implied in this press release. Therefore, you should not rely upon forward-looking statements as predictions of future events. Important factors that could cause actual results to differ materially from those indicated in the forward-looking statements include, but are not limited to, the effects and duration of the COVID-19 pandemic on us, the travel industry, travel trends, and the global economy generally; any further and continued decline or disruption in the travel and hospitality industries or economic downturn; changes in political, business, and economic conditions; and the other risks listed or described from time to time in Airbnb's filings with the Securities and Exchange Commission (the "SEC"), including Airbnb's Annual Report on Form 10-K for the fiscal year ended December 31, 2020, Quarterly Report on Form 10-Q for the quarter ended June 30, 2021 and subsequent Form 10-Qs and Form 8-Ks, which will be on file with the SEC and available on the investor relations page of Airbnb's website. All forward-looking statements speak only as of the date of this press release and are based on information and estimates available to us as of the date of this press release. We expressly disclaim any obligation to update or revise any information contained in this press release, except as required by law.