Automated tax collection tool launches in Italy
Key Takeaways
New tool automates collecting and remitting of tourist tax.
New commitments promote healthy tourism and pandemic recovery.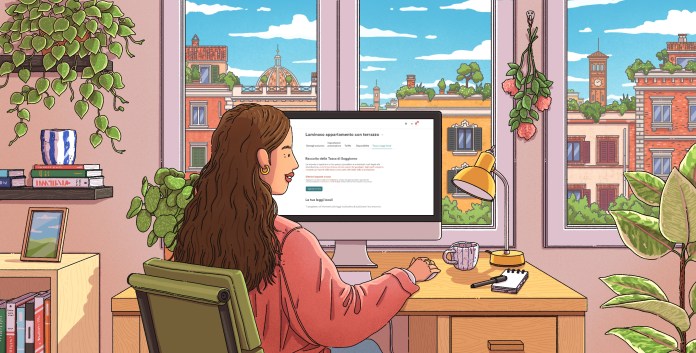 Key Takeaways
New tool automates collecting and remitting of tourist tax.
New commitments promote healthy tourism and pandemic recovery.
Airbnb has introduced a tool that can automatically collect and remit tourist taxes from guests on behalf of hosts throughout Italy. Available for municipalities across the country to sign up since November 10th and for Hosts to sign up starting in 2022, the new technology consolidates more than 1000 different tourist tax rules into a single digital solution and can automate the entire tourist tax process.
A new partnership between Airbnb and the National Association of Italian Cities (ANCIComunicare) has also launched. The partnership will help promote the new tax simplification tool and drive sign-ups across over 1000 cities, raising awareness on how it helps make tax simple via a series of seminars, a dedicated helpline and an advertising campaign.
This tax simplification is one part of Airbnb's new Healthy Tourism Recovery Pledge – a series of five commitments to help put healthy tourism at the heart of pandemic recovery in Italy – which was launched by Chris Lehane, Senior Vice President of Global Policy and Communications. This package of measures for Italy follows Airbnb's announcement of over 50 global upgrades and innovations across its entire service, including features such as AirCover, Translations Engine and Accessibility Verification. The five-point commitment includes:
1. Innovating on Tax
A simplified tourist tax collaboration to streamline more than 1000 tourist tax regulations across Italy into a single tool for Hosts and municipalities.
2. Supporting regulation of short term rentals
Support for a clear and simple online registration system in collaboration with the Government that supports administration, protects housing and helps anyone who wants to rent their home on Airbnb understand the rules.
3. Supporting compliance
A commitment to work with the Government to ensure that the tourism recovery happens in a responsible way that supports innovation and shares data through the City Portal. We currently have more than 100 City Portal partners around the world. By September 2022, our goal is to have more than 250 City Portal partners across the globe. Other meaningful data-related agreements include Greece and Eurostat.
4. Combatting noise and nuisance
We want to be good neighbours and tackle anti-social behaviour on our platform, which is why we recently launched the Neighborhood Support Line in Italy, which provides a direct access of communication to Airbnb to report concerns about listings or guest behavior, and the Urgent Support Line in Italy, a direct access to dedicated Community Support within 30 seconds in the event of an emergency during a stay.
5. Spreading the economic benefits of tourism
A commitment to work with DMOs and communities through partnerships, to promote remote areas, longer stays for remote workers and digital nomads, authentic experiences, as well as unlock access to hospitality and tourism. In 2021 alone, Airbnb partnered with Milan to promote longer stays and the City Florence enhancing quality tourism.
"Tourism is one of Italy's greatest natural resources and Airbnb helps local families and communities keep the economics that generates for themselves," said Chris Lehane. "Our Healthy Tourism Recovery Pledge will help drive this economic engine for Italians by making it easier for more Hosts – who keep the vast majority of money generated by travel on Airbnb – to share their homes, follow the rules and pay tax. With travel more dispersed than ever, we look forward to working with everyone to help more Italians benefit from the travel revolution in their communities."

Chris Lehane, Senior Vice President of Global Policy and Communications, Airbnb
Travel trends have changed as a result of the pandemic and in the last quarter of 2020 more guests stayed in Sicily than Florence and Venice combined. In Q3 2019 just four cities accounted for over 26% of all travel in Italy on Airbnb – Rome, Venice, Milan, and Florence – but Q3 2021, those same four cities accounted for under 17% of Italian travel, which is creating new economic opportunities for Hosts outside of big cities, including many communities that have not previously benefited from tourism.
Airbnb supports regulation and has signed more than 1000 regulatory and tax agreements, and has generated more than $4 billion in tourist, hotel and occupancy taxes globally to date. In Italy, Airbnb has been collecting and remitting tourist taxes from guests on behalf of Hosts since 2017 and previously had 24 agreements in place, including Rome, Florence, Milan, Naples and Palermo.